Men's Clothing Styles That Every Man Should Own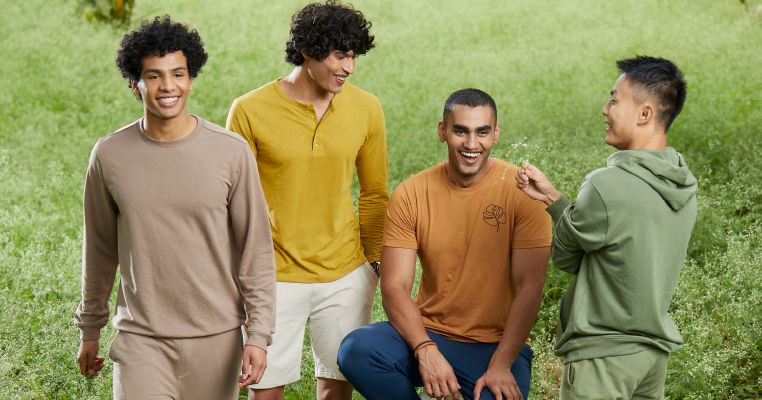 Men's style isn't one size fits all. Different seasons and occasions call for different looks, and different looks call for a lot of variety in your wardrobe. Many men make the mistake of trying to create an idealized 'look' that fits their personality, but this approach misses the point entirely. The comfortable man is a complex being, and with every mood and purpose, there is a look that suits it best. After all, we contain multitudes.
What makes a man stylish?
Style is a slippery subject. Why? To put it simply, it's subjective. You don't show up to a beach party in a tuxedo, and you don't want to be the underdressed weirdo at your best friend's wedding. That brings us to the first cornerstone of clothing styles for men – context. The first step to being stylish is to take note of the occasion. The rest will automatically follow.
Depending on the occasion, there are three different types of men's clothing — formal, semi-formal and casuals. But let's look past these categories for a second. Ultimately, in practice, only two classifications matter – topwear and bottomwear. The way you pair them will create your look, without going into too many confusing do's and don'ts.
Topwear — More than Just Shirts
1. The Plain White T-Shirt
T-shirts are one of the most popular types of men's clothing. They have developed such a reputation for being casualwear, that they've lost a little bit of their glamour. Of course, when one is wearing a T-shirt, comfort is the first consideration, but that doesn't mean style has to take a backseat.
And what if we told you that the most stylish T-shirt is the humble plain white T-shirt? Yes, you heard right! It's cool, it's versatile, and you can pair it with a number of different bottoms. It's equally great for layering with a jacket on a chilly evening and pairing with a fresh pair of chinos for a summer evening bash. Go ahead and snatch it up!
Pair it with: Jeans, Denim jackets, Chinos
2. When in doubt, choose a Polo
Polos never went out of style, and there's a good reason why it's one of the best loved types of men's clothing. The collared look means it can be a classic piece of smart casualwear. You can wear it to work, and if you're feeling brave, even to a family event. Read on how to style Polo T-shirt.
Another advantage of using a Polo is that it comes in a variety of colours, making it very useful to construct a wardrobe capsule that will last you many years. DaMENSCH Polos have the added benefit of being environmentally friendly. Our polos are constructed using Coolmax Eco Fibre, made from 100% recycled plastic. If you're eco-conscious, these are the polos for you!
Pair it with: Shorts, trousers, chinos
3. Beat the heat with tank-tops
Tank tops have a reputation attached to them. Over the years they've come to represent machismo and bravado. But that obscures the real reason they were first adopted by working class communities in America many decades ago — to beat the city heat. Tank-tops let your sweatiest bits breathe and cool off in humid weather, and their superior moisture wicking capabilities siphon sweat away from your skin so that it can evaporate and keep you cool. But all this doesn't mean that the tank-top is a purely functional piece of attire.
They can also be stylish, depending on how you pair them. Wear them with a pair of boxers for a day at the beach, casual shorts, or even trousers if you're heading out on a sunny day. Add a button down to keep things more formal if you wish.
Pair it with: Boxers, button down shirts, jeans
4. Sleeves can be long too
Layering makes everything heavy. In those chilly days between winter and autumn, you might want to keep yourself warm, but a jacket might feel like overkill. That's just one of the situations in which a full sleeve tshirt comes in handy.
Long sleeves are also useful winterwear otherwise, especially on cold days when every bit of extra protection goes a long way. Long-sleeved shirts can also be paired with sweatpants for a low-effort athleisure look during the cold months.
Pair it with: Joggers, Pyjamas, Jeans
5. Hoodies, to look cool and stay warm!
Hoodies are all the rage, thanks to hip-hop culture. If you haven't seen your favourite rapper sport one of these in a music video, you must have surely seen the iconic scene in Rocky where Sylvester Stallone gallops up the stairs of the Philadelphia Museum of art.
Hoodies are a classic piece of athleisure, they're functional because they keep you warm. But they're also stylish because it lends the wearer an air of mystique and charisma.
Pair it with: Joggers, Pyjamas, Jeans
Bottomwear — To Complete the Look
1. Boxer Shorts are an emotion
Many might be surprised that boxer shorts make this list — after all, aren't they a type of underwear? Well, yes. But that's just one way to look at it. Boxer shorts have achieved a place in popular culture that has made them transcend their status as simply innerwear. Boxer shorts are now worn outdoors too. Whether it's a casual game of football in the park or a day a the beach, boxer shorts are favoured by men for their superior comfort, breathability and versatility.
The rise of boxer shorts as a serious item of clothing is also reflected by the various types of patterns and prints they are available in, to reflect the wearer's personality. In a nutshell, boxer shorts are more than just underwear, and you should own a pair, even if it's not your preferred type of underwear. You'll never know when it will come in handy!
Pair it with: tank-tops, vests, casual T-shirts
2. Pyjamas for your mini-vacations
Lounging is a serious art. Loungewear is specifically designed for the wearer to pamper himself. It's for daydreaming, frolicking and those little mini-vacations you take on a Sunday when there are no chores left to do. If you're as serious about lounging as we are, a pair of pyjamas is a must have!
Wear them with an old baggy t-shirt or a tank-top and you're all set to board the leisure-time express!
Pair it with: t-shirts, tank-tops, vests, sweatshirts
3. Joggers aren't just for jogging
Joggers were once looked down upon as a sign of laziness or failure. But that was just a bunch of cranky old people who didn't know how to relax. Joggers are back, and we're here for it! Having originated as a piece of bottomwear for track and field athletes to stretch and run comfortably in, joggers have crossed the divided and conquered a new market with young professionals around the world.
Owning a pair of joggers means you have the ideal piece of clothing to throw on for your morning run, or even a lazy evening spent watching TV. After a lot of work moved online due to the pandemic, joggers have become even more popular. So much so that you'd be hard pressed to find many people who don't own a pair of joggers or sweatpants. It's a solid investment that will reward you on a variety of occasions, so don't even think before getting a pair!
Pair it with: Sweatshirts, t-shirts, sneakers
FAQs on Clothing Styles for Men:
What should you wear on a casual Friday?
Casual Friday is an opportunity to look smart, but comfortable. Go for a pair of chino pants or cotton trousers, and pair it with smart polo or a plain t-shirt without any slogans. Complete the look with the favourite types of pants for men and you're good to go!
What type of mens clothing should I have in my wardrobe?
Ideally you should have a healthy mix of formals, semi-casuals and casuals. You don't have to have a lot of formals, but stock up a good number of smart t-shirts and the t-shirt types. For occasions where you want to look smart, but comfortable — go for polos and chinos. For chilling at home, pick out loungewear and t-shirts.
What are the best ways to improve clothing styles for men?
Clothing styles for men aren't one size fits all. Choose your style based on your look and your situation. The important thing to keep in mind is the fit. An accurate assessment of your fit goes a long way in picking out the right style for you. Also take the time to try out different styles and fashions — you don't want to miss out on the ones that work.
RELATED: The Perfect Fit – Mens Underwear Size Chart!!!
How can I make my outfits look expensive?
Treat your clothes well, and they'll look well too. Read the wash care instructions carefully to know how to individually care for your garments in the best way possible.