A Day In Constant All Degree Polo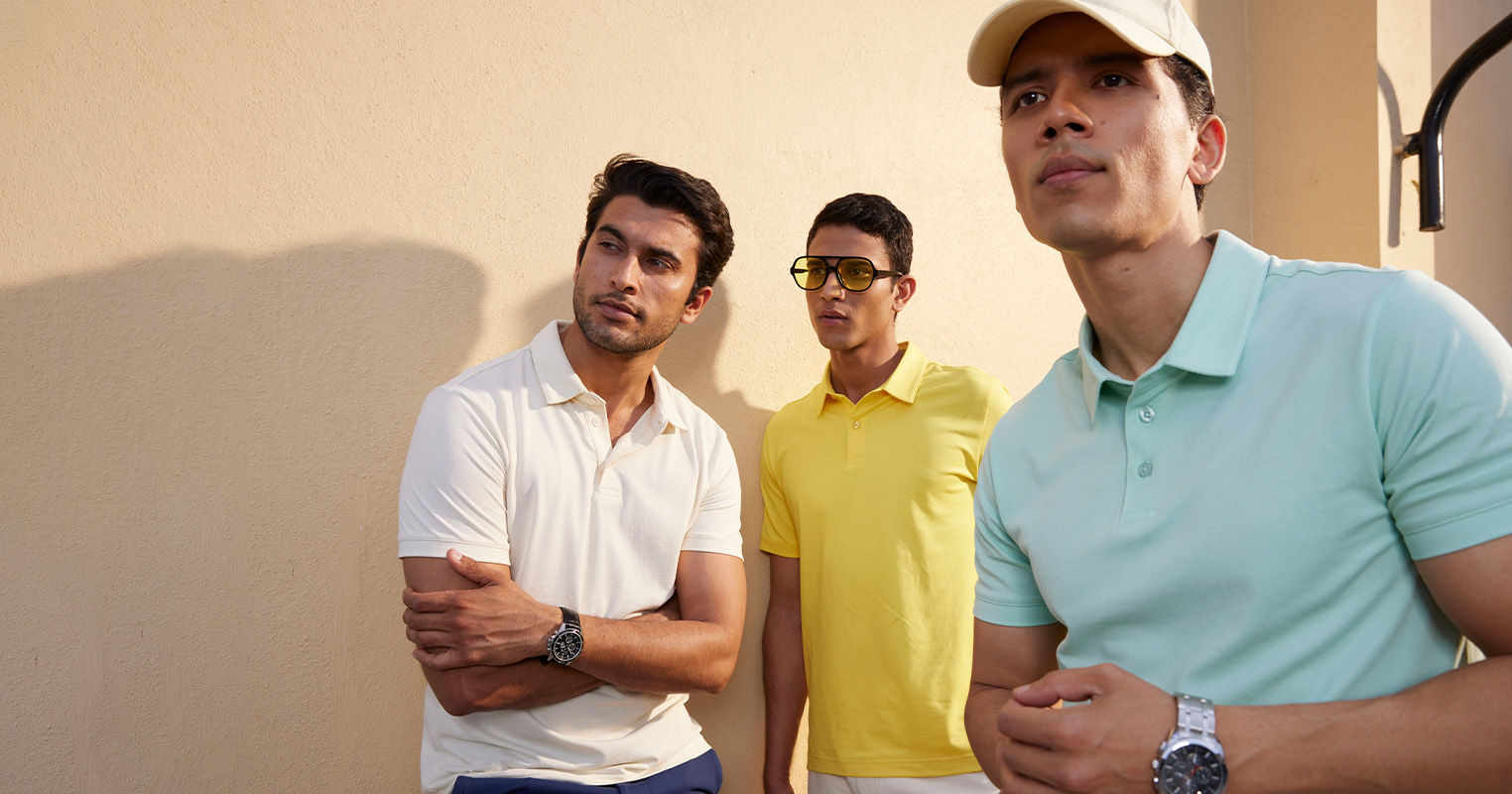 A look at the daily hustle of the urban conscious man, and you'd know he is fast evolving in all – from online to offline – it's a plug-and-play life. And it is here that he needs a constant, which stays in all degrees of his life, from when he's ahead of the game to when he needs to take a step back, from when it's scorching outside to when it's time to snooze in. He needs an ALL-DEGREE POLO.
So here's this polo neck t shirt that is wholesome – it's thermoregulating, it's made from recycled plastic only — hence truly sustainable, and it comes with a 500-day warranty!
And these polo tshirts online deserve more – they deserve a full day of attention.
Why DaMENSCH's Polo?
Hot or not, it deserves a shot
The thermoregulating fabric of this polo is cool (or hot), depending on where you are at. Forget weather predictions, let your tee do the talking with its self-temperature-customisations!
It's the uber-friendly polo neck t shirt that hates wastage, but loves nature. And hence it is made from 100% recycled plastic waste and sustainably-sourced cotton. Talk about love-hate relationships.
One birthday to another…and more
If time was testing us while we were wearing this polo, we'd pass with flying colours! All thanks to its super durable fabric and High-IQ dyes, the best polo t-shirts don't fade and last 500 days and more.
But you will only get the best – an added gold finish to the pique fabric. So rise and shine while you get ready for your next outing, or inning!
So here's how you style yourself up in this polo, from AM-PM-AM:
THE MORNING LOOK
It's super early in the day, and you need to go for a jog. What is your pick? A pair of joggers that stretch as you flex, and groove as you move.
Pair the Polo t shirt style with:
Statement Joggers
Colours that stay longer than your yearly calendar
Concealed zippers that add to your convenience and comfort
More than an year of fashion with an industry-first 500 day warranty
Get more suggestions on how to style joggers.
THE NOON TO EVENING LOOK
The day has started, and your calendar is jam packed with meetings all day. This is exactly when you need chino shorts you can simultaneously unwind in.
Pair the Polo with:
Chino Shorts
The most stretchable blend of fabric, nylon and spandex
Two side and two back pockets, and a hidden zipper storage pocket
High grade dyes that withstand a high number of washes
THE EVENING TO BED LOOK
Work's done, and it's time to Netflix and chill, or read a book while you tug under your comforter. Time for pyjamas you can later pass out in.
Pair the polo shirt outfit with:
The Stretch Pyjama Pants
2-way stretch that is an upgrade from your regular unstretchable pyjamas
A mock buttoned hidden fly for whenever it's go time
Hollywood Elasticated waistband providing a snug, soft hug
How to style A Polo T-Shirt in 4 Fresh Ways
A classic white shirt will always be the number one most versatile piece of clothing in a man's closet. But, do you know what the second best thing is? It is the classic polo t shirt style, which is one of the most loved choices, be it in casual wear, formal wear, or active-wear. Its versatility is unmatched. It brings a timeless charm to the table with its distinctive colours. The best brand for polo t-shirts include buttons and collar that makes them essential wear for men. Similarly, it's extremely fluid nature allows it to be easily dressed up or down depending on the occasion. All you need to do is pair your polo tees up with the right pieces of clothing and accessories for an uber-chic look that never fails to impress. Also, you can check out the types of t shirts for men.
Now, if you are someone who is not much accustomed to the whole styling thing, and is confused about how to pair up the right pieces and put together the coolest outfit, you may check out the following list of new ways to style a Polo t-shirt, and amp up your styling game like a pro:
The Sleek Look with Chinos
If you are looking for something between smart casual and semi-formal for your office parties or casual gatherings, you can always go for polo tshirts online and team it up with a pair of chinos. Tuck in your t-shirt and wear it with a smart trouser to make it look sleek and polished, complete the look with a pair of black shoes, loafers or sneakers to give off a relaxed vibe.
The Summer-proof Look with Shorts
A polo neck t shirt for men is a summer must-have, and so are shorts. Team up these two items, and get the coolest outfit on the block. Chill in the best quality Polo T-shirts that make even Summer feel like a breeze. You can pick any pair of shorts available in the wide variety of materials from chinos to denim, and wear it with your favorite polo t-shirt in monochrome colors, and this simple yet highly comfortable ensemble will never let you down.
TRENDING: Six Ways to Syle T-shirts
The Go-getter Look with a Blazer
A polo t-shirt and a blazer is a killer combo to nail everything from casual workdays to brunch dates with girlfriend, or just friends. To make it a more fun and casual, you can wear a polo t-shirt in fun bright colors. If you are attending a formal event, suit up in dark colours, and replace your under-shirt with a white polo t-shirt, this will give you a look that is bold and confident.
The Classic Polo Look with Jeans
Now, who does not know about the classic combination of polo neck t shirt for men and jeans? I am sure everyone does, and have tried it at least once in their life. Like I said, it is a classic combo, and one can never go wrong with it. Denims can make any outfit the most comfortable one, while giving off the relaxed and casual vibe to the max. However, the catch is to make sure that your jeans are tidy and tailored to avoid looking unattended. After all, looking sharp at all times should be a priority to keep your swag quotient intact.
And it is not even half of all the potential polo tshirts online possess as a wardrobe staple. This classic piece of garment is a timeless hit in the menswear space, and there are much more ways out there to style a polo t-shirt, which you can implement into your outfit by adding your own unique style, wardrobe and requirements.
Happy styling!