Men's style guide: Wearing a stylish t-shirt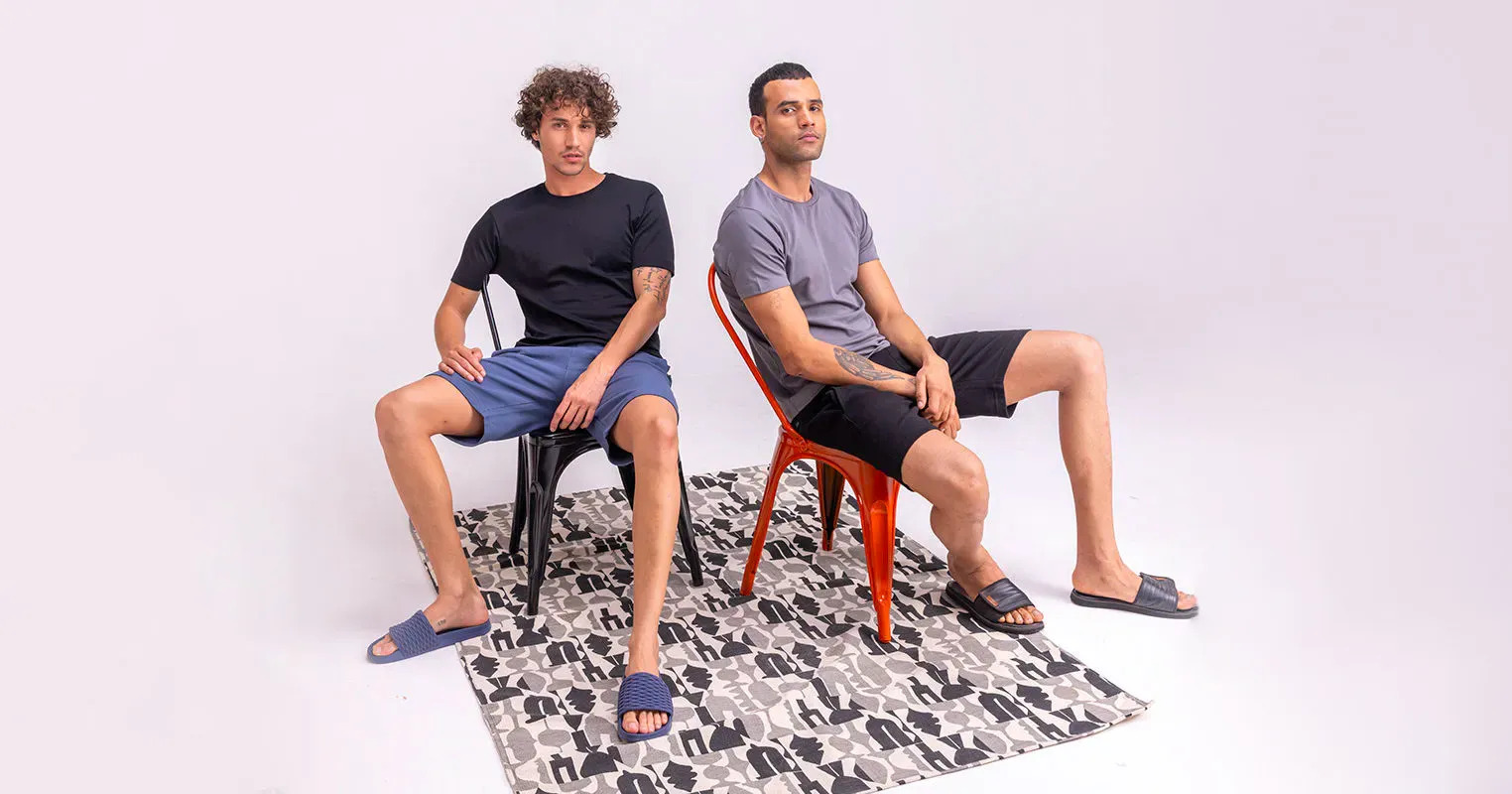 A stylish T-shirt in a man's wardrobe is as essential as a good LBD in a woman's wardrobe. If women dream of flaunting their best style in that perfect little dress, it's scarcely an exaggeration to say that many men have fantasised about the ultimate T-shirt that feels like home yet makes them appear like he's out to rule the world!
The key is in the details when it comes to finding that one shirt you can't resist wearing. Allow us to assist you in finding the perfect t-shirt for you and tips on how to style it.
Types of T-shirts for men
1. Regular/Loose fit T-shirts
A comfortable you is a confident you! The wave of oversize fashion has undoubtedly taken over and is currently storming social media. The next time you want to shop for a t-shirt online, we recommend looking for a regular fit or a loose fit. Oversized T-shirts might feel new to the men's T-shirt industry, but the truth is this trend goes back to the '90s and '80s. Oversized clothing was much more popular then and this trend has observed a smooth yet powerful transition now to the present. Thus you get to stay trendy yet comfortable.
Word to the wise: Don't ever deprive your wardrobe of a black and white T-shirt. Monochrome never goes out of style.
2. Slim Fit tees
Save your slim-fit tees for the evening brunch looks and casual party looks. They come in different types of t-shirts for men like the Henley T-shirt, full sleeves t-shirts, and classic V-necks. This sublime everyday item is chic in style, which is primarily the result of a sleek cut. Men's V-Neck T-Shirt is best, especially in the tropics, when short-sleeved and round-neck long-sleeved tees are always better than other long-sleeved tees.
3. Polo T-shirts
A black polo shirt is a must-have in any man's wardrobe. The all-time classic, one can never really go wrong with a well-fitted polo t-shirt. Paired with a great pair of jeans or chinos or even Bermuda shorts, along with some white sneakers or sandals, can really give a casual, comfy, yet stylish look. These actually came into light as golf wear but nevertheless, they suit every body type and shape and are basically universal.
4. Hoodie T-shirts
Who said hoodie lovers can only wear hoodies during winters? Hoodie T-shirts are the new best thing in T-shirts for men. If you really like to play around with your style and add edge to it, the hoodie t-shirt is the right find for you. The fabric of this t-shirt is mostly pure cotton. This t-shirt is perfect and can work as gym wear, and casualwear and can even be worn in winter with some additional warm layering.
How to pick the best men's t-shirt?
A few things you need to remember before you click that checkout button!
Choose colours wisely
Choosing the right t-shirt can be a bit tricky with the online stores and the styles to choose from! If you're the type of customer who cares more about colour than size and price, make sure you know which colour suits you best.
Be ready to experiment until we find one that works for you. But it's important to understand that some colours are a big NO and don't go in the fashion. In addition to factors such as skin colour and season, there are other factors to consider when choosing a stylish T-shirt. However, we don't want you to play safe and stick to the good old trusty black, blue, and grey. A little pink never hurt anyone (it's about time we make pink a gender-neutral colour) and if you really want to go out and make a statement, Neon colours are the next big thing in trend. But make sure to style it wisely because you would not want to make yourself look like a fluorescent lamp.
Fabric is just as important as fit
Affordable synthetic fabrics are low-priced and can make you feel itchy and cause reactions. Compared to natural fabrics such as cotton, synthetic fabrics are less breathable, and durable, absorb less water and sweat, and are less comfortable. The synthetic lasts for a shorter period of time, is more uncomfortable and can get smelly when worn for more than two hours. For the Indian climate that's mostly hot and humid, they might not be a good choice.
Cotton T-shirts promise a cool feel and cosy fit, they`re soft on the skin and don`t look flimsy. They are far more comfortable, and breathable and assure a cooler look. Moreover, cotton T-shirts can be worn not just in summer but in winter too with coats and other warm jackets.
Feels like a comfortable hug
Human hugs are beautiful, but if you answered our question with a 'No' you might have to say goodbye to that shirt. Contrary to what the dude in the gym says, a body-hugging, snug-fit T-shirt is not necessarily a good choice. While it all boils down to personal choices, a lot of it also depends on your body shape, and the shape of the T-shirt and if they don't complement each other – it just doesn't work.
Whether you're going on vacation with the boys or going downtown, a casual t-shirt is your best bet. The beauty of casual t-shirts lies in their comfortable, relaxed, and breathable fit yet stylish. Big, baggy t-shirts are always attractive. Nothing looks or looks better than being comfortable.
Styling printed t-shirt for men
Prints are all the new rage now. A printed T-shirt has become the new medium of speech. With so many slogan T-Shirts and quirky prints to choose from, always pick one that best translates your thoughts and matches your style. Prints, if worn just for the sake of wearing, won't do personal style justice and you'll just tire out of the trend faster than you'd expect.
Pro-tip- Let your t-shirt speak for you!
Let your chosen printed t-shirt have its moment, and let it deliver your statement for you. For example- if you opt to go for more bohemian/Hawaiian printed t-shirts, you would come out as more exploring and unique whereas if you go for graphic tees- your impression would be more on the edgy and street style end.
Top Ways to style t-shirts for men
At first glance, a T-shirt may seem like the simplest piece of clothing, but is it really the case? If your get-go is denim and a t-shirt, here are ways you can ace style.
Pro-tip2: The secret to being a style icon is accessories!
Layer It Up
Layering is an easy way to find casual clothes going from 1 to 10. If you're going out but want to amp your classic tee into a stylish t-shirt, a simple bomber jacket can do just the right thing for you. This is a jacket that will compliment your look without causing distraction from the coolness of an everyday t-shirt.
Scarf up, everyone!
Don't underestimate the power of a simple scarf. All you have to do is wrap it around your neck and you can take it off later if you want to! Remember not to overdo it. The beauty of this shape is its simplicity. The scarf is best worn with a V-neck t-shirt or a long-sleeved wool tee. Avoid henley necks, faux collars, and turtlenecks. Too much fabric around the neck is not very attractive and looks terrible.
A wool shirt is certainly a closet must-have. If you don't have a wool shirt. You are missing out on the basics of winter fashion! For a tough yet easy classic look simply wear a wool shirt over your easy going Tee. Don't forget to open the t-shirt for a chicer look!
RELATED: How to Style a Polo T-shirt??
Two shirts make a better one
A pattern widely popular and accepted by many people and got most of its attention from the Ivy League colleges, as a result of which many people used and followed this look numerous times.
All you really want is a light, fresh, traditional cotton white Shirt and a relaxed neck Tee – printed or plain, your call! Just make sure that your shirt is a couple of inches longer than your T-shirt, from the abdomen and arms. Wear your T-shirt over any plain shirt, with the goal that the shirt's neckline drops out of the T-shirt and the T-shirt sits well over the shirt, keeping it an unblemished setup.
Pro tip- A body-fitting T-shirt is suggested for this look.
Time To Suit Up
Who knew your workwear could actually mark up to be a style statement OOTN? All you really want is – an excellent, completely fitting, smooth White T-shirt and a suit of any dark colour. The differentiating block tones and the completely fitting T-shirt with the suit smoothly blend into a chic and neat look without the inconvenience of wearing just a plain t-shirt.
This is a serious well-known decision of outfit at high profile gatherings and VIP occasions. You can thoroughly duplicate it for a large portion of the cost, simply get the fit right.
Tuck it in your pant-look
We consider this look as an old-time classic that can never go wrong. Nothing looks better compared to a decent T-shirt that got into wide-legged pants. A great plain shirt tucked in with some wide-leg pants makes a trendy statement and looks way more stylish.
Nonetheless, you should be extra cautious while arranging this one – your T-shirt must be a little over the nature of a standard easygoing T-shirt, and the oversized t-shirt is the right call. Full sleeve and half sleeve T-shirts, particularly turtlenecks turn out great for this. This look is made for men who are always in a hurry, yet don't want to compromise on the style.
These were only a few pointers from the multiple other ways you can style your T-shirt. Different types of T-shirts for men are one of the most adaptable garments you could imagine. With some time and styling techniques, You will eventually learn to wear your t-shirt like no other.
We hope you realise how the purchase of a good T-shirt can make you look comfortable and stylish at the same time.