5 Modern Types of Pants for Men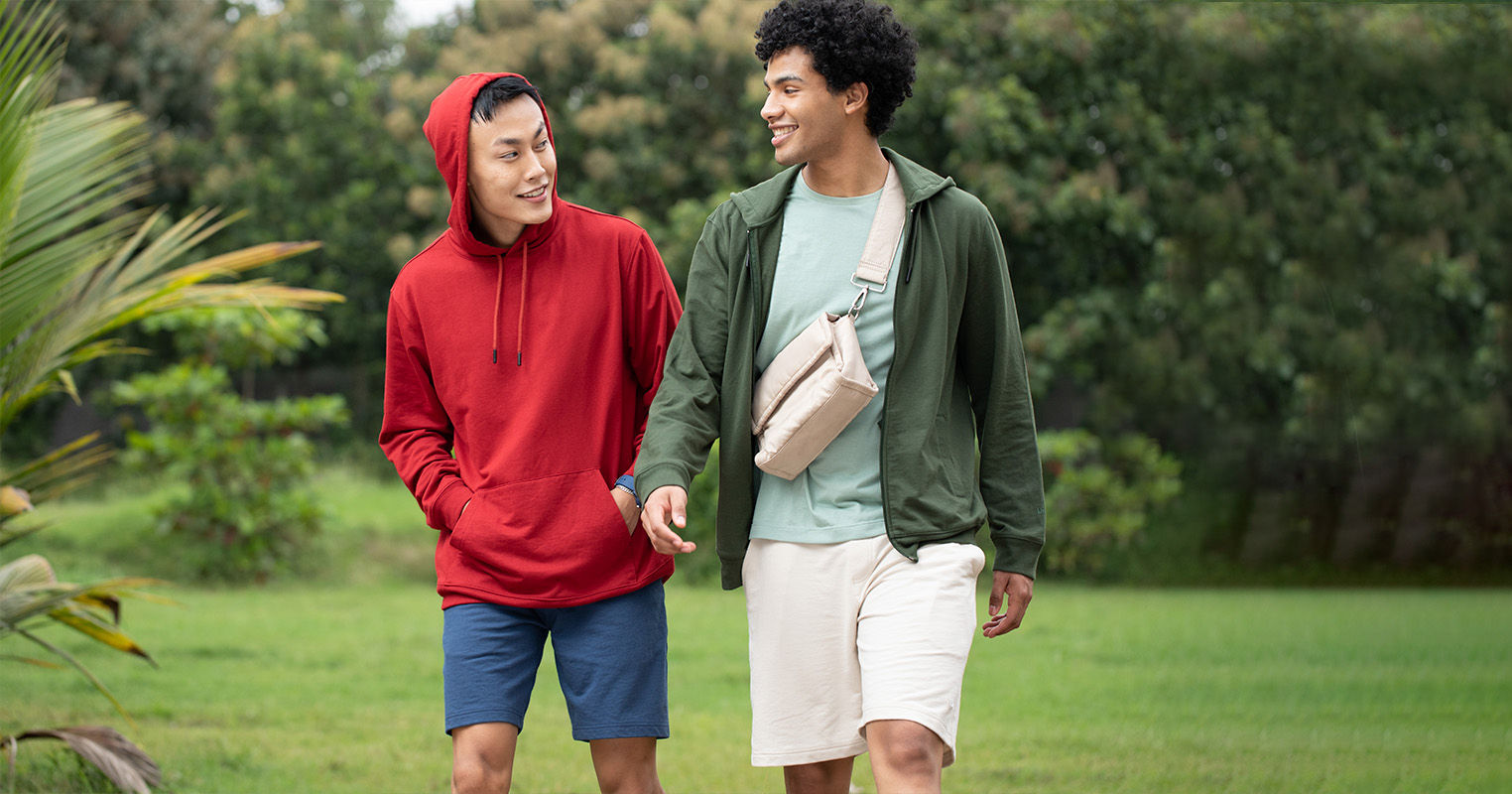 It's almost impossible to keep up with trends. It seems that as soon as one is in vogue, another is already on the horizon waiting to steal our cash and sneak into our wardrobe. Trends are important though as they dictate the way the industry is heading and help to keep our ensembles fresh and up to date. Here are the only summer trends on trending pants for men that every gentleman needs to know about.
And, while you try to keep up with trends for types of pants for men that change faster than the Sun completes its revolution, it's all too easy to get stuck in a style rut when it comes to trousers. Jeans, chinos and suit trousers – when it comes to men's legwear rotations, these are the three garments that take up all the space, and even though there's nothing wrong with that, it doesn't hurt to throw in the odd curveball here and there to keep things fresh and interesting.
Thankfully, there's no shortage of options when it comes to casual pants for men. New trendy pants for menswear have a trouser style to suit every budget, taste and occasion. So, this is considered, here are the key types of pants you should have hanging in your wardrobe.
What Kind of Pants are in Style?
Fashion is all about your image, be comfortable stay stylish. Whether you're dressing up joggers or giving pleated trousers a modern look, it's important to know what pants to wear and how to make these cool pieces work for you. To inspire your new style, here are the types of pants for men every man should consider for his wardrobe. Some are popular, trending pants for men, and fashionable for casual attire while others are classic and formal but will always be stylish. Ultimately, this style guide for different types of pants men offers a compilation of all kinds of pants that men should own. Two years ago, when the world was roiling with confusion at the onset of the Covid-19 pandemic – mostly people are at home and wearing comfort clothes which includes short pants, loose pants.
Why are Casual Pants for Men an Essential Part of Clothing?
Most people can't grasp the essential nature of bottom wear, especially during the winter season. Yes, there are a lot of different bottom wears on the market, but a majority of them are focused on style as opposed to the quality of the substance! This can make it more difficult to find the right bottom wear that will keep you comfortable in winter.
What if there was a bottom wear option that would allow you to be both active and comfortable in different weather conditions? Our collection of specially tailored sweatpants and joggers will keep you warm in cold weather, while at the same time providing an excellent fit and great mobility.
Choose bottoms that fit snugly against your legs and other parts of your body so you have less air between your skin and the clothes. Apart from that, you can always go for some casual shorts or pajama pants; these will prevent moisture from soaking while keeping you warm and comfortable even during frigid temperatures!
What are the Different Types of Trendy Pants for Men?
1. Joggers
As far as casual dressing goes, "if in doubt: joggers" is a pretty solid mantra to live by. Regular-fit joggers can make larger guys look top-heavy, while looser cuts leave short or skinny men drowning in fabric. Slim fit is the comfortable choice for men's fashion pants – a simple, flattering cut that looks good on anyone.
The best thing about this style is that, really, anything goes when it comes to your outfit. Try pairing with a sweatshirts, hoodies and suede boots during the colder half of the year. Or go all-in with a plain white tee and your go-to trainers on warmer days. When the evening rolls in, simply throw on a lightweight jacket like a bomber or Harrington over the top.
Must Read – How to Style Joggers??
2. Sweatshorts
Forget the days of fiddling for hours on end to find that sweet spot of at-home climate control—sweat shorts are here to save you the trouble regardless of how hot or cold you tend to run. These types of pants for men are comfortable and easy to slip into as the best pair of sweatpants in your regular rotation, while providing all the cooling benefits of your summeriest pair of shorts, yes the trending pants for men.
MUST READ: Check out the best summer outfits for men!!!
The sweat shorts are a certified game-changer, when it comes to casual pants for men. So instead of counting down the days to the official start of Shorts and Hoodie Season, cop a pair of shorts made out of the same fabric as your favourite hoodie and have it both ways.
The French terry knit fabric is midweight and works wonders for sweatshorts with better absorbing and wicking ability. With a superior cotton blend, it's super soft, cozy making you ask "Why So Soft?"
3. Casual Shorts
A gentleman wears only trousers, said nobody. It's the era when short are needed, especially when the temperature eeks out about 25 degrees celsius or so. Numerous examples of different types of pants for men including shorts are available on the market, but you should go for the tailored, well-fitting kind as opposed to baggy cargoes. Stick to classic colours too, like you would your trousers, but don't be afraid to implement a subtle touch of colour, like burgundy or olive. The most important thing to remember is length, however. The hem of the shorts should finish a couple of inches above the knee; they can be a cool choice for half pant for men!
The Shorts Collection features cotton which is 100% Better. All of it is sustainably sourced, giving you guilt-free fashion. Our half pant for men, along with diagonal side pockets with bar tack for added durability and a secure nylon zipper with semi auto-lock feature gives you a lot of space when you're out and about.
4. Pyjama Pants
Remember the heady days of February when you used to come home from work, rip off your tie and immediately change from a suit into the comfiest clothes you had clean? The second you stepped into that super-soft T-shirt and those well-worn jeans, you were home – it's time for some pyjama pants!
But now we're all (again). Those mens pyjama pants and T-shirt have become your new everyday wardrobe and the separation between work and home has never been more blurred. While some may say taking a walk or making sure you only turn the TV on after 6pm are key to separating the two, we're of the opinion the answer actually lies in your wardrobe. It's time you invested in pyjamas.
Now, we're not talking about that T-shirt you got after running the Hackney Half and a pair of grey Nike shorts that have been languishing in your 'exercise' draw for years. We mean proper tailored matching sets in fine fabrics that will make you feel well-turned out – even if it is just for your cat. Check out these pyjama pant by DaMENSCH with a 2-way stretch.
5. Chino Shorts
For a more accessible option, look no further than the mens chinos shorts. This twist on the timeless classic is nothing short of a wardrobe staple and is about as versatile as they come. The flattering shape lends itself to almost any type of casual or formal outfit and its cotton twill construction offers a level of comfort that's difficult to replicate with denim.
Chino Short are smart casual's best friend. They're smart enough to be worn with a shirt and blazer on Dress-Down Friday or in business casual offices, but relaxed enough to be teamed with trainers and a T-shirt come the weekend. The key is making sure the fit is just right. Always aim for a style with a mid rise and a slight taper to the leg.
Whether you're dressing up joggers or giving pleated trousers a modern look, it's important to know what pants to wear and how to make these cool pieces work for you. To inspire your new style, here are the trouser styles every man should consider for his wardrobe. Some are popular, trending and fashionable for casual attire while others are classic and formal but will always be stylish. Ultimately, this style guide with trendy pants for men offers a comprehensive list of the kinds of pants all men should own.
Why choose Pyjama Pants From DaMENSCH?
Argh. It's early in the morning and there are so many places you need to go. But, here you are. Still in bed. Snoozing your alarm over and over again! Wouldn't it be cool if you can wake up everyday with trendy pyjamas that can keep themselves in shape unlike your other regular nightwear stuff; while giving you some fresh vibes early in the morning?
We give you the perfect answer to your needs. Our amazing collection of DaMENSCH Stretch Pyjama Pants that move, breath, stretch and stretch even more. With its designer look, comfy wearing and amazing features, these are the pajamas for men that you need to get your hands on.
These Stretch Pyjama Pants come with a 2-way stretch to allow movement even when you hit the snooze button for the nth time!
Pyjama pants have always been popular as nightwear – however, we know some men don't find it easy to stay awake during work when they decide to go for these jammies!