Types of Mens Underwear to Check Out in 2022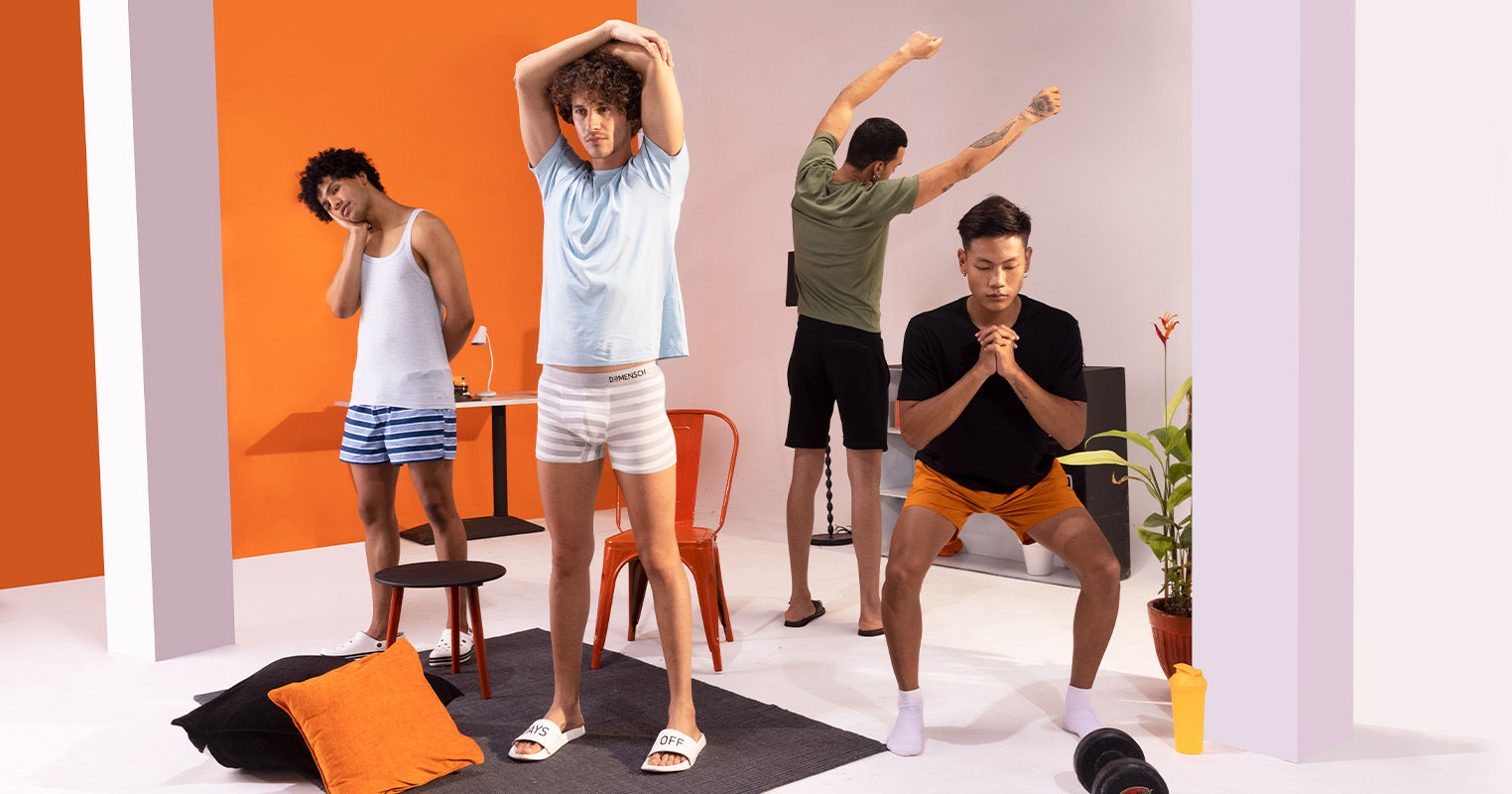 Similar to women, even men are getting cautious about their looks. Therefore, as important it is for a female to choose the right innerwear, it is important for men as well. But to choose the right underwear you must know the type of underwear you should wear.
For instance, the most sensitive part of your body is what you (don't) wear to your nether region. So, if you want to be comfortable during the day and want your clothes to look nice even after hours of wearing, you will most definitely require underwear. After a long day at work, your skivvies might smell bad and make your overall look soiled and unpleasant.
If you don't want to experience any trouble with your boys/girls around, it's better not to go commando. Underwear has a significant purpose of protecting you from even the smallest problem concerning down there. From saving you from embarrassment, chafing, and painful skin irritations, underwear is an absolute necessity for every human being out there.
Let us help you pick the perfect mens underwear!
Different Types of Mens Underwear:
1. Briefs and Boxers: The Great Underwear Showdown
If we were to place all the different types of mens underwear choices in a spectrum, briefs and boxers would be at opposite ends. Boxer enthusiasts feel quite strongly about briefs. For them, briefs are constrictive and sweaty. For them, maximum breathability is what matters. As for the briefs camp, they insist that the briefs keep everything nice and secure, while providing extra room for one's thighs.
Each of those types of male underwear comes with their own set of benefits.
Briefs are one of the most popular brands of underwear for a reason — thigh room. It's commonly observed that a lot of athletes from footballers to cyclists prefer briefs, because these guys have bigger thighs than the average joe. If you pick the right size and fit, briefs are also excellent for doing cardio. Before Buying Must Check the Mens Underwear Size Chart.
On the other hand, boxers are exactly as they seem. You may be too lazy to change out of your shirt and shorts before going to answer the door. But with boxes, there's no need for that!
Simply put your boxers on before and go from lounging around at home to fully enjoying your summer sleepovers without missing a beat! Take a look at how our innovative boxer shorts will make sure that even the most intense game of tag with the neighbourhood kids doesn't ruin your day.
2. Briefs and Trunks: An Unparalleled Middle Ground
There are some guys who find the whole boxers vs briefs debate silly. The reason is simple — neither style works for them. Briefs are too itchy and restrictive and get too sweaty in the summer months, while boxers just let everything hang loose and don't offer enough support — chaos!
Luckily there's a solution that finds the perfect balance between the two styles — boxer briefs! Popularized in the 90s by various brands, mens boxer briefs revolutionized men's underwear by providing the best of both worlds — breathability, comfort, containment, support and most importantly, a fly-opening.
Men around the world rejoiced as they no longer needed to be stuck choosing between boxers and briefs. Another option that also offers a lot of the benefits of both camps are trunks. Trunks are just like boxer briefs, but lower cut and offering more support for those who need it. It's good to have a pair of both handy so that you can choose from different mens briefs types of underwear based on your needs.
Thank God for the 90s for bringing along grunge, gangster rap, and most importantly, mens boxer briefs.
3. Inner Boxers – The Underdogs
With the modern-day conversation around different types of underwear mostly revolving around boxers, briefs and boxer briefs — one of the best types of men's underwear gets neglected. That's right; we're talking about different types of boxer underwear.
Why sweat when you are lying on your bed or sofa watching a movie or reading a book? You no longer have to!
Since inner boxers are usually quite breathable, they are much more comfortable than any regular underwear. That is why you can always have your inner boxers with you in case of an emergency.
Experience the comfort that comes from our inner boxer for men! They are super soft and light, yet very durable. They keep their cottony feel even after multiple washings. Now, there's no need to suffer when you wear inner boxers, as they're quite lightweight and airy and can be a perfect excuse to ditch your old boxers and buy new ones that don't itch and chafe when you wear them under your clothes.
RELATED: Check out the list of Best Mens Underwear!!!
Pros Of Wearing the Right Men's Underwear
It is safe to say that you are yet to find the right underwear for you. The secret of a great life is all in one thing – comfort. Find the right underwear and chances are that your day would be as smooth as silk!
Looking good is always a plus point in daily life. But, what about when you are out for an important meeting? Or, do you want to be the center of attention on a dinner date? And, most importantly, what kind of image should you give when someone asks for your picture? In all these cases, wearing the right pair of men's underwear can be the difference between a perfect image and an embarrassing moment.
Donning the correct set of underpants for your needs will not just help you feel comfortable and confident about yourself, it will also reflect positively on your lifestyle and personal image.

Moreover, it'll also depend on what you are looking for. While Boxers are light and breathable, briefs are warm and snugly. However, if you're someone who doesn't really fall in either of these two categories, there is a third one –

Trunks

! Simply put, they are like boxer briefs but they provide a tad more room in the legs.

The kind of underwear you wear may not say a whole lot about your personality, but it certainly can impact your mood, confidence and general state of mind. When you first put on the right pair, you'll never go back to ill-fitting undies again.
Cons Of Not Wearing the Right Men's Underwear
Comfort is paramount in all types of undergarments, and trust us–you don't want to think about how much you're sweating or how uncomfortable your crotch feels after a long day at work. Your underwear are there for a reason, so please treat them cautiously. If a certain brand does not suit your tastes, try one of the above-mentioned options which are also available for sale online!
Being the best underwear brand in India we can assure premium quality products from our side!
In case you're still having second thoughts on investing in a good pair of men's underwear, then stay with us for a bit longer as we are going to clear all your doubts.
If the blood flow is reduced in your body because of insufficient elasticity in a pair of tight boxers, then quite likely that you may suffer from Erectile Dysfunction (ED).

The other reason that has something to do with the absence of blood circulation in these regions is that less flow means less oxygenation. This leads to poor testosterone production which can lead to sexual dysfunction as well.

Apart from that, wearing tight-fitting innerwears and moving around, can result in sweat building up in the folds of your skin which can lead to different types of infections.
Determining which type of clothing is best for a man can be difficult. The types of underwear that are on the market today range in price, styles, and quality. While not all men have the same preferences, there is definitely something out there for every single person.
What Is the Best Type of Underwear for Men?
Now that we've made our way through the pros and cons of all the mens underwear types — it's time to make a decision. It's very simple– just rate yourself from 1 to 10 where you fall in the spectrum between support and breathability (1 is for maximum support, 10 is for maximum breathability). If you're a support guy, go for briefs. If breathability is more your style, go for boxers. If you want the best of both worlds, try boxer briefs. If you want boxer briefs, but with a little extra support, go for trunks. If you want boxers, but with even more breathability, opt for inner boxers.
If all the decision making seems tough to you, you might want to consider mixing up your underwear collection to suit your needs. Who says you have to choose? Have some pairs of briefs for football or aerobics, and keep a comfy pair of boxers handy for all your lounging needs.
Whatever mens underwear types you choose, remember, every choice is valid! Different strokes for different folks.