Best Men's Underwear As Per Body Type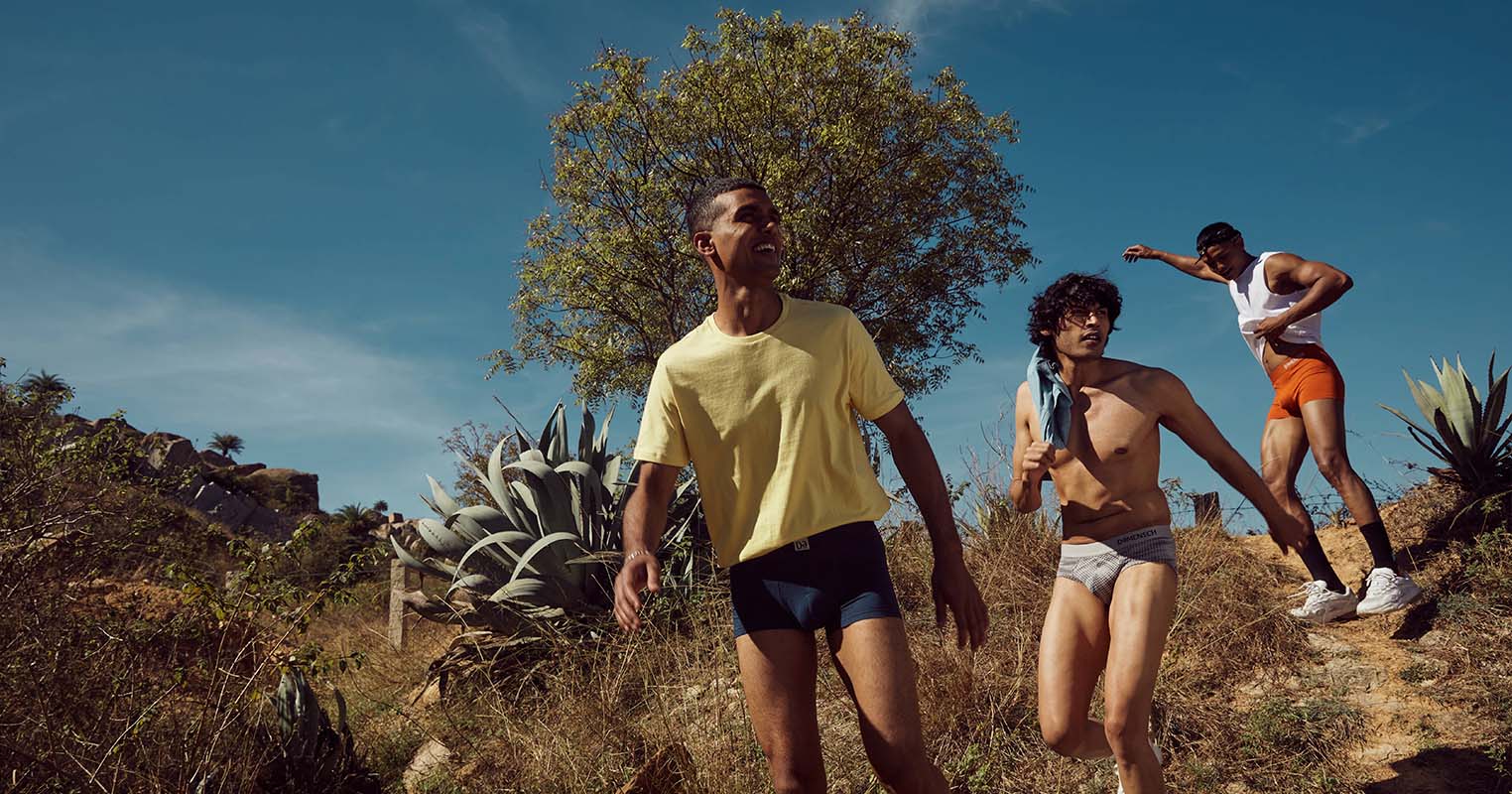 A long day of travel, or one that's spent outdoors, or just sitting in front of a laptop the whole time – these are all situations ripe for creating a bit of discomfort, deep down inside. Your underwear will get sticky, itchy, making you go scratchy. Your underwear has given up on you. It becomes a world of unhealthy bacteria and it's time to take a refreshing shower. But imagine, if there was such a men's underwear that controlled the moisture, temperature and improved breathability and stretchability throughout the day, all day, everyday.
How To Find The Best Underwear For Men?
Choosing an underwear for men is hard, more so because it has been an ignored, often overlooked category. The focus has always been on clothes that are visible rather than underneath.
But the times have changed! Confidence and comfort comes from within. DaMENSCH has literally utilised these qualities as USPs and focus of being the best underwear for men in India.
Therefore, for your comfort we have streamlined a few guidelines to keep in mind while finding the best underwear.
1. No Foul Play
Sweat contributes to bad odour which has hormones and chemicals mixed into it. Additionally, sweat also puts water on your skin which is essential for the survival of bacteria and microbes. If the water sticks around for a significant amount of time, the bacteria will multiply, and that comes with additional contributions to you.
If that wasn't enough, some of those chemicals in your sweat are ideal food for microbes. So, as you pour sweat into your innerwear, they make extra stinky. A breathable piece is important, it should be easy for air and moisture to pass through the underwear. This determines the comfort level, hygiene and longevity of your innerwear. So, choose a fabric that allows air to pass through the garment easily to keep you fresh for long.
2. Moisture Control
Look for fabric that doesn't hold the moisture in. The solution to this problem is easy. You want innerwear with good moisture wicking. Regular cotton is by far the most common material for underwear for men, but it doesn't do so well at moisture-wicking. So you want something superior to cotton, that takes away the moisture. Search for different varieties of comfortable cotton fabric online to find out how certain fabric material made of cotton works better than other fabric also made of cotton.
Always keep in mind, a good innerwear won't just help with the odour. They'll also keep you cool and feel better. Hence, look for only the best underwear for men in India.
3. Consider The Fit
You also need to consider the fit of your inner wear. Tight waistbands and legs also trap moisture, even if you have a good microfiber material. Tightness anywhere is bad. It might not help you show your bulge, but that's probably for the best anyways; this also doesn't mean that you need the baggiest boxers in the world. As long as your boxer briefs don't leave impression marks, you're good on tightness.
At times, men find it difficult to find the right size. If you are unaware of your size chart, there are different guidelines you can use to check men's underwear size charts. Don't just grab one because you think it will fit you perfectly, make sure it fits you fine. Avoid going for the smaller sizes either because it will likely dig in at the waist and create bulges around your bum. You might even need to go a whole size up, maybe a band in a bigger size and the same cup size for your best fitting underwear.
Check out the Mens Underwear Size Chart here!!!
4. Softer is Better
You don't want your delicates to be attacked by a fabric that is in a rough mood. So look for fabric that is soft and feels nice and breathable on your skin. This is important for that comfort and softness you are looking for in your underwear. Cotton is definitely a safe bet, thanks to its absorbency and breathability feature but prone to shrinking, you can explore the cotton blend variety, as well.
DEO-SOFT men's underwear range is twice softer than cotton. Similarly, our exclusive bamboo fabric used for crafting the NEO-SKIN Vest Collection feels ultra-soft, also double the softness when compared to cotton. The luxuriously smooth finish of the fabric stays with you, season after season. Feels so new every day, makes you forget when you purchased it.
5. Form & Functionality Matters
For once, fashion is superseded by functionality as mens innerwear should be a perfect fitting one providing you with comfort and support. If the fitting is not right, then you will face issues of chaffing and general discomfort. So, the right size and fitting definitely matters when it comes to choosing the right innerwear. A relatively deeper round neck that is designed to fall below your first open button, giving you the choices you didn't have before can do wonders!
6. The Placebo Effect
No, don't overlook the design and colour part of the innerwear for all you know the Placebo Effect is there. If you like the form and design, then choose among the various colours and patterns that fit your looks, personality and tastes. So, go for a functional innerwear with a splash of design.
Wearing a well designed underwear that matches your personality can truly uplift your mood and day. It adds confidence to your strides. And if ever a moment comes when you've to show it off, well, you're ready for it.
7. Sustainability Matters too
Being a part of the slow-fashion parade is good for the mind, body and soul, all. NEO-SKIN bamboo is much more sustainable than cotton because it is not only self-regenerating but also eliminates the use of pesticides. Feel good on the inside with your eco-friendly choice.
Types of Underwear For Men as Per Body Types
If you're like most guys, your innerwear choices are probably limited by what's in the hamper or the closet you hang it from. Having said that, it can be a good thing to have options. There are a plethora of options for men's underwear out there, and it can become confusing if you aren't well-versed with the different types available. And so, we've taken it upon ourselves to investigate types of underwear for men based on body type and activity.
Check out the Mens Underwear Types in Detail!!!
In theory, these are mainly the four types of innerwear to choose from; each serves a different purpose to give you comfort. Let's read how:
1. Briefs (Snuggle fit)
Perfect for: Thin, Fit & Muscular men
Briefs are the most common, everyday wear, run-of-the-mill underwear that comes in a range of rises and designs that are good and comfortable. Their short length is good to cover your package, but there is no coverage or constraint on your thighs or legs, which is what makes them so comfortable for anything to be possibly worn over them.
With tightness as their specialty, they come with an elastic band, and are perfect for when you need ample support down there. This is the type of underwear everybody knows.
So, men with huge builds or men with wide hips, briefs may bring more attention to your weight or hip size. They might be comfortable and movement-friendly, but the body can risk stretching them out over time.
Briefs come in low-, medium-, and high-rise cuts that can accent the backside and profile. They leave the thigh and the side of the thigh exposed. The absence of excess fabric is key. Briefs can fit under tighter-fitting clothing without giving you a wedgie.
Low-rise briefs sit below the waistline over the hips. They give you just enough fabric to cover up what needs to be covered up and not a whole lot more. Many are designed to enhance the outline of the package. You wear low-rise briefs with low-shorts and low-rise jeans, and with gym clothes.
Mid-rise briefs sit at the waistline. They are designed to be worn with dress pants, board shorts, and regular-cut jeans,
High-rise briefs come up to right below the belly button. They can eliminate love handles and smooth the stomach. Wear high-rise briefs with high-waisted pants.
Popular features for briefs include fast-drying fabrics, waist-minimizing waistbands, and cuts that enhance the natural contours of a man's body.
Briefs are usually available anywhere men's clothing is sold. Explore the Briefs Collection here.
2. Boxer Briefs (Secure fit with ample breathability)
Perfect for: All body types
A classic boxer brief is a mid-rise brief that extends down so it covers about half of the thigh. Some underwear men's brands of boxer briefs only cover about one-third of the thigh. They provide the same amount of support as briefs with complete coverage.
There's a subtle difference between boxer briefs and trunks, as you get the best of both worlds with men's boxer briefs. There's extra fabric that covers more of the thigh area. The genitals feel very comfortable and well-supported.
This men's underwear style combines the close fit of men's briefs with the shape of men's boxers.
Unlike trunks, nothing seems too tight, too loose or exposed overall. That's why it's the most versatile type of underwear in the bunch. When in doubt – be brave with boxer briefs. Explore the Boxer Briefs Collection here.
3. Trunks (Slimmer cut than boxer briefs)
Perfect for: Thin, Fit, Muscular & Wide-Hipped men
Trunks have been around since 1999 when they were introduced by Calvin Klein. They have become a popular option in types of inner wear because they provide enough support and just enough coverage for casual wear.
They are a cross between a brief and a boxer brief that doesn't have the heap of fabric you find in boxer briefs. They have a square-cut appearance and short legs. If you want to try something a little different, try trunks!
With a tight waistband, they might be a good alternative for you if you find that the "hems" on boxer briefs are constantly riding up your thighs. Men's trunks – boxer briefs with a shorter thigh coverage – are pretty similar to swimming trunks (the ones which aren't the Speedo briefs style or beach shorts). They're generally made with a smaller waistband and less fabric.
Trunks are one step above typical boxer briefs in terms of fit. Provided the quality is good, they don't lose their elasticity for a long period of time. Trunks aren't a good choice for playing sports, but they are a good choice when men want a balance between looks and comfort. Explore the trunks Collection here.
4. Boxers (Looser, versatile innerwear shorts)
Perfect for: Big, fit and muscular men
Boxer shorts are the best men's underwear style that was once extremely popular, in the 1920s, that have made a comeback to the men's fashion scene.
Boxing shorts were designed to give pro boxers enough comfort and freedom of movement during a fight. They weren't baggy but slightly wider than the wearer's thighs.
Let's not forget that athletes have bigger thighs and legs than the average person (since they do lots of training and running – even inside a boxing ring). So if we look at men's boxers today, they're great for any guy who doesn't have a thin frame or "chicken" legs.
Boxers don't have elasticized leg openings that are meant to stay close to the skin. That means they can make your lower body appear larger but that's not a concern for men who are fit or have muscles all over, and bigger men in general. Explore the Boxers Collection here.
Why Choose DaMENSCH: The Best Men's Underwear Brand?
DaMENSCH is constantly in pursuit of innovating men's essential wear. In the pursuit of a world, where everyone's potential is unlocked to do more, every single day, making us one of the best mens underwear brands.
1. Micromodal Fabric
Step into the most comfortable underwear with DaMENSCH. Our line of DEO-SOFT Micro Modal underwear for men were made to be the only innerwear you'll ever need. Truly comfortable Men's underwear was a dream, and we would like to make it a reality for everyone. Suitable for all lifestyles and professions. Your old underwear looks upon DaMENSCH's DEO-SOFT Micro Modal underwear with envy, but you won't ever look back.
Expertly crafted with 93% Micro Modal fabric, and 7% spandex to ensure comfort, support, and longevity. Ideal for casual everyday usage, all-season wonder-wear. Made in India, for the World.
Everyone deserves to wear DaMENSCH underwear — the best underwear for men in India, and we've made sure to offer exceptional value for money with our line of Premium Men's Innerwear.
2. Deo-Soft Technology
Our Proprietary DEO-SOFT Fabric cancels all odour much faster than your friends cancelled those Goa plans in college. How? It has an inbuilt bacteriostatic function, in simple words, it doesn't let bacteria grow, hence, odour free all day! Designed keeping in mind the dynamic you, the 4-way stretch fabric is body responsive. Since the fibres are thin and tightly knit, the fabric is also very strong and durable. We mean if you want to try doing splits, we'd support you all the way!
With innovations that go beyond designs, it's on a mission to create premium essential wear for modern men who seek excellence in everything they do including their apparel. The men's underwear brand chose to start with the most neglected category in a man's wardrobe- the innerwear and has become one of the best men's underwear brands across all E-commerce platforms. Having launched into the mens loungewear category, DaMensch now plans to further expand its portfolio in near future. To know more about DaMENSCH, visit: https://www.damensch.com/
3. Perfect Fit
Men's underwear is traditionally a very overlooked product in the fashion industry, and it's often left as an afterthought, and many men don't even think about it until they need it.
But, with the introduction of our new generation of fabrics and styles designed to fit an active lifestyle, this has started to change. Men are becoming more conscious about their undergarments and are demanding better Quality. We understand that nowadays, most men are ideally looking for a comfortable fit, and our designing team tries their best to cater to their requirements. Having bought and worn many different styles of underwear, materials and brands, this is what our experts have to say about how they should fit:
Waist: They need to have a snug fit so they don't slide down without being too restrictive.
Rear: Even after having a snug fit, underwear should have sufficient room so they don't get pulled down in the rear. They should remain in place no matter what you're doing.
Legs: Boxer briefs extend part way down the upper thigh and should be snug all the way down. You don't want them pinching into your leg, but you don't want them flapping around, either.
4. Bacteriostatic Quality of Men's Underwear
Perspiration is a natural way for the body to cool down. However, you might have to deal with body odour that comes from normal skin bacteria(microorganisms) breaking down sweat secretions released from the sweat glands. This is why we have introduced some antibacterial properties in our undergarments, which will help reduce odour, keep you feeling fresh throughout the day, and allow repeated wearing without washing. Most of our antibacterial agents are silver-based, which can eliminate unpleasant body odours resulting from bacterial sweat metabolites.
The primary principle of an antibacterial finish on fibre is that it actively inhibits the growth/survival of bacteria sticking onto them. Silver and non-silver antimicrobials are both non-toxic and do not harm skin or an individual's health in any way.
Therefore, it's always a good idea to opt for breathable, absorbent materials like cotton that keep you fresh and active all day long so you can perform well without stinky underwear holding you back!