How can you style summer outfits for men?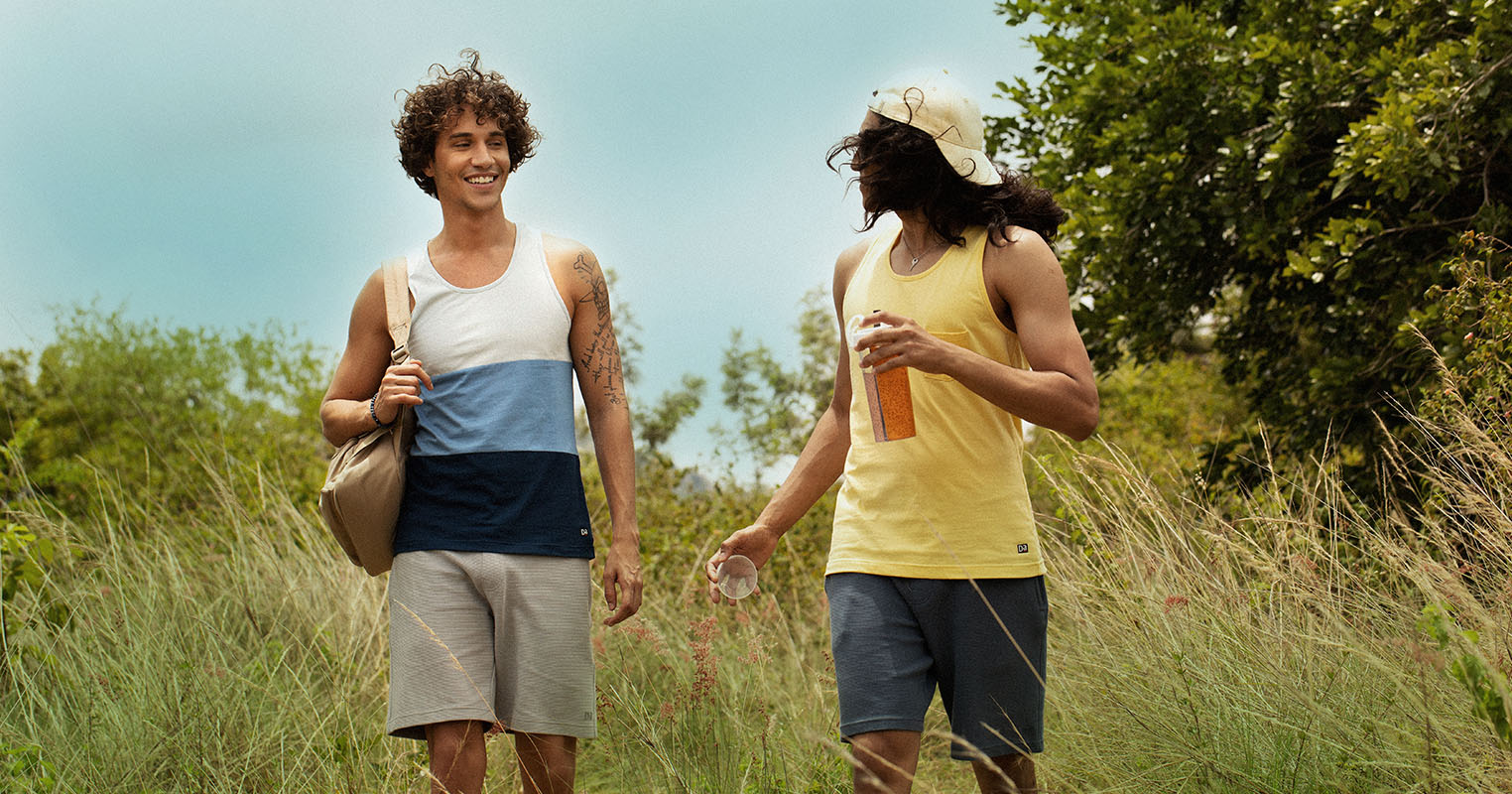 Summer is finally here, and it's time to look your best. Looking good in summers can sometimes be a little more tricky than in winters. For winters, you have a wider range of clothes, layering, and accessories that you can play around with but still never overdo it. Since summer is hot and sweaty, layering becomes a choice you can't have. Summer outfits are all about doing more with less clothing and accessories and to achieve that, you need to make sure every element of your outfit fits well without overdoing it.
Why choosing the right summer outfit is important?
Summer is the season when your skin is the most sensitive. It is what you wear that can irritate your skin and cause rashes. The sweat and the heat are the worst combos to go together and therefore wearing the right fabric and colours can make a huge difference. It is really important to make sure to wear loose-fitting clothes so that your skin doesn't feel irritated and there is breathability to ensure you don't feel suffocated. Wearing the right outfit for summer is crucial because the weather doesn't really support the good old black tee. Bright colours with cooler tones tend to have a cooler effect.
Get more Ideas on Clothing Styles for Men!!!
How to choose the Right Fabric?
Fabric plays a big role while choosing summer outfits for men. You need to have a better understanding of what fabrics work for you and which ones don't. Many people avoid polyester mixed with cotton fabrics as they tend to absorb heat. Cotton fabric is always the best choice when it comes to summer wear, they ensure breathability and easy movement with the fabric.
Khadi mixed with cotton fabric too tends to stay cool and is highly fashionable. Linen and Rayon fabrics also come in clear for making attractive and easy-to-wear summer clothes for men. Cotton and bamboo are generally the best choices, because they both soak up sweat, and have micropores which expose the water to the atmosphere, allowing them to evaporate and keep you cool. Further, chino cloth, a durable cotton fabric keeps you cool and withstands high performance standards.
Fabrics you need to stay away from are synthetic fabrics. They don't have the kind of moisture-soaking capabilities of cotton and bamboo and can cause rashes on your skin.
1. Daily wear summer outfits
Summer is all about happy and cheerful vibes, pool parties, going out and meeting lots of new and catching up with old friends. It is the summer season you get to come out of your comfort zone and experiment and while you're at it, why not experiment with your summer outfits? Summer is the season of bright colours, which means you can step out of your typical 'black' tee zone and play around with colours.
Checkout our wide range of casualwear collections.
Starting with formal outfits for men in summer, light-coloured button-down shirts are here to win the deal. Pastel shades are the talk of summer fashion and certainly suit all skin tones of men. So don't worry about playing with colours and be the best-dressed man in the room. For casual summer outfits for men, prints have always been there for the save. We know prints can be a little difficult to style but when paired with some contrasting chinos or shorts, and sneakers- you have the best summer outfit ready!
Plain t-shirt are also a great choice, especially if you want to go for a more sober look. They prove to be soothing to the eye which works well if you have an important work meeting, or an event to attend. Remember to accessorise your look with a classy watch and a nice leather belt, polished black shoes for formal events and some white sneakers later to tone down the look and give it a more casual feel.
2. Men's summer outfits for special occasions
Summers have a different feeling when it comes to wearing something 'special' to the event you've been waiting for. You want to look the part, but not overdo it, yet finding the perfect summer outfits for men for a specific occasion can be a little trickier than one can think. The fun in summer outfits for men can always be found in life outside of work. We're talking about those Sunday afternoon picnics in the shade at the park, those long lazy days at the beach with friends and family, or the long afternoon siesta after a heavy lunch. These are the moments of leisure and frolic you remember from summers, both as a child and an adult.
We have the perfect solution for you when it comes to dressing up special in summer. Summer is the season of short, and a pair of chino short or even regular lounge shorts go a long way towards adding that extra touch of class. Show up to your family barbecue in button-down shirts and chino shorts. DaMENSCH shorts have the extra advantage of having belt loops so that you can accessories further. You could also increase the cool factor by pairing a vest with your button-down.
MUST READ: Types of Pants for Men – Bottomwear Ideas!!!
3 Easy summer outfits men can pull off:
Summer is everything breezy, bright, and colourful and so should be your outfits. Here is a list of summer outfits men can pull off with ease and still look the best.
1. Polo t-shirts with chino shorts-
Polo T-shirt are always the best of the classics when it comes to men's t-shirts. They are the safest option when you don't want to do much but still do the part of looking smart. They range in a variety of colours where everyone can find the perfect colour for them. Pair them up with some comfy chino shorts, and some really cool sneakers to pair them up with.
Know More About the Different T-shirt Types for Men.
2. Chinos and shirt-
For all the formal wear lovers out there who can't miss any opportunity to wear a shirt, make this summer cooler than usual and pair them up with some beige chinos- the perfect ratio between keeping it chic but not overly formal. Chino short offers great durability and performance when worn often.
3. Lounge shorts and t-shirts-
When it comes to summers- comfort is key. You'd not want to end up in shirts especially when you're outdoors. Trust Lounge short and t-shirts to be the comfort play. They are breezy and know just the right way to make you look comfy and cool.
RELATED: How to Style Polo T-shirt??
Do's & Don'ts for summer outfits
Avoid silk, satin or synthetic clothes – These fabrics have zero sweat absorbing capabilities, instead, they capture heat which will make you feel more uncomfortable.

Wear accessories to avoid skin tan such as sunglasses, Quiksilver or huckleberry caps, etc. Heavy accessories are big for all summer seasons.
Choose DaMENSCH's

Neo Skin Vests

– They

are great for summers because it's made from bamboo fabric, which has more micro-pores and doubles the moisture-wicking capabilities of cotton.

Opt for solid or neutral colours. As we all know, dark colours absorb heat instead of reflecting it. Wearing more casual, cool colours should always be preferred to make you feel cool (in both literal ways.)
FAQs on Summer Outfits for Men:
What colors should I wear in the summer?
Light colours, always! Darker colours absorb more heat, so you want to steer clear of those. If you're having a bad laundry day and have no choice, make sure you're wearing a vest underneath to soak up the sweat and keep you cool. This is one of the coolest summer outfits for men.
What fabric should I choose in the summer?
Stay clear of synthetic fabrics. They don't have the kind of moisture wicking capabilities of cotton and bamboo. Cotton and bamboo are generally the best choices, because they both soak up sweat, and have micropores which expose the water to atmosphere, allowing them to evaporate and keep you cool. Bamboo is the best mens summer fashion in terms of breathability and moisture wicking, but if you're choosing cotton, stick with something that has longer fibres, like supima cotton.