Basics? We got you Better Basics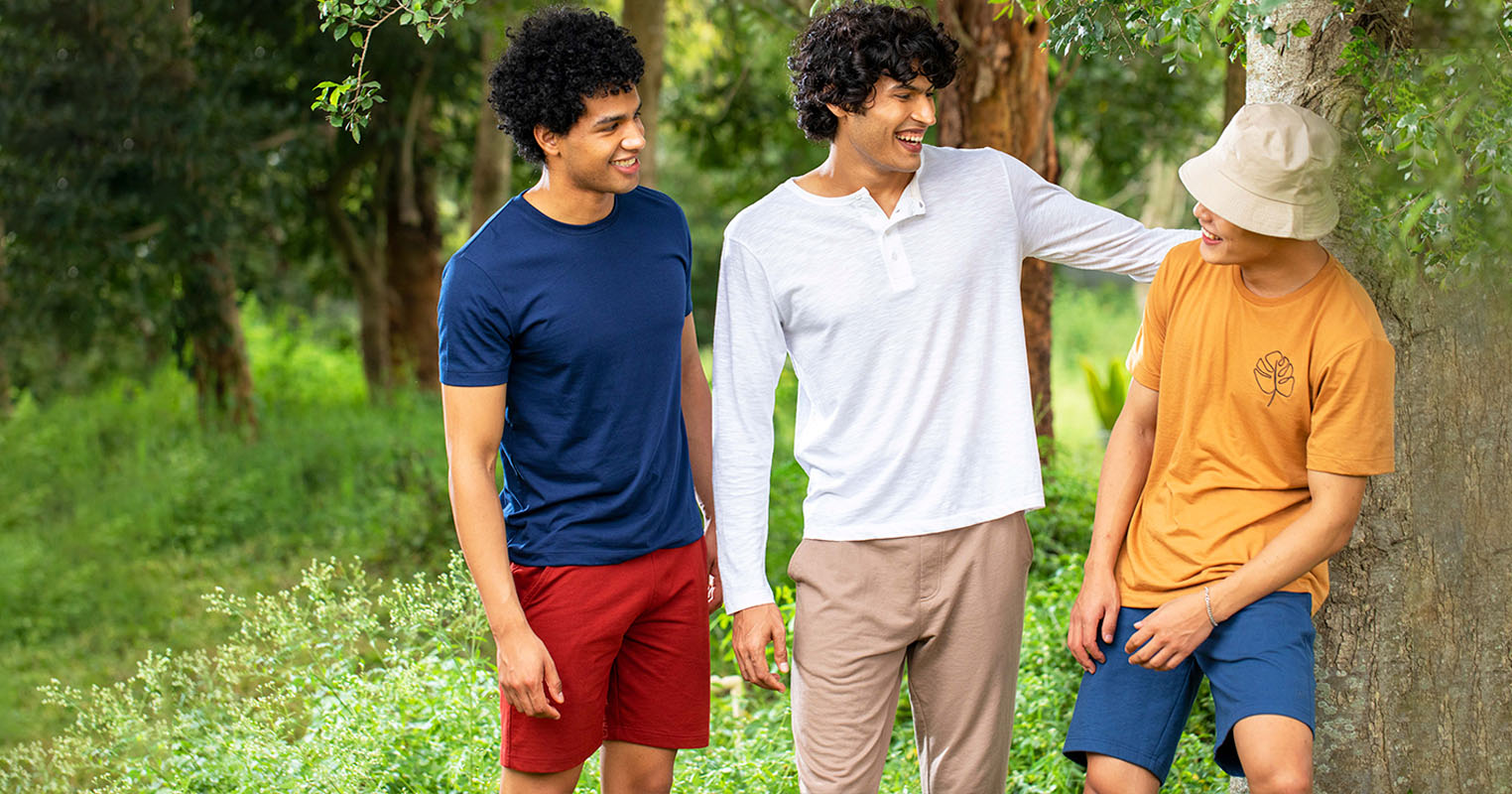 There are no two ways to choose from: basic clothing truly makes a man's wardrobe more fun, especially in the summer. They don't have to be complicated and they don't have to be massively expensive but they do need to be stylish. If you're not in the market for completely changing up your wardrobe, but you want to make a few small (but noticeable) differences to the new season's wardrobe, buying the right basics (sweatshirts, t shirts, shirts and chinos) is the perfect way to do it. So follow suit, gentlemen, and become the most stylish gentleman in the room this summer. Pay particular attention this summer to khakis, neutrals and every shade of blue there is.
There's nothing quite as satisfying as a fully-stocked wardrobe of brands and unique designs, complete with all of the basic clothing a man could need and that's a good definition of simplicity. It doesn't take a rocket scientist to work out the basic items that make up this wardrobe, but it can be hard to find the right pieces from the right brand. And if you are one of the high moral compass gentlemen, you would surely be striving for clothing that looks good on you, and stays good for the earth.
Enter
Better Basics.
Made from 100% Sustainably-Sourced Cotton
Simply put, these Better Basics clothing are your uber basic wardrobe staples that are made from ethically-sourced cotton only. So, if you often worry about where your clothes are coming from, this collection is your solution to a guilt-free fashion. And honestly, there's a certain allure in alternative clothing materials. Just ask the watch enthusiasts who buckle up straps made from crocodile, ostrich — or even stingray leather. Or the knitwear fanatics who pull-on pullovers woven from the wool of alpacas or Angora rabbits.
The use of sustainably-sourced cotton is an initiative to make your daily closet guilt-free.The threads are procured from different sources across India ensuring there is no middle man involved.
So we've done the hard work for you, and here are the only items you need to create a wardrobe to rival Michael Fassbender.
Better Basics T-Shirts
You need to start thinking of the basic t shirt of your wardrobe as the very backbone of what's going to turn you into a stylish gentleman. And every gentleman, no matter where he lives or what he does for a living, needs to make sure that he has a decent pile of plain, wearable basic t shirt in his wardrobe; pieces that are worth the investment and that will never go out of style.
Get to Know: Damensch Presenting Different types of T-shirt
Better Basics Joggers
We've been singing the praises of joggers for many years now and widespread WFH has cemented our position further still. These comfortable bottomwear from our Better Basics clothing collection sit somewhere between chinos and sweatpants, taking the best from both worlds to make a legwear option that's both comfortable and presentable.
Because of this, drawstring joggers instead of basic pants are perfect for working from home. These offer the comfort and ease of premium joggers while also being smart enough to wear with a shirt without looking like you got dressed last minute. Also, if you pick a neutral colour, they'll go with absolutely everything.
RELATED: Different ways on how to style Joggers!!!!
Better Basics Sweatshorts
It used to be that "sweatpants" was a byword for sloppy. To don a pair was to admit sartorial defeat and resign oneself to the sidelines. Not anymore. Today, sweatshorts' popularity represents a seismic shift in the world of men's style. They epitomise the concept of high-low dressing when worn with a little flair and you won't find a high-fashion house or high-street clothing store that isn't making its own version.
Better Basics Sweatshirts
It's cold, and you need something other than layers and layers of thin t-shirts to keep you warm. Step in basic sweatshirt, your best friend for the colder months and an item that is as functional as it is stylish. We'd always go for the chunkier stuff, but obviously that's just a matter of personal preference. Invest in a quality brand staple that isn't 'on-trend', but that you'll want to re-wear and re-use every year.
RELATED: Collection of Winterwear for men!!!
Better Basics Hoodies
The hoodie. Has any one garment come further over the course of the last two decades? From being villainised by the press in the early 2000s to making an appearance on the front row of fashion week in the 2010s, this simple sweater has gone from teenage moody fashion mainstay to haute-couture hero in less time than most of you reading this have been alive. If you don't own one at this point, you're a bit late to the hoodie party. Still, with the hoodie's ever-growing popularity, it's never too late to get into this mainstream trend. Try our hoodies from our Better Basics clothing collection and join the club!
Frequently Asked Questions
1. What are the parameters of sustainability for Indian brands?
In India, the Securities and Exchange Board of India (SEBI) has introduced BRSR, a reporting mechanism that gives a baseline to draw comparison between environmental, social and governance (ESG) goals across companies and sectors. BSBR is framed around three aspirations: Adapting to and mitigating climate change impact, inclusive growth and transitioning to a sustainable economy.
2. Are these parameters different from those of global brands?
The parameters vary from country to country. However, the generic idea of sustainability falls under the same umbrella as India with additions/deductions as per the nation's government norms.
3. How knowledgeable are Indian consumers when it comes to sustainability? How educated are they about slow fashion and are they willing to pay the price?
If you flashback to a decade ago, Indian consumers were extremely vary of the price points of goods they intended to purchase – they didn't believe in investing a lot at once. It was okay with them to purchase more frequently if it came at a lesser cost. With sustainable goods not available at their affordable price points, the habit of buying sustainable, and therefore pricey goods didn't develop. However with time, as people are becoming more aware, and are understanding the predicaments of fast fashion on the environment, we are seeing a positive change in the mindset with people willing to pay a slightly higher price for products that support the cause.
4. Affording sustainable fashion is not for everyone. Is there an equivalent alternate? Is sustainable fashion the only solution?
A lot of brands now offer sustainable fashion at an affordable price. The entire business model boils down to demand v/s supply. And if still not, one can always buy less, buy better – and therefore be a part of a slow fashion parade.