How to Find the Right Men's Underwear Size Chart?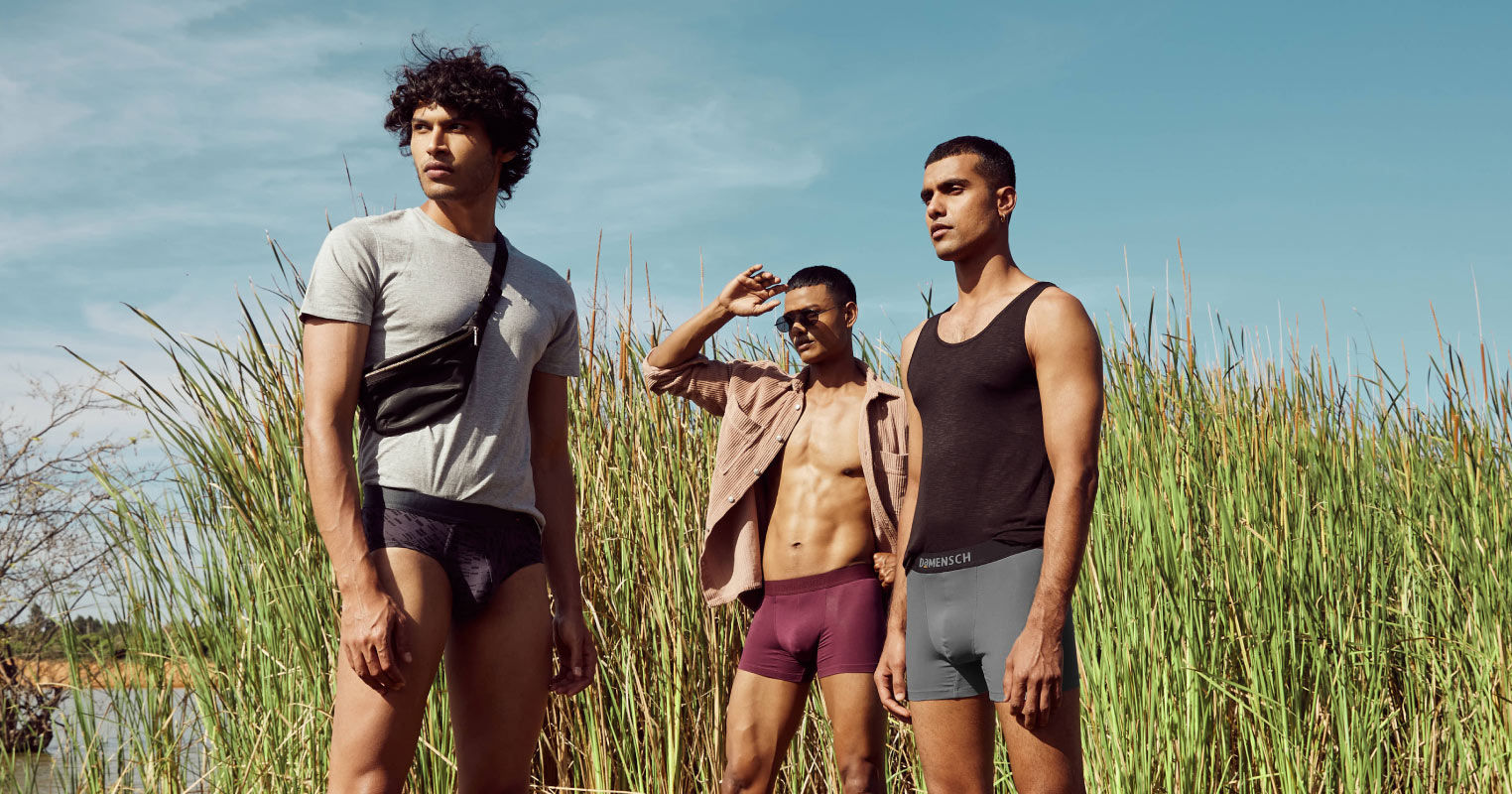 Mens underwear is the first piece of clothing you put on, and the last one to get out of. You can't go about your day without wearing underwear. And that is how it becomes one of the most essential parts of your closet.
And it's something you cannot go without. Therefore, it's quite a disappointment if it doesn't fit correctly. This article strips down the essentials of mens underwear size chart. And gives you the ultimate Men's Underwear size chart.
With the help of which you can find your ideal underwear fit and size. But there is a difference in underwear size for most men. There's a lot more to it than the waistband measurement in addition to mens underwear size chart India.
The Right Size For Men's Underwear
Men have different types of underwear such as boxers, briefs, boxer briefs, and trunks. All these types of underwear follow more or less the same men's underwear size chart in India. But their fit and functionality are a bit different.
What are the Rules to follow for Underwear size?
1. Measure your waist
That's the most important measurement for any mens underwear types. Especially if what you want to buy are boxer shorts or briefs or both.
To measure your waist, wrap the measuring tape around your waist. Where you'd like the band of the underwear to sit. You can even put on old underwear to be able to get an exact measurement.
Don't wrap the tape too tight around your waist. Leave a finger's space between the tape and your skin. It's easier to move around in slightly loose underwear. Anything too skintight can cause rashes, irritation, and a bloated tummy.
Secondly, while taking the measurements, don't hold your breath in. Relax your shoulders, stand up straight, and keep your abdomen natural. Don't flex your muscles. Breathe naturally. And definitely, don't contract your abs if you think you'll look slimmer in any kind of underwear.
2. Does the upper body matter?
Is your upper body not in proportion to your lower body? A stocky upper body can ruin the size of any underwear when the thighs and legs are skinnier. Imagine you are wearing skin fit sando for men with tight joggers. Not cool. Even more so if you have narrow shoulders and bigger thigh muscles and you-know-what!
A good trick to solve this problem right away is to size-match. This means your T-shirt should be larger than the underwear if you're bulkier. You can switch the sizes between the T-shirt and briefs if you're slender with a round tummy. And that is how to choose underwear size for male to become successful
3. What if I'm between sizes?
Go for the bigger size. If you take the smaller size, not only will it make you feel tight down under, but will also attract more sweat and odour in addition to the restriction in movement. While going for a bigger size is not ideal, it is still breezier and more comfortable. You might want to keep exploring between different brands until you find your perfect size.
Find Your Size: Mens Underwear Size Chart
Having said that, here's how you can tally the perfect underwear fit for your body using a mens underwear size chart in India:
What Is The Best Type of Underwear For Men?
You are a guy who's always on the go. You work every day in the office, and every weekend you have to attend yet another wedding, party or someone's birthday bash. Those fancy three-piece suits can be uncomfortable sometimes, but you know how you manage to dress them up with a smile? An ideal style statement is incomplete without the perfect underwear that compliments your personality statement.
But then comes the question of what your underwear should be. Shorts? Briefs? Boxers? Not knowing the difference between these four types of innerwear can cost you dearly. Imagine that one time you chose the wrong pair of underwear and ended up feeling grimy all day and worrying about sweat stains, being unable to sit easily, having to inch out of your pants when taking bathroom breaks, etc. There lie many worries when you choose the wrong underwear.
Each type of underwear has its own unique style with unique characteristics tailored for different people who have their own unique requirements for comfort and style. What really matters is what fits you and your lifestyle. So, to help you with this, here are a few pointers to help you pick the perfect printed underwear for men!
1. Boxers
Boxers, or Boxer Shorts, are good for any body type. Guys have an inclination towards boxer shorts/inner boxers because they are light and breezy. Additionally, they provide good coverage and breathability. The fabric is soft, thin, and yet supportive.
And therefore, the fit of boxer shorts/inner boxers is worth a shot. And the sizes are plenty for you to choose from as soon as you know how to choose underwear size for male.
Now, imagine a pair of boxer shorts. What is the first thought that comes to your mind? The elasticated waistband and easy loose fitting?
2. Briefs
When you want to be the most comfortable yet firm, you should go for briefs. The leg holes are broader while the waistband sits more tightly around the waist.
Not finding your ideal large men's white underwear size? Briefs are perfect when you require a size larger than normal sizes. Some say briefs are sleeker to fit than trunk underwear or boxers. With a shorter length, the material rolls up to the crotchless often.
3. Boxer Briefs
Boxer briefs take the most ideal qualities of both types of underwear. And, it brings them together in a form-fitting piece of fabric. The result is a slightly long but firm men's white underwear and a colourful sando for men would look great.
It's not baggy like boxer shorts. Nor does it expose your thighs like briefs. They're perfect in shape and length. Making boxer briefs a perfect choice for workout wear. However, the waistband does take a toll on your abdomen region.
So, if you prefer to wear something less skin tight under your outfits, box briefs may not be the right choice for you.
4. Trunks
Trunks are more modern and customized to suit specific sizes. They look and feel a lot like boxer-briefs. But trunks underwear are more easy-going than them. The waistband sits on the hips so it doesn't ride up.
The length of each leg stops around the mid-thigh region. They look more casual and easy-breezy than skintight. They may ride low for some, especially if you have bigger thighs. But this just means if you're skinnier, trunks are perfect for you.
And the tightness of the waistband is a little more forgiving than boxer briefs. It sits even lower on the hips than boxer-briefs. Feeling less and less uncomfortable when you sit and get up during the day.
MUST READ: Best Printed Underwear for Men – Shop for Every Body Type!!!
Frequently Asked Questions
Should you size up in underwear ?
Not unless it is absolutely necessary and in situations when it is medically recommended. However, it is better to wear a size bigger than a size smaller to avoid tightness and discomfort.
How do you know the right size of underwear for yourself?
After following the steps listed above, it is only by exploring different sizes and brands will you find your perfect fit.
MUST VISIT: Mens Inner wear Collections.
What size do I need for my underwear?
The simple answer is: the size that feels the most comfortable. Not too tight, not too loose – just the absolute snuggly fit.
Find Your Size: Mens Underwear Size Chart
Having said that, here's how you can tally the perfect underwear fit for your body using a mens underwear size chart in India:
Why choose Damench the Top Men's Underwear Brand in India?
In the era of multinational corporations dominating the market, we're a homegrown brand that is thriving. Exemplifying the ideals of Make In India, DaMENSCH is a brand that is 100% committed to making men comfortable, starting with our own Desi boys.
With great design and craftsmanship, at DaMENSCH, we also offer quality men's apparel made only in India. By using the best materials at the forefront of innovation and technology, our products are comfortable to wear and of the highest quality. We think that India's men are some of the most stylish, fashion-forward and entertaining in the world. And we wanted to make sure they became even more comfortable. We are so stoked with all the excitement surrounding our brand in India.
We don't believe in fast fashion. Fast fashion has brought us to a precarious place when it comes to the accumulation of waste. We ensure that our products are long-lasting, leading to less waste in general. Slow fashion is the future of apparel, and we're starting the trend early!