Boxers vs Briefs: Which is the perfect choice?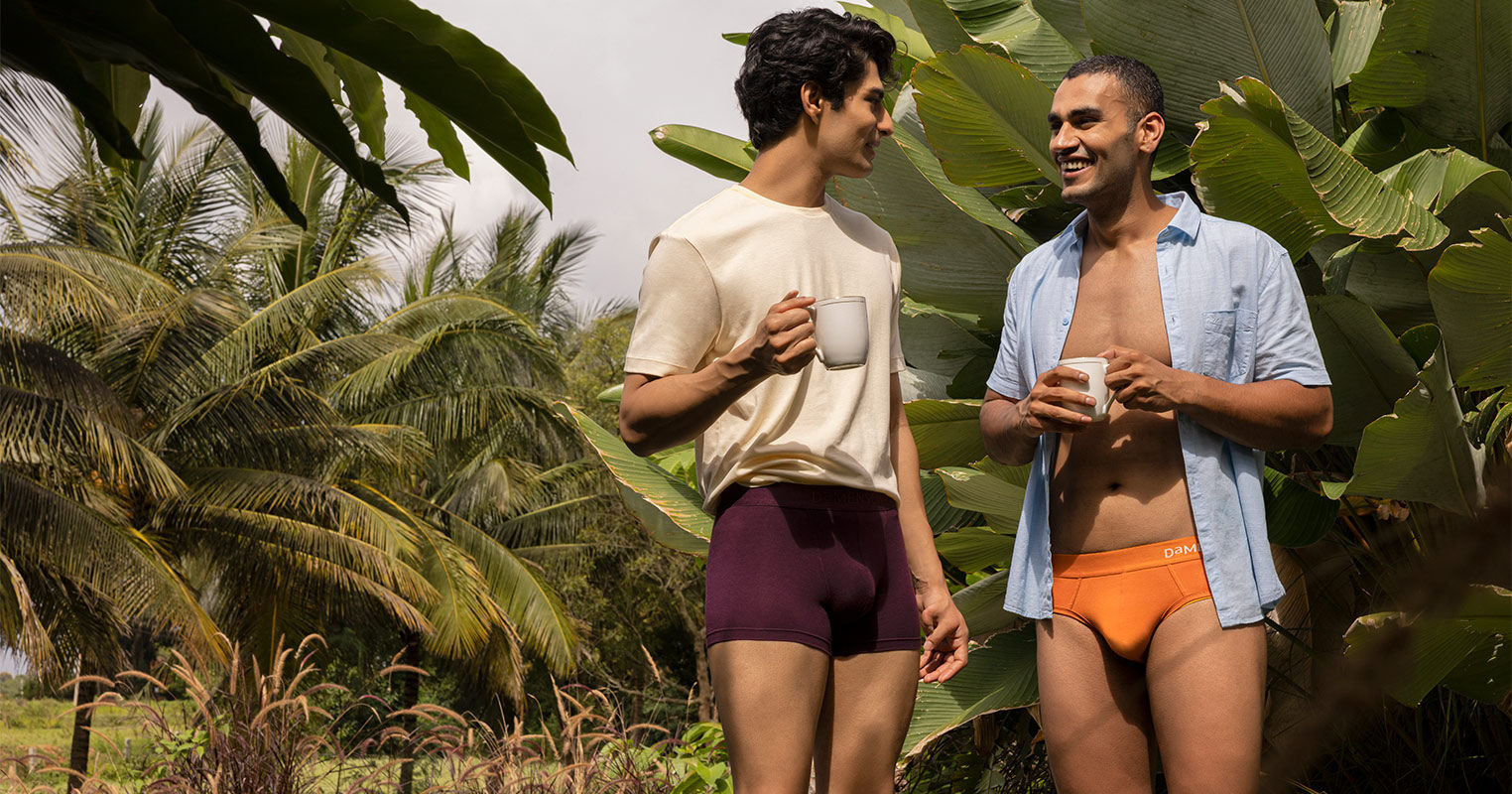 If there's one thing men don't agree on, it's underwear. Underwear is a deeply personal choice, and something that depends on a person's physiology, their personal preferences and most importantly comfort. Ultimately, it comes down to where a particular form of underwear falls in the spectrum, defined on one pole by support, and on the other, by breathability. Both are important parameters, but people tend to have deeply held preferences when it comes to the balance between both. Some people may prefer more support, while others can't live without breathable underwear. On the extreme ends of the spectrum are two of the most popular types of underwear — boxers vs briefs. Briefs are a popular choice amongst men when it comes to good support and durability. Boxers are preferred by men who are free spirited in nature and who love breathability over all else when it comes to their underwear. Both have their merits, de-merits and context. So what's the difference between boxers and briefs? So let's settle the debate once and for all — boxers or briefs.
Boxers — longer and looser
Have you ever wondered why boxer shorts are called boxer shorts? Turns out, the origin of the phrase is quite literal. Boxing, one of the most popular sports among men, requires a high level of skill and finesse. Professional boxers need to be quick on their feet, to avoid punches and throw some effective ones on their own. In the early part of the 20th century, boxers began using loose shorts with elastic waistbands that allowed them to move around quicker in the boxing ring. The US army soon began dispensing boxer shorts as standard issue underwear, and they started gaining popularity for being loose and breathable.
Even today, the legacy of boxers are defined by how comfortable they feel. In the boxers vs briefs debate, boxers are a comfort-first option when it comes to purchasing underwear. They are loose, breathable and perfect for wearing in the summer months in tropical or subtropical climates, where more constrictive innerwear can lead to a build-up of sweat. It's not only their comfort factor that makes boxers such a good buy. They are also a pretty respectable option when it comes to wearing outside. If you're dashing out for a quick trip to a grocery store, or a walk in the neighbourhood, boxers are a great option because they come in a lot of different prints and can be styled in many different ways.
DaMENSCH Breeeze boxers are crafted to maximize both style and comfort. Made from 100% soft Deccan cotton, they are available in a variety of cool and funky prints. Cracking open a cold one over the weekend with your boys? Do it in our special beer mug print Breeeze boxers. They're also ultra-light, ensuring that you will feel loose and comfortable in them, literally like their name guarantees. So don't think twice, just catch the Breeeze!
Briefs — for support & snug fit
Briefs are undoubtedly one of the most popular men's underwear types in the market. Classic briefs were sold in 1935 by Jockey, then known as Coopers Inc, who were inspired by short bathing suits worn by visitors to the French riviera. They were sold as 'jockeys' because they claimed to offer support similar to the jockstrap, a kind of men's underwear that is used during athletic activities.
Even today, the calling card of men's briefs is the unparalleled support they offer. Men often own two types of underwear — briefs and boxers or boxer briefs. Briefs are generally worn by active men who work out regularly or play sports. When it comes to an activity like running, briefs are the ideal choice because they provide ample support around the glutes and core and are good at wicking away sweat. Briefs are also considered fashionable because of their unique high cut design, offering more freedom and flexibility to the thighs.
Briefs are usually made from cotton, because of its superior breathability and moisture wicking capabilities. DaMENSCH briefs are made from our superior Deo-Soft blend, which is designed to maximize moisture wicking and odour-cancelling properties. Deo-Soft briefs are made from a blend of supima cotton and modal fibre. Supima cotton is a special type of long fibre cotton that is imported from America. The average cotton fibre is one inch long, while supima cotton is one and a half inches long. This increased length of fibre lends it greater tensile strength, making it a very sturdy and long lasting fibre. In addition, the quality of the cotton also lends it a softness that is enhanced by the modal blend. This is one of the softest underwear types you will ever try, so we highly recommend it! Cotton is also great for wicking moisture and keeping you cool and dry down there, especially on hot summer days.
The conclusion and the compromise — boxer briefs
Unfortunately, the world is not binary. Boxers or briefs? Unfortunately, when it comes to the spectrum between support and comfort, a lot of men find it difficult to pick a side. The truth is that many men, a significant number in fact, prefer to have the best of both worlds. The difference between boxers and briefs has to be bridged. For men who are a little plus size, briefs can be difficult to pull off because there is a limited amount of support that briefs can provide, by virtue of its design. On the other hand, some people hate boxers for the opposite reason. It can be a little unsettling to have everything loose and hanging down there. To find the solution, we have to move beyond boxers vs briefs.
For those who want the best of both worlds —- boxers and briefs, boxer briefs are the perfect choice. They're form fitting like briefs and provide a decent amount of support, while also giving enough room to keep everything comfortable down there. They are also longer and looser than briefs, bringing them closer to boxers in their appearance. You can use them while working out, or just pair them with your regular leisure clothes.
Must Read About Best Men's Underwear
Finally, there are some studies that show that too much compression can lead to a reduced sperm count, so make sure that whatever underwear you buy, in both boxers and briefs, you get the right size! DaMENSCH has you covered in this department, because we have a 15 day try-on guarantee. If you're not satisfied with the fit of your inners, we'll give you a replacement!