Style Guide: Gym Clothes for Men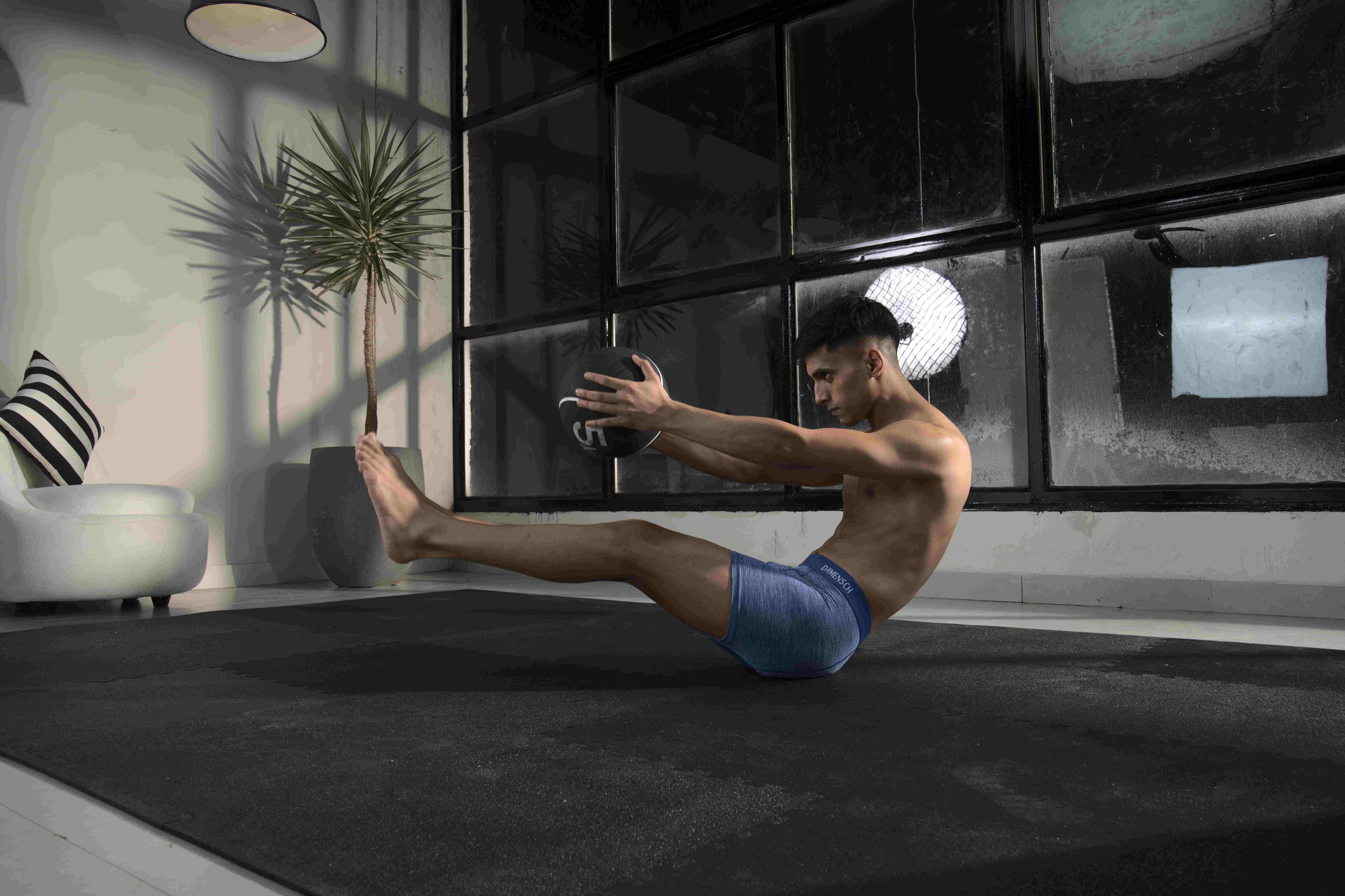 The gym is not a location that one would usually associate with style. I mean, if you've ever been in a gym regularly, as this author has tried to, multiple times, you will know that it isn't exactly the Met Gala. There are people on the floor, sweaty, huffing and puffing, lifting weights, doing crunches. Nobody is paying much attention to what they're wearing. In the gym, it's all about functionality over style. Or is it?
With the rising popularity of aerobics and home workouts in the 80s, the best gym clothes became a particular style of fashion. Close your eyes and you can already imagine it. Bandanas, tank tops, leggings, sports shoes. Nowadays, we also have activewear, which is designed to help people have comfortable workouts, while also keeping them cool and sweat-free. Basically, the point we're trying to make is this — it's not like the old days where you had to work out in whatever leisure clothes were available. Now, there are so many options and you can find a style that suits your personality when you go to the gym. So let's dive right into it!
Why Choosing the Right Fabric is Important for Men's Gym Clothes?
What were once great workout clothes can soon become far from it after washing it over and over again. And, when you finally step foot into the gym, you feel like you're suffocating in a giant body-sized sweater made of cotton.
A fabric's ability to wick moisture away from the body to allow it to evaporate faster over time (and therefore reduce your risk of bacteria build-up) is a crucial component in choosing an ideal fabric for your exercise needs. A good rule of thumb is to choose sweat-wicking fabrics that have higher percentages of nylon, polyester and/or spandex — all of which are good heat-conducting fibers. It's also important to note that the tighter the fit on a pair of pants or shorts, the greater their potential to keep sweat close to your body, so try to avoid that!
Make your next trip to the gym a successful one by investing in workout apparel that features natural fibers that are made with care to keep you looking and feeling good during your workout routine. Learn more about the different kinds of gym clothes today!
Best Workout Clothes for Men
1. Go sleeveless
Sleeves? Who needs them! The gym is a place where you're meant to sweat it out, and having your arms free and unhindered can add another dimension to your workout. Think of tank tops and vests. Both these items are extremely useful, especially in the summer months when temperatures and humidity runs high.
Damensch presents the best summer outfits for men.
This is particularly useful if you're someone who prefers to work out outdoors — runners and cyclists, we're looking at you! Pair these with a good pair of dry-fit short and running shoes and you're good to go!
2. Picking the right shorts
Short are an absolute must-have in workout clothes for men, because they offer so much ease of movement. The right shorts can be hard to pick out because not all shorts are created equal. There are shorts with a more rigid design, such as those with buttons and are made from thicker cotton fabric — these are not ideal. They are meant to be worn with smart casualwear for an outdoorsy look, so they're not the best gym clothes. The shorts you choose from the gym should ideally have an adjustable elastic waist, should be moisture-wicking to keep you cool and should end a couple of inches above your knee so that there is adequate freedom of movement. Pair it with some nice gym sando, and it becomes the gym clothes for men!
3. For the cold days
Winter workout clothes for men are essential to keep those good chemicals flowing in your body and brain during the gloomy months of the year. We've all seen movies in which the star works out in the cold wearing nothing but shorts and gym sando, but in real life, this isn't really advisable. For working out in the winter months, pick out gym outfits that keep you warm and well insulated, while also providing adequate freedom of movement. A roomy sweatshirt or a hoodie should be one of the first things you should pick up while building your wardrobe for the best gym clothes for men. As for the bottoms, choose a pair of well insulated leggings — such as jogger from DaMENSCH, or our ottoman joggers, which have a thicker coat.
4. Track pants
Track pants have been historically associated with running, but there are more advantages to buying and style joggers than just jogging. Joggers have made something of a fashion comeback during the pandemic years, thanks to their comfort and ease of wearing. Joggers are a key component of a new range of styles known as two-mile fashion. Like the name suggests, you can wear joggers outside too, as long as you style them properly to fashion a languid and sporty look for yourself. If you're not a fan of how the fabric of joggers feel, you can easily replace them with a pair of pyjama; a comfortable option for gym outfits!
Have a look to the best track pants for men.
Who says sporty isn't stylish?
As we mentioned earlier, the sporty look has transcended simply working out. Thanks to street fashion, the effects of the pandemic and an evolution in the mindsets of people, we have shed the rigid fashion practices of the past and are moving towards a world where casual is chic, and being comfortable doesn't preclude looking stylish. This has brought some much needed changes in the realm of workout clothes!
Two-mile fashion is the next big thing when it comes to casualwear gym outfits, and there are a range of different ways in which you can style your sweatshirts, trackpants, gym tank tops, shorts and sneakers in a way that will look eye-catching and classy. Make sure you accessorize correctly with some nice, sporty-looking gym tank tops and a funky pair of shoes that adds to your stylish workout clothes!
Conclusion – don't forget inners!
In conclusion, there are plenty of ways to be stylish in the gym. It's not all about showing up in your shorts and sweating it out. Picking the best stylish gym outfits in a way that suits your personality can be a powerful pre-gym time ritual that helps you get in the zone, build confidence and get the best out of your workout. Although stylish gym outfits are great, at the end of the day, prioritize the functionality of your outfit. Is your outfit helping you move freely and get the best out of your workout? Then don't think twice, it's the best gym outfit for you!
We've mostly covered outerwear in this article, but one thing that is very important in your stylish gym outfits is finding the right underwear to go with them. Loose, floppy undergarments like boxer are unsuitable for the gym because they simply do not provide enough support. If you're scaling up the difficulty level of your workouts, make sure you choose underwear that provides adequate support to your body. Neglecting this can lead to injury. Choose innerwear like trunks, briefs or boxer-briefs that are form fitting and provide adequate support. They should also be moisture-wicking, so that you can stay dry and prevent unpleasant jock itches and rashes. DaMENSCH's pro-active underwear is perfect for this, thanks to its quick dry formula that helps you stay fresh and comfortable, and also its form fitting design that provides adequate support. Make sure you get a pair to go for your stylish gym outfits!