4 Best Jogger Outfits for Office Wear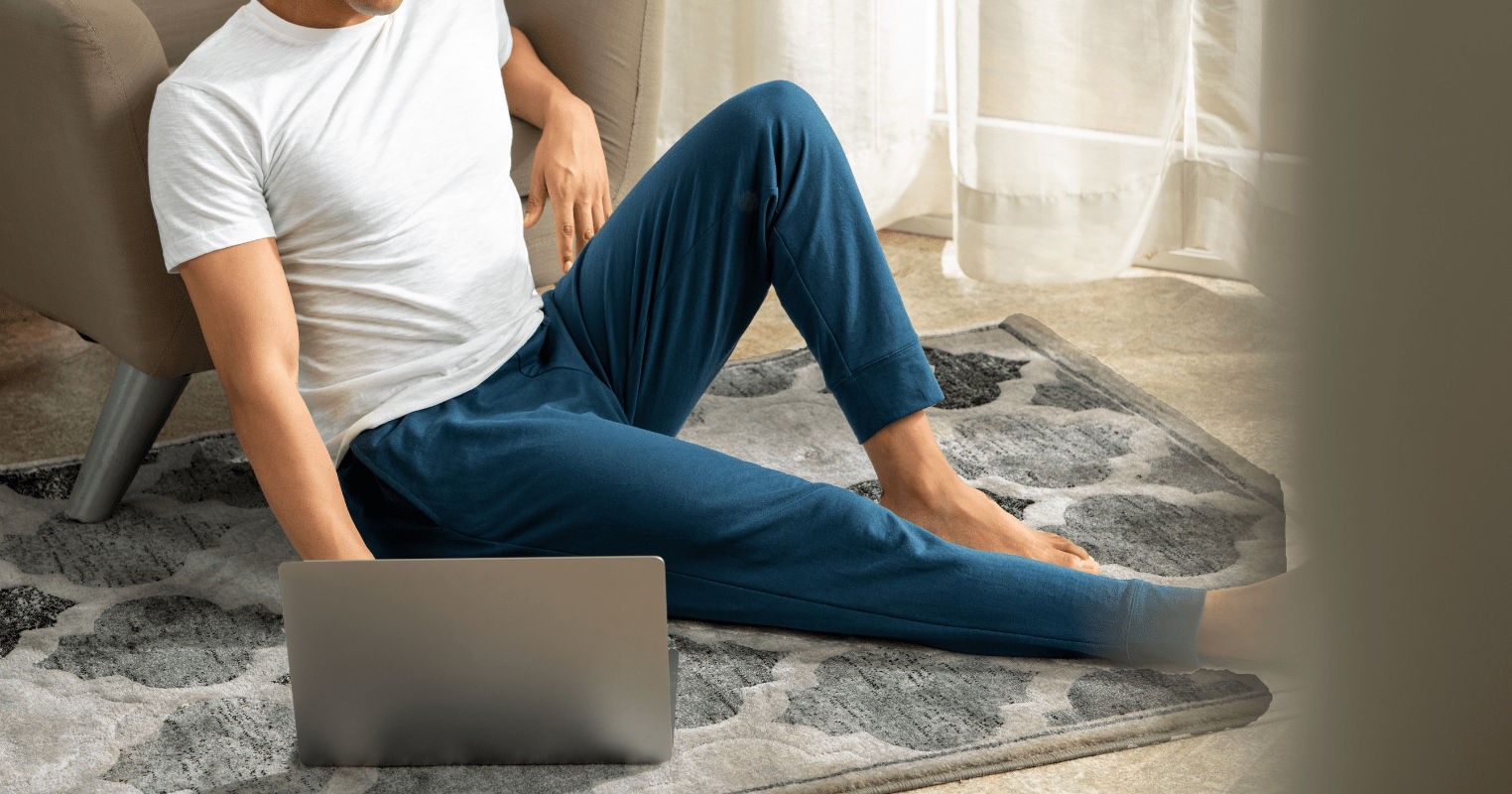 When it comes down to knowing the must-haves of a man's wardrobe, jeans always win the race. Even though denim sometimes can be a little overwhelming and uncomfortable, they still were always a man's top choice. But as times change, men have started giving more importance to comfort and breathability and thus, the next big thing in the market is to wear joggers.
Joggers are casual athletic pants made with lightweight fabric that ensures durability and comfort. The structure is designed so it tapers down in a cuffed elastic around the ankle, giving it an athletic look, and has multiple pockets. A pair of high-quality joggers can now be worn outside of the gym, on walks, to the movies, when you meet a friend for coffee, or on a lazy Sunday at home. Jogger for men are the new cool. The baggy fit joggers give it an edge of street style which is highly popular and in trend these days.
Joggers vs Sweatpants
Going around the market of athleisure wear for men you might come across sweatpants. Now the question is, which one should you choose Joggers or Sweatpants? The trick to the answer to this question is that both of them come with almost equal comfort but have widely different style shapes and thus making it different for the occasions you can wear them to.
While joggers for men are more fashionable, lightweight, and can be worn for public gatherings and appearances, sweatpants are heavier and are generally made for the cold weather due to their heavy and warm fabric. Thus sweatpants have more of a casual and funk feel to them whereas joggers have just the right amount of casual to formal ratio to them.
Men's everyday jogger style
The best part about jogger style is their ability to provide comfort and style both at the same time so it makes more sense to own more than one in your wardrobe. Some of the best jogger outfits that you can wear everyday are:
Dependable Gym Tank
Style jogger pants with a dependable tank top is the best jogger style to get a man into training mode. When you go to the gym, a contrasting tank top made of breathable fabric and a great pair of flexible, moisture-locking joggers will make you appear sharp without an effort. The best joggers for men feature interlocking double-knit fabric at the bottom of the jogger that provides you with good support and movement when you get ready for any high-performance activity. Don't forget your sports shoes with this look.
Cotton-vest
Wear a cotton vest over a pair of snug sweats for a slick. While they are classified as sportswear, slim-fit Ottoman joggers are very much ideal for lounging on the couch on those extra-lazy weekends when friends come over or wearing while watching Netflix and chilling or if you need to run to the store quickly. Because of the sweat-wicking fabric and flexibility of the sweats, it is a top choice if you want to relax with style.
Sakshi Srivastava, Senior Fashion Designer, DaMENSCH suggests how to elevate your appearance with joggers look while wearing it in the office.
How best jogger outfits have made their way from home to office?
Joggers provide comfort and comfort is all you need while you are at work. The tight formals have made a tight spot in the workplace but with the changing time, best jogger outfits have found their way into the workplace. Even though joggers are renowned for comfort wear, they can also be styled in a casual-formal look that you can easily wear to your office. Pair some pair of khaki joggers with a cool buttoned-down shirt and a smartwatch to complete the look. To move the look up a notch, you can pair this outfit with a cashmere sweater or a cardigan to make your outfit look appropriately formal yet classy and comfortable.
Joggers with shirt
You can breathe new life into your old wardrobe with a two-piece set, Mens hoodie, and jogger set. These matching coveralls have resurfaced thanks to the current 1990s renaissance and continuous taste for throwback sportswear. A casual fitted or oversized hoodie paired with matching joggers makes it a jogger set. To see even dapper, add a baseball cap and colourful sneakers to your ensemble.
Style jogger pants with Polos
If you're a fan of Polo T-shirt, this styling tip is one you can surely ace! Pick a polo shirt in your favourite colour and pair it with some really cool joggers. To close the look, don't forget to wear sneakers and a pair of dope sunglasses. This outfit will make you feel the best and most confident version of yourself and yes, you will be very comfortable, thus a win-win situation!
Well-Fitted T-Shirts
The solid tshirt or a polo has evolved into a wardrobe staple that goes great with a jogger's laid-back look. Choose a solid-colored basic crewneck T-shirt or polo instead of jazzy patterns to go perfectly with your jogger. This new style of joggers for men makes dressing easy and effortless.
Lightweight Layering
You'd be astonished at how many different ways layering your clothes may keep you warm on those chilly days. Pair your cool jogger with a branded sweatshirt or hoodie and sneakers for a streetwear vibe. You can also amp up your look with a white tee, bomber jacket, or denim jacket and leather sneakers for a laid-back look suitable for men of all ages.
Be Creative with Co-ords
Wear black from head to toe. It has long been a staple of the clinically cool, and it is easy to understand why. This look is classy, smart, and will never go out of style. One of the most used words in menswear is simplicity. A classic grey crew neck will always win, but other neutrals and earthy tones can also work. It is impossible to go wrong with a deep, rich navy blue for joggers. Last but not least, make sure your joggers look like they belong with the outfit, not like they were thrown on because your favourite pair of jeans were in the wash.
Conclusion
DaMENSCH's joggers are widely renowned to be fashionable and highly classy. We hope by the end of this blog, you get answers about how to wear joggers, why they are so popular, whether you should own them in your wardrobe and how you should style them. Joggers have always been trendy and still never miss a mark when it comes to making an impression.