Boxer briefs vs Trunks: The Right Underwear for Men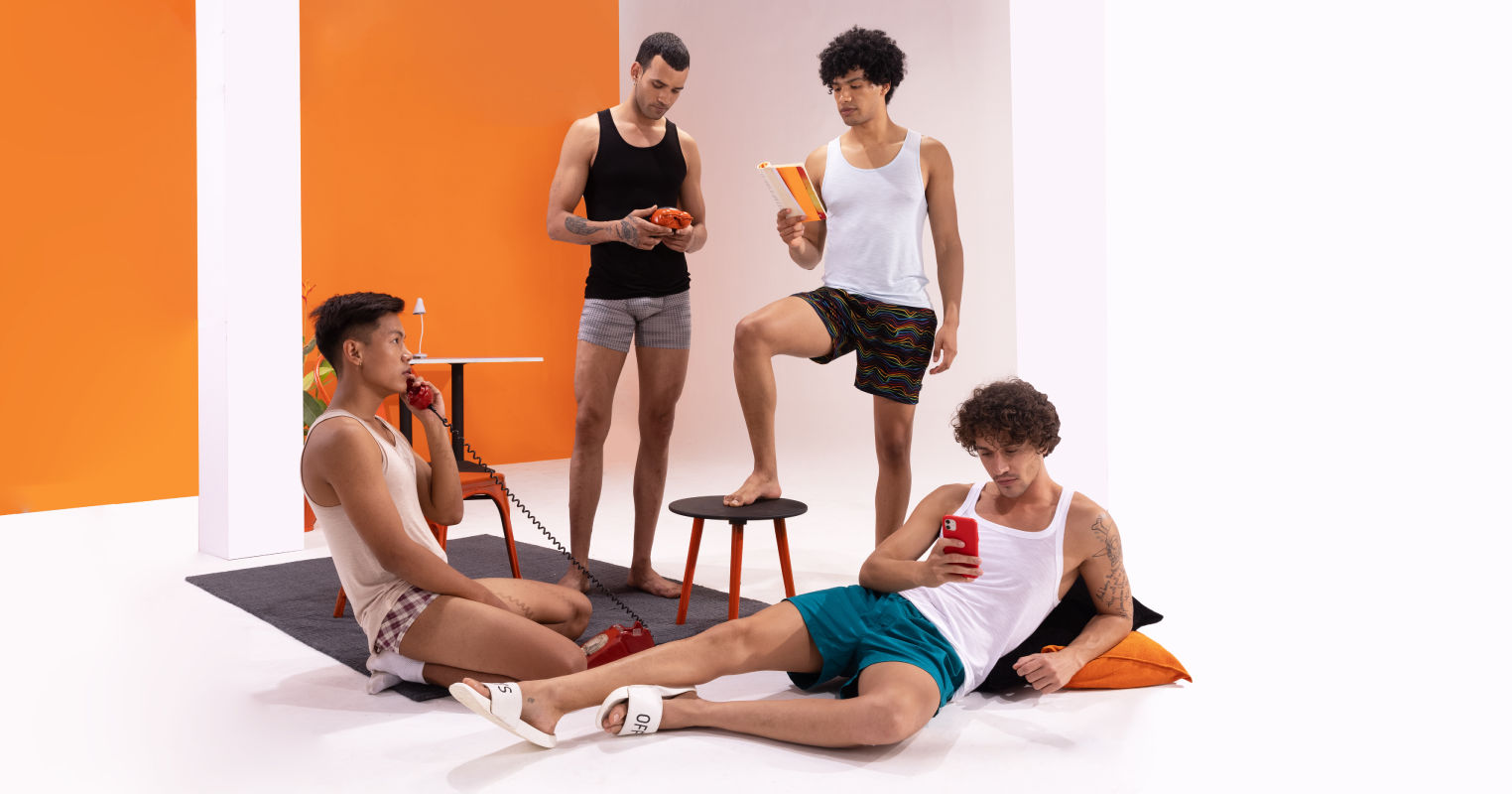 For the longest time, the story of best men's underwear was centered around the age-old debate of boxers vs briefs. Seemingly polar opposites in terms of fit and comfort, boxers and briefs dominated the headlines for good reasons — their features were at the opposite ends of the spectrum of functionality. Briefs for support, boxers for breathability. But advancements in textile technology would shift the locus of that debate.
In the last two decades of the twentieth century, two new contenders entered the market — boxer briefs vs trunks. The invention of micro-modal technology and its combination with elastane meant that suddenly underwear manufacturers could explore different topologies and fits. Suddenly, all those men who had felt caught between the two poles of boxers and briefs could find a pair of tighty whities that could meet their needs. Exciting times.
That brings us to the central question we're trying to answer here: Boxer briefs vs trunks. Which is better? Should you choose just one? Is neither good for you? What is the difference between mens underwear boxer briefs vs trunks? The answer, as always, depends on a few factors. Let's dive into them.
Why Is It Important to Wear The Right Underwear For Men?
First, let's understand why it's necessary to keep underwear on our side at all times!
Going commando might be appealing to individuals, as sometimes it can feel a bit liberating. But men, you should never overlook the benefits of wearing underwear. Not only does it help in protecting your outerwear but also your skin.
Think of all the times when you go commando; what happens? Your inner thighs rub against each other, which can lead to rashes and chafing while sitting in between long hours at work. In addition to that, going commando can actually damage your skin. It might sound unbelievable, but all that rubbing and sweating can break down the skin cells leading to ingrown hairs or even cuts from the friction caused by too much rubbing. But by simply wearing undergarments, you can avoid chafing and prevent your body from unnecessary wear & tear.
Difference Between Boxer briefs vs trunks
If you were a 90s kid like the author of this post, you have probably spent many school days just waiting to come home and free yourself from the clutches of the sharp itchy cotton of the briefs you wore under your school uniform. You might also remember the glorious day you finally graduated to boxer briefs, providing a level of comfort and support you thought wasn't possible to combine in one undergarment. So, there always remains a classic debate: boxer briefs vs trunks, and we're going to answer it for you!
Boxer Briefs
For some heavy men, or even athletes with thick thighs, the lack of legroom in mens briefs was its most major drawback. With the advent of boxer briefs, this problem was solved. With increased leg-room and maneuverability, it's easy to see why mens underwear boxer brief are the perfect choice for those with thicker frames. Apart from that, in those sweaty summer months, thigh chafing can be quite pesky and painful. Boxer briefs with their added thigh protection and moisture-wicking capabilities can effectively help you deal with this problem; making them the best sports underwear men.
Trunks
For shorter men, the trunks are the ideal choice here when thinking about boxer briefs vs trunks. They provide support and legroom without taking up too much space. The boxer brief might prove a little inconvenient for those for a shorter height, because the extra fabric may ride up your body when you're wearing pants, especially high-waisted pants.
If you decide to give trunks a try, we suggest you go for ones that offer the strongest support. Strong waistbands and leg openings will prevent your underwear from slipping down throughout the day, as you will choose a fabric that usually has two layers of material. Mens Trunk usually have a snug fit, so they can be a great alternative for men with lean thighs. They make sure that everything stays in place, and with our varied collection of antibacterial underwear, you'll be able to feel comfortable and hygienic all day long!
What is the key difference between trunks & boxer briefs?
The main difference between boxer briefs and trunks is that trunks have a shorter fit, while boxer briefs have a few extra inches of thigh coverage. So what do you pick in this situation? Well, the answer is simpler than you think.
RELATED: Experts Guide on Best Summer Outfits for Men!!!
Outfits can play a role too
Summer is on its way and it's the season to ditch pants for shorts. Shorts can play a crucial role in keeping your legs cool on a sweltering day and sure enough, not all underwear goes well with a pair of shorts.
If your shorts are long, like cargo shorts or bermuda shorts, you might get away with wearing boxer briefs. But if high cut shorts are your thing, you might be better off swapping it out for trunks. Trunks are short and compact, and won't be visible beneath the fabric of your bottoms in any situation. While boxer briefs are a little more risque in this context. You can consider looking for some options, by exploring our stylish organic underwear collection. You can rest assured, as being one of the best mens underwear brands, we only use the best fabric for underwear, to give our customers a premium quality experience.
MUST READ: Types of Mens Underwear
In the winters, by contrast, boxer briefs are a better choice because they offer a little bit of extra warmth underneath your jeans and jackets.
Conclusion – it really depends on you
As we have seen, while reading the difference between boxer briefs and trunks, trunks and boxer briefs both have their advantages and disadvantages. To conclude, go for boxer-briefs if you have a thicker build. They provide a level of comfort and support that briefs can't offer. If you have a leaner build, and want to feel light and breezy down there, trunks are your friend. If you're a taller man, boxer briefs are your friend, because they offer those few extra inches that are crucial for comfort.
When it comes to outfits, if you're someone who wears shorts a lot, a pair of trunks is a necessity, as they can be ideal sports underwear men alternatives. You can consider checking out some of our hemp trunks collections to get a better idea!
At the end of the day, whether you're a trunks person or a boxer briefs person, we recommend having a couple of pairs of the other handy. There's a lot of overlap in the functionality of the two, you don't want to miss out.
Frequently Asked Questions
Boxer briefs vs trunks: which is better?
There's no easy answer to this question. But at the end of the day, it comes down to two factors — build and outfit. If you're a taller man, or someone with thicker thighs, then boxer briefs are the ideal choice. If you have a leaner build, trunks are comfortable. If you're someone who wears shorts regularly, trunks are a good addition to your wardrobe because of the comfort and support they provide at a shorter length,
What is the difference between boxers and shorts?
Boxers are mostly used as innerwear, but can, at a stretch, be worn outside as well. They're ideal for lounging at home, but you don't want to show up to a party in boxers. Shorts, on the other hand, are excellent casual wear, especially in the summer.
What is the difference between boxers and trunks?
Boxers are loose-fitting undergarments made of smooth cotton that are ideal for comfort and breathability. Trunks are lower cut undergarments that fit more tightly to provide support and shape. They're not as low cut as briefs, but not as long as boxer briefs.
Get the Mens Underwear Size Chart from here!!!