Learn How to Wear Polo T-shirt for Men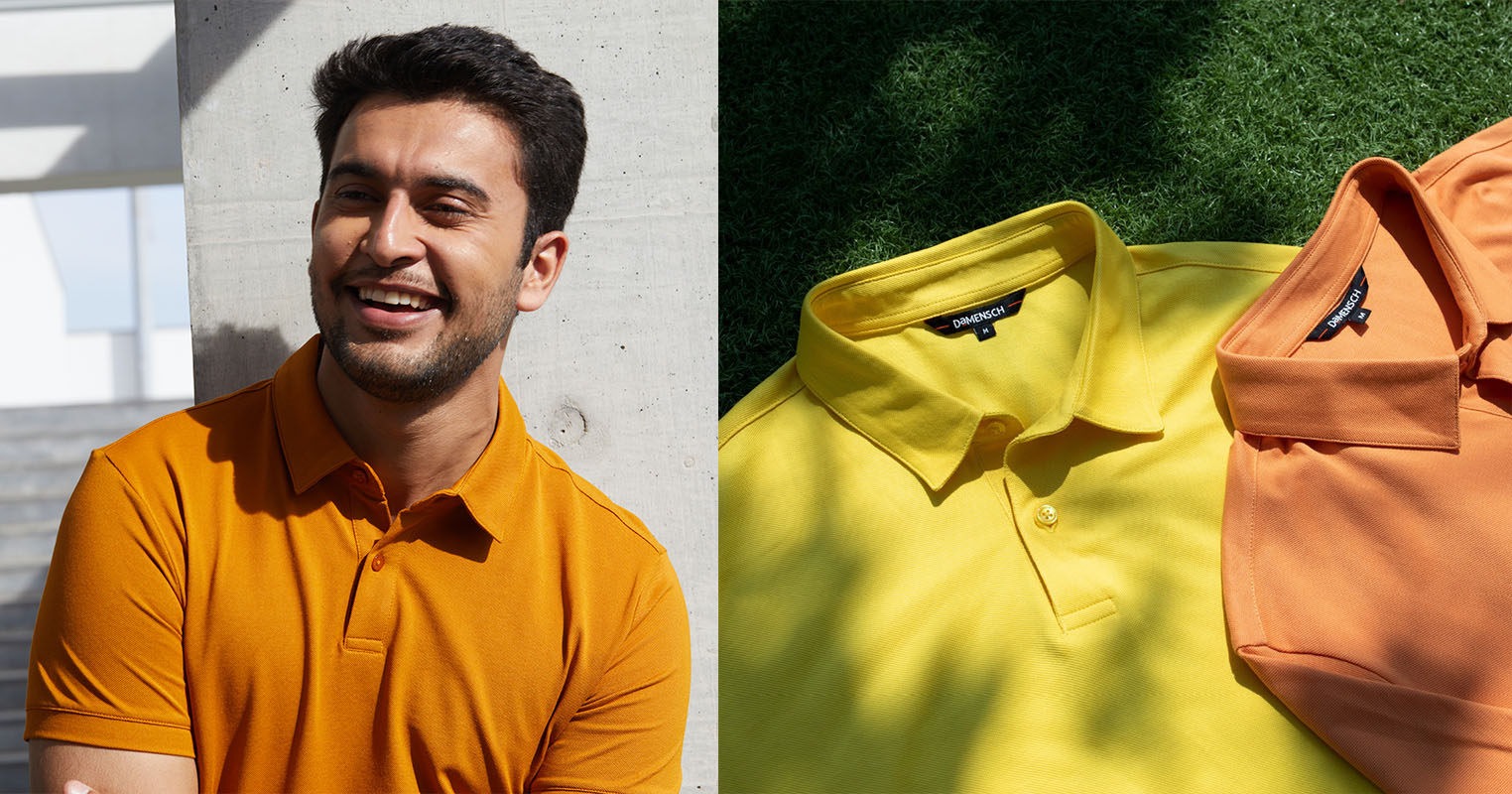 We all know and love the Polo neck T-shirt in all the best ways possible. The casual yet classic feel shape of this t-shirt makes it unique and so does the variety of colours it is available in. Nowadays, the Polo neck T-shirt is known for its classic, short-sleeved, collared design with small embroidery on one side. It is usually made from breathable fabric, making it ideal for both moderate physical activity and lounging, especially during the summer. But did you know that it is a comparatively recent addition to men's fashion?
Polo tees have henceforth been adapted all around the men's t-shirt wear market and have made a huge impact in the fashion industry. Polo t-shirts have been introduced time and again in different colours, prints, and patterns but the most important part about them is their fabric. The fabric is thick and is known for its moisture-wicking abilities. With so many competitors and choices available in the market how to choose the perfect polo t-shirts for yourself? Scroll down to know how to wear polo t-shirt.
How to Wear Polo T-shirt?
The biggest advantage of the Polo t-shirt style is that you can use them both as formal wear and as casual wear. The collar, short sleeves, and excellent craftsmanship give it a classy look, which means you can wear them to work, or an official meeting. Make sure you pair them up with smart trousers, like chinos, or cotton trousers. Polo t-shirt are available in a huge variety of colours ranging from neutrals to loud vibrant colours. Make sure to go for more muted tones of polo t-shirts and pair them with black, brown, or beige trousers. This will make your outfit smart, sober, and office appropriate. Pair the outfit up with a good pair of formal shoes, and you have your formal yet comfortably stylish office outfit ready! Another colour of polo shirt that might be common but always looks the most striking is the white polo T-shirt. Having a white polo t-shirt in your wardrobe is nothing less than a necessity as it looks casual yet super fashionable at the same time.
One can bring out the best polo shirt game when it comes to casual dressing. Pair up your Polo T-shirt outfit with a pair of smart bottom wear for a work outing. We recommend using DaMENSCH Chino short, which are made for exactly this kind of purpose. They come with a formal belt loop, making them ideal for tucking your T-shirt into. To complete the outfit you can wear crocs, loafers, or sneakers depending on the weather and your mood. Go a little overboard and add a baseball hat to give an extra casual and candid feel to your look.
Another combination we highly recommend is pairing up your DaMENSCH Polo T-shirts with our newly launched men jogger. These joggers are meant to be stylish and comfortable no matter the setting — whether you're lounging at home, go-getting at work, or sweating it out in the gym. For occasions where putting on pants feels like too much effort, just pair your DaMENSCH polo t-shirt outfit with constant joggers and you're good to go for a variety of outdoor settings.
Full sleeve polo t-shirts also have a rare occurrence but when they do, they surely know how to steal the light. They look very chic and are perfect for the fall season. They come in various colours but the stripe print for the full-sleeve polo t-shirts has always been popular.
Why choose DaMENSCH's Polo T-shirts?
It is a known and accepted fact that investing in comfortable clothing is always an investment you won't regret. When it's durable, that investment becomes even more solid and a choice that you are proud of. DaMENSCH Polos are tested to last you a long time after your purchase, making one of the best polo t-shirts. In fact, we offer a 500-day warranty with this t-shirt. That means if there's any wear and tear or fading of colour within a 500-day period after your purchase of our product, we offer you a replacement!
1. Thermo control
The biggest catch with our t-shirts is that they are thermoregulating. Going through a very hot summer, and buying clothes that are appropriate for this heat is an absolute necessity. You can be assured that DaMENSCH Polo T-shirts keep you cool no matter the heat, thanks to their superior moisture-wicking ability. Just remember to stay hydrated.
2. Breathable fabric
They're stylish, fashionable, and most importantly — made of breathable material. The original polo tees were made from playing tennis, meaning their breathability was their prized asset. Classic polos are made from pique cotton yarn, which features cotton yarn characterised by raised parallel cords or fine ribbing.
Effective waste management is an absolute necessity in the twenty-first century, and one of the most mismanaged waste materials is plastic. DaMENSCH Polo T-shirts are sustainable and made entirely of recycled plastic thus saving the environment and encouraging sustainable fashion to the new generations.
Want More Ideas to look good in Summer? Checkout these coolest summer outfits for men!
3. Moisture Wicking
DaMENSCH Polo T-shirts are also breathable, but the material is totally different. What if we told you that the DaMENSCH Polo T-shirt is made entirely from recycled plastic? At DaMENSCH, we care deeply about cutting down on our use of plastic and instead adapting corn husk packaging. Coolmax Eco is a proprietary fiber made entirely from recycled PET bottles. The main property of this cutting-edge textile technology is its breathability and its moisture-wicking ability. That means that this fabric, in addition to being sustainable and environmentally friendly, will keep you cool in the summer and warm in the winter. Two birds with one stone!
Conclusion
It is clearly very evident that the best Polo T-shirts have a long and rich history and are worthy of investment for all the right reasons. They're classy, stylish, and breathable, and they straddle that fine line between casual and formal, making them an absolute must-have in your wardrobe. We have seen that DaMENSCH Polos are the next step in the evolution of these classic T-shirts. On one hand, they carry on the proud tradition of the best Polo T-shirts, in terms of them being stylish, classy, well-designed, versatile, and breathable. On the other hand, they're sustainably produced, making them an ideal purchase for our times! So what's to think about? It's time to be effortlessly comfortable and stylishly sustainable.