Best Type of Shorts for Men at DaMENSCH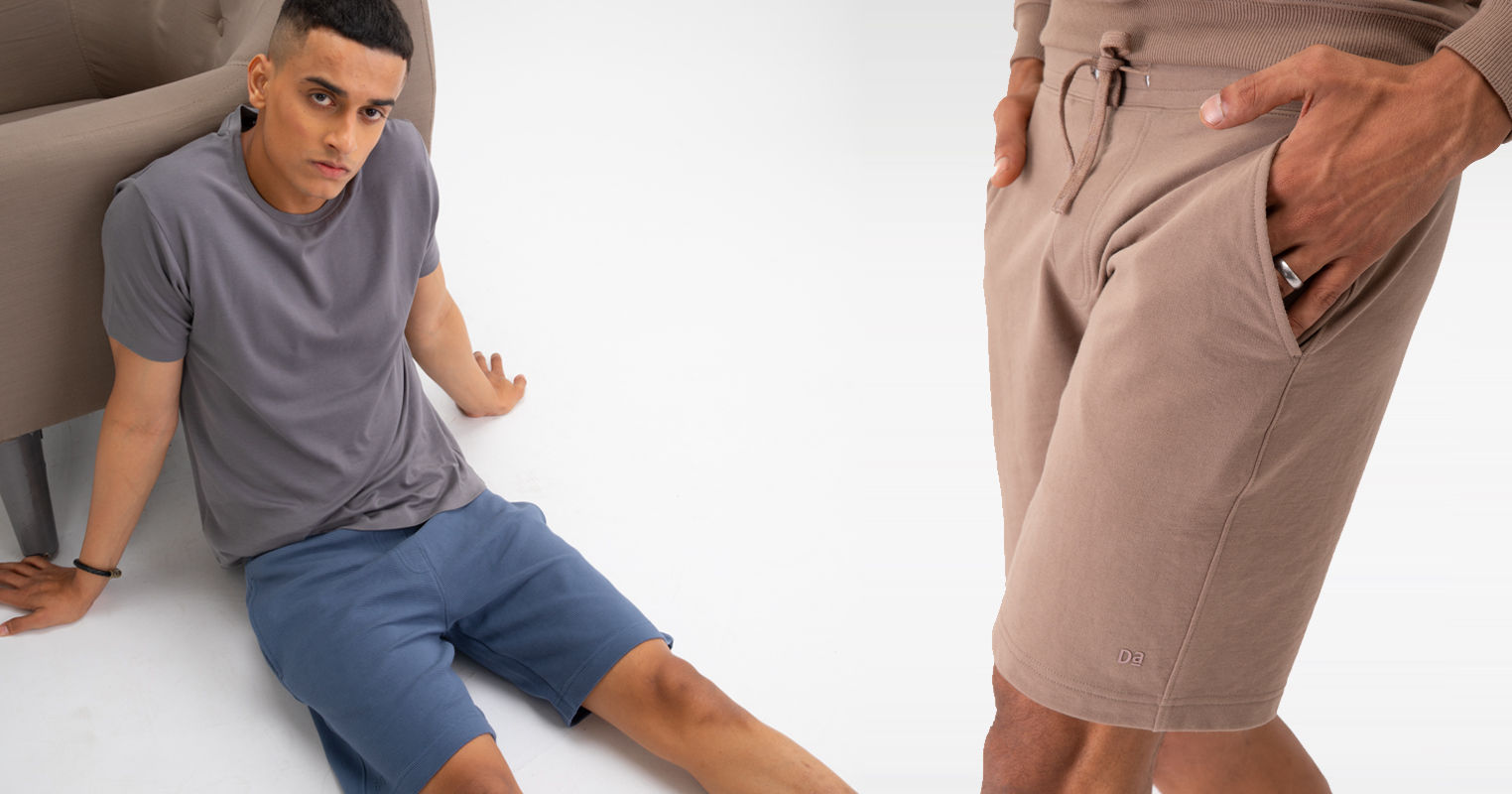 Today, shorts have become quite common, when it comes to casualwear for men. The idea behind short shorts has always been to create a nice fit and view while maintaining comfort and ease of movement. However, there are many other factors involved in deciding whether you would really want to buy shorts or not. One should look at the type of fabric used for making them, the kind of quality of pattern that goes with it, and whether it matches up with your overall personality or fashion sense.
Are you looking for a new pair of short? Then here's the best way to decide. Get ready to use some critical thinking skills regarding your fashion sense and buying habits; make a perfect pick while choosing from the different types of shorts for men!
All your life, you need certain accessories to enhance your personality. Some of those are the clothes that you wear, the shoes and the accessories which add to your personal charm! Shorts have emerged as one of the most convenient outfits you can have in your wardrobe. It's because shorts just look good with any type of top that you wear in the summertime; they often come in different lengths and also in different styles such as plain, printed or knitted designs too!
Shorts – the King of Casuals
Mens shorts have a long history in the garment space, but men didn't wear shorts casually till fairly recently. Till as recently as the early years of the 20th century, shorts were worn only by schoolboys as part of their uniform. Men wore trousers, trending mens shorts, and other ankle-length garments. This started changing in university campuses in the 50s and 60s when students started using shorts as casual wear. Although some universities tried to nip this practice in the bud by banning shorts, a revolution in casuals was already gathering steam.
By the 80s, shorts were quite popular. Trending pants for men and trousers were still everyone's favourite bottoms, but innovations in fashion and textiles had brought many different types of shorts to the market, including exercise shorts, thigh highs, cargo shorts, and sweatshorts. Shorts had taken over the men's casual scene and there was no turning back. Let us get you acquainted with some of the best type of shorts!
Different Types of Shorts for Men
At DaMENSCH, we offer four different types of shorts for men as part of our catalog — sweatshorts, boxer short, 500-day shorts, and chino shorts. All four of these have different utilities and provide a stylish option whether you're spending time indoors or outdoors.
1. Sweatshorts
Everyone needs a pair of sweat shorts. Even the fashion police concede to this fact. But why leave your comfort zone when you can take it with you everywhere? Our sweatshorts are a juxtaposition between relaxed style and utilitarian function; making them one of the best type of shorts!
Our quirky and casual styles with sweat shorts, all-day boxer briefs, and other essentials with a superior cotton blend allow you to experience premium comfort and softness against the skin, smooth textures, and vibrant colors. With our superior French Terry cotton blend with a stretchable waist, you will surely be in a comfy mood; making it ideal for indoor lounging.
With our sweatshorts, it's a better way to indulge in fashion while helping impact the future of our nature and the communities in it, in a positive way. Our collection of Mens Sweatshorts is available in seven classic colors made using high grade long lasting dyes; an ideal solution for your all day everyday wear.
2. Boxer Shorts
Our ultra-light all-around breeze boxer short have made new strides in the realm of comfort! They are made with 100% Deccan Cotton (one of the finest cotton in India). The ultra-light lightweight fabric gives a smooth silky feel that is matt finished but not glossy! Apart from that, the extra deep cut design provides a true contouring shape, while retaining maximum comfort. It has a microfiber inner waistband which will keep you supported and comfortable even during high-activity activities like playing football or cricket. And one last thing, their half elastic waistband will offer you a perfect fit and better grip; they can also be an ideal option for mens running shorts!
Our collection of Breeze boxers shorts come in a wide variety of quirky prints that suit the personality of the buyer and are ideal to wear at home on a sleepy weekend. So, why waste time? Make DaMENSCH Boxers Shorts your ultimate partner in everything you do!
3. 500 day shorts
Our 500 day shorts and Chino short fall into a slightly different category. Both these short are designed to wear outside. The 500 day shorts are made from the world's finest Supima cotton, making them resistant to multiple wash cycles. That means you can say goodbye to frayed edges and little bits that stick out! Supima cotton, which is grown in the US, has an average fibre length of 1.5 inches, compared to 1 inch in regular cotton fibres. Longer fibres mean stronger knitted fabrics, which are resistant to wear and tear. That's exactly the reason DaMENSCH offers a 500 day warranty when you buy these shorts. They're tested to last at least 500 days.
4. Chino Shorts
The Freedom 4-Way Stretch Chino short are built to maximize another in-demand feature — stretchability. Made from a blend of nylon and spandex, these shorts have excellent stretchability, making them ideal for moving around in. With pockets and a formal belt loop to boot, these shorts can be styled along with shirts. This is something you can wear to a classy party without thinking twice about it. So if you want to ditch trending pants for some cool mens running shorts for men in favour of the comfort of shorts, these are definitely a good choice.
Picking out the Right Mens Shorts
Pros of Mens Shorts
So, how do you go about picking out the right mens shorts for you? This is a complicated question to answer on the best of days. The short answer is that you can never have enough pairs of shorts, so you should be sufficiently stocked with shorts for every occasion.
The pros of owning something in the loungewear space, like sweatshorts or boxer shorts, is that they're perfect to relax, work out and spend time at home. However, it's not the type of clothes you can quickly throw on when you're going out. The cons are that you'll need to wash them pretty regularly, and they might not be the longest-lasting pairs of shorts you will own.
Moving to the formal space, Chino shorts and 500 day shorts are an excellent choice when you want to serve up dashing good looks at a summer barbeque, or on any kind of occasion where you want to pair up shorts with a stylish top, like a shirt or a polo t-shirt. They can be a like-for-like replacement for trending mens pants, and they also have the added advantage of being very comfortable and long-lasting. It's the kind of purchase you have to make once a year and then you're sorted. But at DaMENSCH, as you're opting for some of the best type of shorts, you obviously push that boundary!
Cons of not Wearing Right Mens Shorts
The cons of these products are that it's not the kind of clothes you want to wear at home when you're lounging. It's better to get something that's lighter and airier for the purpose of chilling out.
In conclusion, we would recommend purchasing boxer shorts once every six months or so, and sweatshorts at about the same frequency. You are more likely to use them regularly, and they will undergo regular wash cycles. It's always a good idea to be very well stocked when it comes to loungewear. You're not going to regret it! When it comes to the 500 day shorts and chino shorts, having three or four pairs of shorts in your locker should be more than enough. This means you don't have to make this purchase more than once a year.