Best Outfit For Men for Work From Home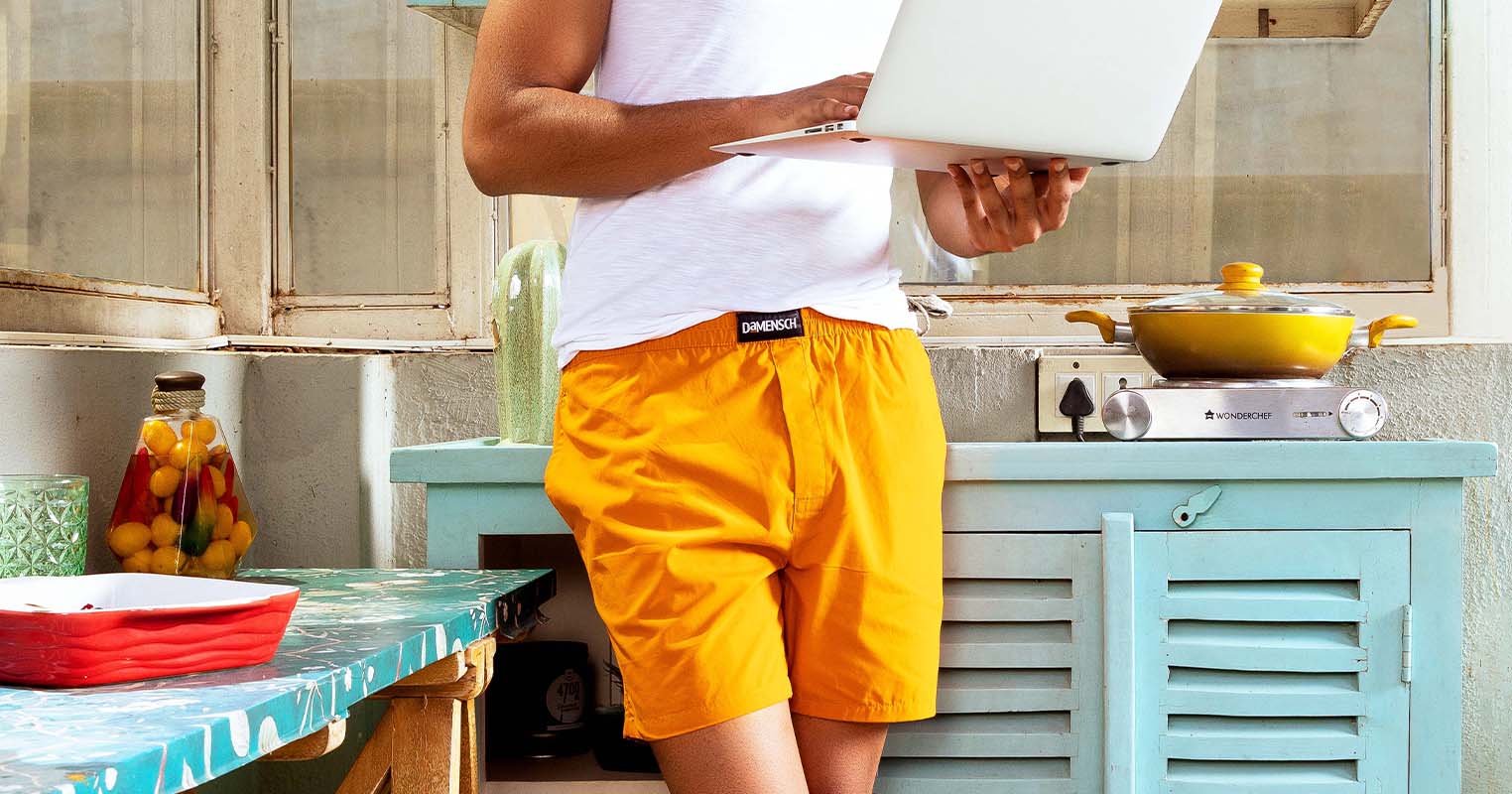 WFH is the new normal which means all of us working from home need a better home-office experience, whether it's for a day of back-to-back meetings, or another day of debugging a long-long program.
However, getting the work done from your favourite bean bag isn't much of an excuse to loaf about in your at home outfit – a singlet, tracks, and a rugged old boxer-vest combo. You might still be on the clock, and judgemental clients are sure to evaluate your expertise based on your outfit. Therefore, let us help you get the essence of professionalism along with comfort of our styled collection of some of the best outfit for men.
Style guide For Men's Work From Home Outfit
The Art Of Dressing Well Without Dressing Up
Gone are the days when companies expected employees to turn up in well-fitting shirts and ties all days of the week, while harping on rare "Casual Fridays" like a trophy!
A 2012 study discovered a positive relationship between clothing choice and cognition. Wearing garments of comfort enhanced one's cognitive performance in several areas.
We might need more data to suggest that this applies to your work wardrobe, but it shows that clothing can impact the functions of the brain. Cozy clothes also had a hormonal impact; the happily dressed chaps demonstrated higher testosterone levels.
Sure, a single study does not mean scientific consensus. But it does offer important hints that dressing comfortably can benefit you, and as a result, we think it's something you should keep in mind when you work from the comfort of your own home. You can look around a bit for some mens formal outfit ideas.
If you want to have a look at the best outfit for men, you can visit our casualwear & innerwear collection
How To Pick The Best Outfit for Men for Work From Home?
They say what you wear doesn't matter when you're working from home. But they are totally wrong!
Because the first step in any successful working from home adventure is to make sure you're dressed the part! So how do you do just that without ending up sending pajama-clad picture updates to your team? In this guide we will tackle all of these questions and a whole lot more for you.
Dress with professionalism! The goal is not to present yourself as a corporate robot or as an eccentric, but you do want to come across as someone who cares about their work and won't broadcast all of your after-hours activities to your new boss. Try to have some choices in your mens formal outfit ideas; they can come in handy in these types of situations!
1. Smart Casual T-shirts
Smart casual t-shirts, the most basic yet underrated wardrobe staple.
A comfortable, durable and stylish tee is one of the most essential items you need in your closet so we have several minimalist options that won't distract too much attention away but are still cool enough to be worn during casual backyard barbecues or while attending your work from home meetings!
This T shirt for Men by DaMENSCH fulfills all these requirements — it's 2x softer since it is made from the world's finest cotton, and it's literally 'Constant' as it stays as is, wear on wear – perfect work from home clothes. So even if you're in for a long day of work wearing formals, you can keep the rest of your outfits casual, for the other half of the day. These mens t-shirts can be easily included in one of your best casual outfits for men.
If you're a laid-back toad that's determined to keep things as casual and free as possible, this is your must-have!
2. Shorts for Long Calls
Our next pick is a step above informality and a step below in effort. And it is exactly what you need because even on a business video call, who can really see you below the top 4 buttons of your shirt?
So you need a wearable where a change of clothes isn't mandatory, should you be required to leave your home desk or jump on a video conference call.
Best of all, it's conveniently transitional from slacking off at your desk, to slacking off at the bar at the end of the week. With WFH seeming to be the new constant, the 500 Day Shorts by DaMENSCH is one such at home outfit that comes in colours that stay longer than your yearly calendar. It can be one of your best casual men outfits, as even after 500 days, these sustainably-sourced long-lasting dyes are going to stay Constant, and can go pretty well with one of your favourite sunglasses. It's quite a popular casual men outfit!
3. The Tale Of Breeeze Boxer Shorts
If you're cranking the electricity bill to keep cool, bench the heavier boxers cotton shirts for boxers that make everything breezy.
These pairs of Breeeze boxer short and inner boxer are just the impeccable comfy at home outfits you need when you have to log long hours in the breezy autumn.
Because you're at home and things are a little more relaxed, incorporating a few concessions to otherwise formal life are surely a boon!
4. A Polo T-shirt
Just because you're working from home, doesn't mean that you want to be seen as sloppy. Wearing a short-sleeved tee shirt beneath your blazer can't be included in your ideal mens formal outfit ideas– it's too casual!
And wearing a suit in your pyjama with the hood up won't do either. So what can you wear?
Your polo tshirt is the perfect solution. It's smart enough to keep your boss happy, but cool enough to wear for work. A humble polo shirt bridges the gap between smartness and casualness. Once you stop fussing over what to wear and get one of these in your wardrobe, you will feel confident wherever your working day takes you. Polo Shirts are life savers!
The best workday menswear wardrobe staple if you ask us!
So, Why Go For DaMENSCH?
DaMENSCH range of casual men outfits, can help you achieve some clothing essentials goals. Say Goodbye to those uncomfortable situations by opting for our collection of DaMENSCH garments. It comes with revolutionary antibacterial technology, high-quality breathable materials and a unique design that will provide you with all-day comfort! Now, with DaMENSCH, you can embrace the experience of wearing some of the best casual outfits for men.
Stick with us for more related blog coming soon!