Why DaMENSCH Joggers Jeans are a Real Deal?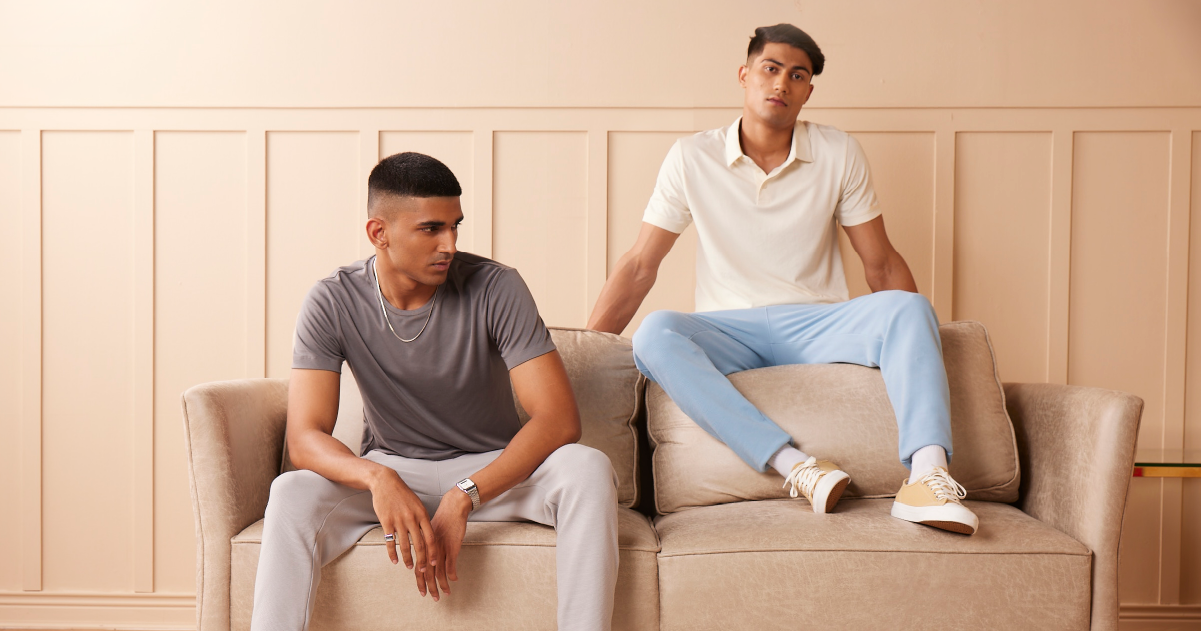 Why DaMENSCH Jogger Jeans are a Real Deal?
At Damensch, we celebrate individuality and aim to create a safe and inclusive space for everyone. We believe that beauty comes in all shapes, sizes, and colours and that each person has a unique story that deserves to be cherished and respected. We strive to represent and cater to a wide range of body types through our range of menswear collections, and jogger jeans are a part of this lot.
Finding comfortable and stylish clothing options can be challenging for plus-size men, especially when it comes to activewear. However, DaMENSCH has revolutionised the market with a remarkable collection of mens gym joggers. Designed to provide both comfort and style, DaMENSCH Joggers have quickly become the real deal for men looking for the perfect combination of functionality and fashion. In this blog, we will explore the key features that make these joggers stand out, emphasising their interlock knit strength, classy no-fade shades, and superior fit with stretch and recovery. Whether you're hitting the gym or lounging at home, DaMENSCH bottom wear is a game-changer for any man's wardrobe.
Interlock Knit Strength of Mens Jogger Pants:
One of the standout features of DaMENSCH mens jogger pants is our interlock knit strength. These joggers are crafted using high-quality interlock knit fabric which offers enhanced durability and resilience. The interlock knit construction ensures that the joggers can withstand rigorous activities without compromising their shape or quality. This feature is particularly important for plus-size men who require joggers that can keep up with their active lifestyle.
No-Fade Classy Shades for Jogger Pants:
DaMENSCH understands the significance of colour options and ensures that their plus-size joggers are available in a range of classy shades. These joggers are designed using fade-resistant dyes that maintain their vibrant colours even after numerous washes. Whether you prefer classic black, trendy green, or any other shade, DaMENSCH Plus Size Joggers are guaranteed to retain their rich hues, allowing you to look stylish and put-together at all times.
Better Fit, Stretch, and Recovery of Mens Gym Joggers:
When it comes to joggers, finding the right fit is crucial for both comfort and aesthetics. DaMENSCH mens gym joggers excel in this aspect, offering a better fit tailored to the needs of plus-size men. These joggers feature a thoughtful design that allows for ample room in the waist, thighs, and calves, ensuring a comfortable fit without feeling too tight or restrictive. Additionally, the incorporation of the stretch fabric enhances mobility, allowing you to move freely during workouts or everyday activities.
Moreover, the superior recovery properties of DaMENSCH Jogger pants ensure that they maintain their shape even after repeated wear. The joggers will not lose their elasticity or become baggy, making them a reliable and long-lasting addition to your wardrobe.
Conclusion:
DaMENSCH Jogger pants have successfully addressed the need for comfortable and stylish activewear for plus-size men. The interlock knit strength ensures durability, while the no-fade classy shades maintain the joggers' vibrant colours. The better fit, stretch, and recovery properties make them ideal for both gym sessions and casual outings. With DaMENSCH XL Joggers, you can enjoy the perfect blend of functionality and fashion.
If you're tired of compromising on comfort or style when it comes to joggers, it's time to give DaMENSCH mens gym joggers a try. These joggers are the real deal for plus-size men, providing the confidence and versatility needed for any occasion. Upgrade your wardrobe with joggers that prioritise your needs and elevate your style.