Top Fashion Hacks to Style DaMENSCH Men's Tank Tops: Your Guide to Trendy and Printed Tank Tops for Summer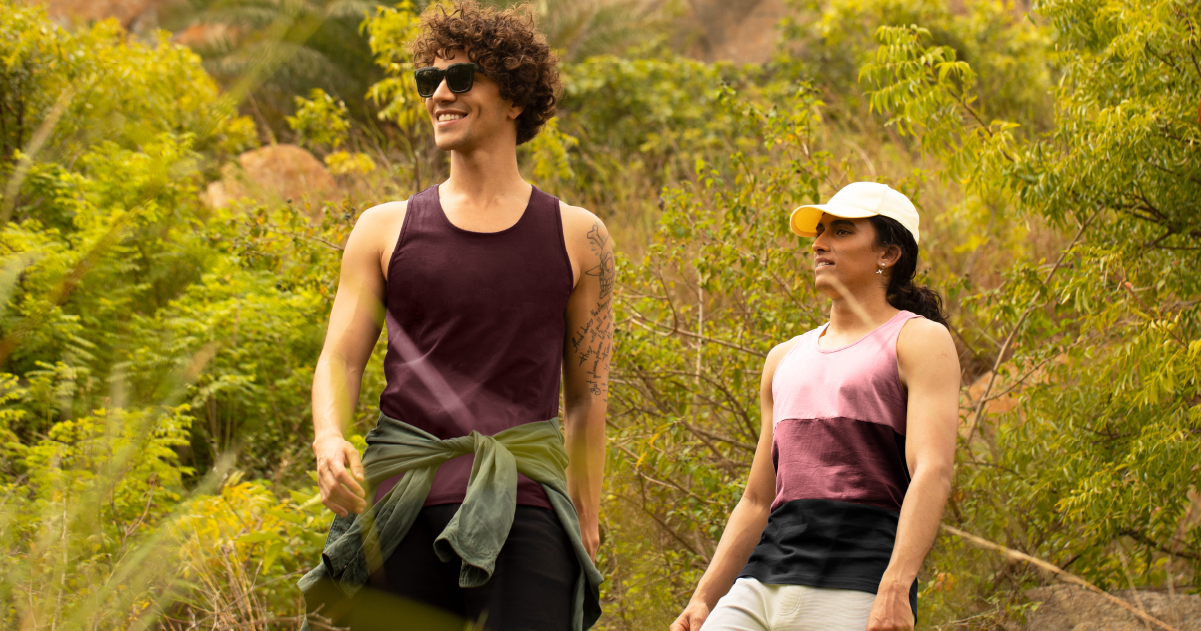 Stylish Tank Tops are a must-have in any man's summer wardrobe. They offer comfort, breathability, and endless style possibilities. In this blog post, we will explore eight fashion hacks to help you elevate your DaMENSCH Tank Top outfits effortlessly. From different types of Tank Tops to trendy prints and the classic white Tank Top, we have you covered for a fashionable and versatile summer wardrobe.
Layer It Up:
Layering is a versatile styling technique that adds depth and interest to your Tank Top outfits. Pair your stylish DaMENSCH Tank Top with an open flannel shirt or an unbuttoned chambray shirt for a casual and laid-back vibe. This combination works great for weekend outings or beach days. To dress up your Tank Top, layer it with a lightweight blazer or a cardigan for a more polished and sophisticated look. This ensemble is perfect for evening events or a night out with friends.
Play with Colors and Prints:
Make a fashion statement by experimenting with different colors and trendy prints in your Tank Top outfits. DaMENSCH offers a wide range of printed Tank Tops for men, featuring geometric patterns, graphic motifs, and abstract designs. Opt for a printed Tank Top and pair it with neutral-colored shorts or trousers to let the print take center stage. Alternatively, choose a solid-colored Tank Top and pair it with printed bottoms for a stylish contrast. Embrace bold colors and prints to express your personal style and stand out this summer.
Accessorize Smartly:
Complete your Tank Top look with stylish accessories that complement your outfit. Start with a sleek wristwatch that adds a touch of sophistication. Consider wearing a trendy hat, such as a snapback or a fedora, to elevate your style game. Sunglasses not only protect your eyes but also add a cool and fashionable element to your overall look. Enhance your Tank Top ensemble with a stylish belt and bracelets that match your personal style. Accessorizing smartly can take your outfit to the next level.
Experiment with Different Types of Tank Tops:
Discover the variety of Tank Tops available to suit your style and occasion. DaMENSCH offers different types of Tank Tops, including muscle tanks, racerback tanks, and classic sleeveless tanks. Muscle tanks provide a more fitted and athletic look, while racerback tanks offer a sporty and active vibe. Experiment with different types to find the one that complements your body shape and personal style. Stay on-trend with the latest Tank Top styles for a fashionable summer.
Embrace the Classic White Tank Top:
A classic white Tank Top is a timeless essential for summer. Its versatility allows you to create countless stylish outfits. Pair your DaMENSCH white Tank Top with denim shorts for a casual and laid-back look. Layer it with a lightweight shirt or a cardigan for a more refined and put-together style. The white Tank Top serves as a blank canvas, allowing you to play with various colors and prints in your accessories and bottoms.
Lightweight and Breathable for Summer:
Opt for Tank Tops made from lightweight and breathable fabrics, perfect for keeping cool during the hot summer months. DaMENSCH offers Tank Tops crafted from high-quality materials such as cotton and linen, ensuring comfort and breathability. These fabrics allow air to circulate, keeping you comfortable and stylish even in the summer heat. Stay cool and confident in your trendy Tank Tops for summer.
Dress Up with Tailored Pieces:
Contrary to popular belief, Tank Tops can be dressed up for more formal occasions. Elevate your DaMENSCH Tank Top by pairing it with tailored pieces. Combine your Tank Top with slim-fit trousers or chino pants in coordinating colors. Add a blazer or a tailored suit jacket to create a sophisticated and polished look. This ensemble is suitable for summer weddings, cocktail parties, or business-casual events. Dressing up your Tank Top shows off your fashion-forward style and versatility.
Versatility of Printed Tank Tops:
Experiment with printed Tank Tops for a trendy and eye-catching look. DaMENSCH offers a range of printed Tank Tops for men, featuring unique patterns and designs. Choose a printed Tank Top that suits your personality and pair it with solid-colored bottoms for balance. Printed Tank Tops are a great way to make a fashion statement and add a touch of individuality to your summer outfits.
Conclusion:
With these eight fashion hacks, you can confidently style your DaMENSCH Tank Tops and stay on-trend throughout the summer. Layer them with open shirts for a casual vibe or dress them up with tailored pieces for more formal occasions. Experiment with colors, prints, and accessories to express your personal style. Embrace the classic white Tank Top as a versatile staple. Opt for lightweight and breathable fabrics for maximum comfort. Explore different types of Tank Tops to find your perfect fit. With DaMENSCH's collection of trendy and printed Tank Tops for men, you'll be ready to make a fashion statement this summer.
********