Shirt & T-Shirt Combination: Make a Smart Fashion Move!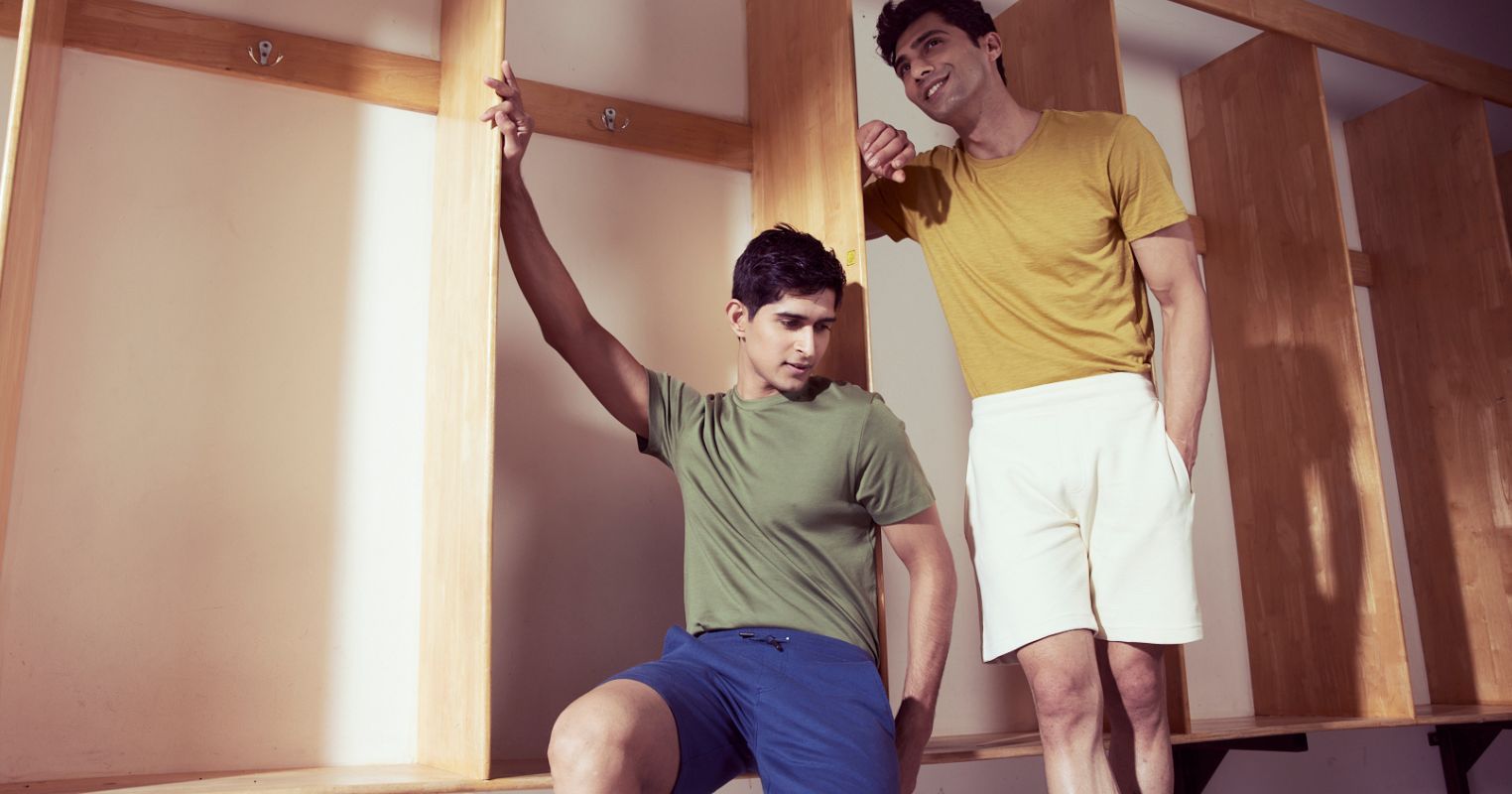 Imagine you have to go to a party. Now, you must look good at this party because that girl you've been crushing on all summer is also going to be there. You don't want to look overly dressed up, because that's just trying too hard. So, the three-piece suit is out of the question (obviously). You don't want to wear a shirt, because, well, it's summer, and it's going to get sweaty on the dancefloor, and nobody wants to get a post-party dinner with somebody with sweat patches all over their shirt. T-shirt it is, but that's what you wear every day, you think, with a note of anguish. Then a bright idea strikes you, what if I wear both t-shirt and shirt together? Some of you might be confused at this point, but this is our segue to recommending one of the most underrated fashion combinations for men, the shirt over the t-shirt. Let's dive right into it!
Shirt over t-shirt – what's the deal?
We all know why jackets are amazing. They're the most common way to layer clothing and can add a lot of texture and style to your look. But it only makes sense to wear jackets in the chillier months of the year. In the warmer months, especially in the summer, layering goes out of the window. The more you layer, the warmer it gets and you don't want to get sweatier and more uncomfortable than you need to be. This is where the shirt over t-shirt trend comes in.
Shirts and t-shirts are the most commonly used men's fashion accessories in the summer because they are usually made of cotton, wick moisture and keep the body cool when the air gets humid. You can wear them together to create a stylish look. The key is to leave the shirt open, while layering it over a t-shirt of your choice. This way, you can rock a layered look while also keeping yourself sufficiently cool as the summer demands. Yes, there's many benefits to the shirt over t-shirt style.
Layering: Shirt and t-shirt combination
There are so many combinations that are possible with the shirt and t-shirt combination, because you have two layers you can innovate with. To maximize contrast, you can play around with how loud, or laid back the print of your shirt is, in opposition to your t-shirt.
Don't think twice, go for Printed tees
If you're someone who loves floral shirts and owns a lot of them, you can combine them with more laid back colours to make a nice party look. You could also go the inverse route. If you own a lot of printed tees or colourful tie dyes, it's a good idea to combine these with more dark or sober colours. It will give depth to the colour of your shirt and t-shirt combination and give you a classy, yet cool look.
Flannel for a grounded, Plain t-shirts
If you're the sort of person who is not very flashy and owns a lot of plain tees, combine them with plaid, flannel or corduroy shirts. Plain t-shirts are excellent for a grounded open shirt with t-shirt underneath look, and it's a great idea to pair up the lighter shades of these t-shirts with flannel or plaid shirts, because they look fantastic. This is also an excellent sober look. Whether you're going to work, hanging out at a coffee shop or taking a zoom call, these combinations will serve you well because they don't look too celebratory or "out there" but give a nice centered look to your fashion. When you're shopping for your t-shirts to put together this shirt and t-shirt combination, look for colours like grey, white, red or mustard yellow t shirt under shirt, resulting in an eye-catching shirt over t shirt style.
Bottoms to style with Plain white t-shirt or a tank top
Of course, some consideration has been given to the kind of pants you are wearing as well. If you're wearing blue denim, please consider getting a cool blue shirt to go with that. Pair this with a plain white t-shirt for a sophisticated look that never goes out of fashion. If you own a lot of dark-coloured trousers, consider countering the grounding effect of those shades with something loud and cheerful, like a floral t-shirt. Pair this with an old band t-shirt or a plain t-shirt and you're all set. If you don't mind showing some skin in your open-shirt style, you can also replace the t-shirt with a tank top. Tank tops also come in a variety of different colours and designs, and are very comfortable to wear in the summer months.
Conclusion
Wearing an open shirt with a t-shirt underneath combination can be very satisfying and stylish, but always remember that it is still considered a casual dress code. It's not a combination of clothes that is proper to wear. Nobody wants to show up to an important event wearing the wrong clothes. We've all done it in the past, we all know the pain, so make sure you enquire about the dress code before you try on this combination.
This combination is ideal for a spring or a summer look. They work functionally because they're cool and breezy, and also aesthetically because spring and summer are associated with bright colours, and you can showcase a lot more bright colours, designs, and prints using the shirt over t-shirt combination as opposed to a simple jacket.
What we're saying is, that there's a lot of scope for creativity here, so don't hold back. Select the kind of prints and shades that call out to your personal sense of open-shirt style and use this time to showcase them!
Lastly, this is just another form of proof that you can never have enough t-shirts! If you have an interesting t-shirt in your life, take good care of it. Furthermore, start being on the lookout for good t-shirts when you're shopping for clothes. Whether you're out walking in a bazaar in Goa or browsing the DaMENSCH website, a clear sense of open-shirt style can help you select the t-shirts you want and add them to your look. There are plenty of great t-shirts out there, and there's a great open shirt with a t-shirt underneath combination for each of them!