Things to Consider When you Buy T-shirts Online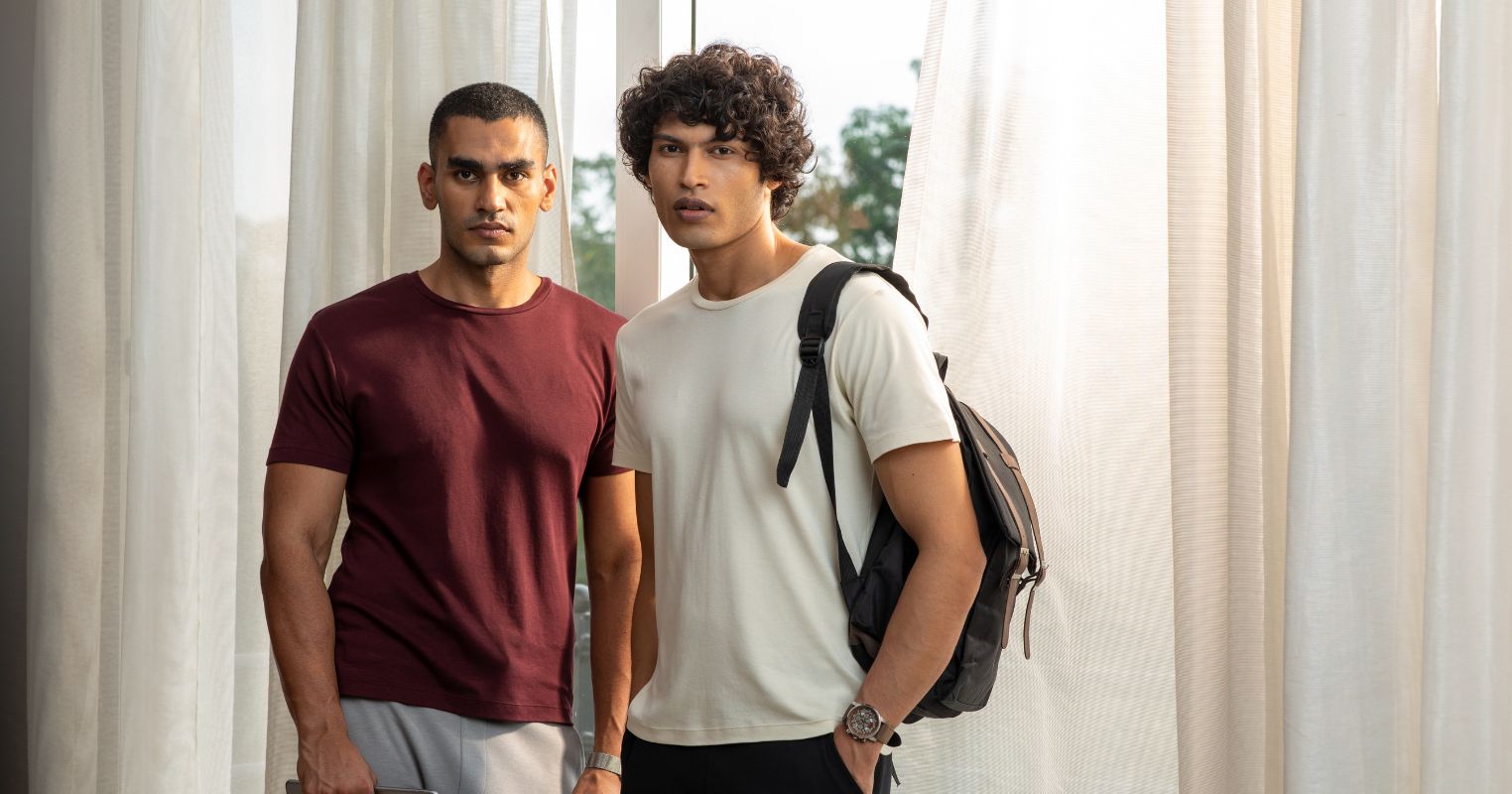 You can never go wrong when you buy t-shirts online. You can have a look at a wide range of options available. They can either be for summer or winter, your t-shirt game speaks loud and clear about yourself. As one of the main staples in a man's wardrobe, believe it or not, can make it or break it for your dressing style.
We always remember that guy we didn't know at a party, but his t-shirt was lit, not quite literally, but the super bold quote on it inspired us to get one for ourselves too. So, you see, it's the first thing anyone will notice about you or remember you by, even strangers. It doesn't just say a lot about your personality but also speaks about your fitness and health agenda, your hygiene factor, etc.
That's why, we at DaMENSCH, the best mens t-shirt brands have made it easier for the modern man to pick and choose from a variety of options. Delivering some of the best t-shirt choices out there! We carry a range of styles that support comfortable fashion.
Let's dive deep into some topics that will help you pick the best t-shirts for men!
But first, let's find out some trendy types of t-shirts available at DaMENSCH.
How to choose the best t-shirts online?
1. Picking The Right Size
Size can be a very heavy topic, especially in this day and age where size is still not a safe topic in most communities. At DaMENSCH, we are here to encourage all men to buy t-shirt that slay their style! The best popcorn t-shirt for men range from S-size t-shirts to XXL size t-shirts.
Now, let's talk about size. Contrary to popular belief, and although not talked about much, men too face body fit issues that are rarely talked about. Men are constantly facing a dilemma between the pseudo macho man and the athletic man to choose from and hence have barely seen any choices that are left for the majority.
The biggest question that poses today is are you wearing the right size?
Size does matter! In a good way of course. Wearing a proper-sized basic t-shirt not only builds confidence but also adds to your personality. This can be especially true for your sportswear, or one of your casual streetwear. You can also try out a crew neck t-shirt. Currently in the trend!
Some other steps to help you choose the right size:
Choose from a variety of tees in DaMENSCH, like the popcorn t-shirt, Fluid tee, the 500-day polo, etc.
If you don't know your size, measure your chest, length, and waist or simply look through the size chart.
Notice which long t-shirt has a comfortable fit, that is not too tight or loose and fits just right.
Finding the right size that fits your shape perfectly can depend on a comfortable, relaxed, and breathable fit. If the long t-shirt is too baggy, it may cause discomfort and your confidence will go from 100 to 0 real quick.
So, choose wisely.
2. The Tee to your Comfort
The tee game has changed over the years. Men's t-shirts can range anywhere from different necklines, and sleeves to different colors, patterns, and designs. For some, style may be the only factor but for most, comfort is key to a great fit.
It can be a hassle to find the right one on most online platforms, following the above instructions you will be able to find the right fit in no time.
Fabric of the t-shirt also plays a major role in the clothing industry. T-shirts that can withstand multiple washes are weather adaptive, sweat-wicking and are most likely to retain their color and properties for a long period. For instance, DaMENSCH offers the best 500-day t-shirts for men, 500 Day Polo T-Shirts, etc. they are considered the epitome of comfort with a thermoregulating technology that makes it 2x breathable and warranties a 500-day mark.
DaMENSCH also offers patterns and solids for a variety of t-shirts that can enhance your wardrobe.
Want to wear a rock-solid color while surfing?
Want to go all out and make a statement for New Years' eve?
Don't fret, we've got some trendy t-shirts online that you can try. Be it Solid tees or a statement one, we believe in creating the right fit, fabric, and colors for our people.
While solid tees may be the best t-shirt color and possibly the first pick, a statement tee can make a smooth entrance anywhere. Solid tees like The 500 Day T-Shirt are a way for a man's heart to look chic and effortless without trying too hard, The Statement T-shirt has a mind of its own in creating a grand entrance.
Polos are also a great way to stand out and amp up your casual and work style. Our 500 Day T Shirt features solid colors with sweat-wicking technology that can easily be changed from day to night.
3. Finding The Right Fabric!
While most might agree or disagree, comfort is a major factor in the style department. Although most designers don't intend to design with the idea of comfort, many are dead set on keeping comfort as the forefront runner in the industry.
Haven't you ever worn a shirt and then, later on, ended up with a permanent imprint where the tag was? Or unknowingly putting on a shirt that was way too tight? That obviously would not be comfortable!
Luckily, there are fabrics out there today that are easily washable, wrinkle-free, stain-resistant, and cute! Nowadays, the idea of wearing a tight shirt just doesn't appeal to many. What most people want is the ability to breathe, while looking a bit hip and fashionable.
However, this conundrum has left a subset of flair-flaunting individuals torn between looking stylish and somewhat decent. While others have resorted to wearing a comfy tank as their only form of comfort when running around town while others have chosen to go bare-chested.
So, for this season's selection, the folks at DaMENCH thought why not have the best of both worlds? When we combine comfort with style, we are most confident about ourselves. DaMENSCH is very reflective of comfort being the main factor in men's clothing.
Even a comfortable t-shirt, along with some stylish joggers can make a lot of difference!
4. Weather Appropriate
What is the right choice to buy tshirts online? It's often a question that's mostly ignored. Most men are not aware of what could be a great tee for their fit and most health-conscious are relying on brands that have given the bare minimum.
As a word of advice, you should look for a fit that not only fits great but also has high-quality t-shirt fabric properties that can withstand multiple factors. Ensure that your T-shirt has multiple choices of style that can transform any look to day or night. As versatile humans, we love to bring luxury and style together and speak through our clothes.
There are endless possibilities in the men's tees today than there ever was before. We are proud to deliver the DaMENSCH man with the right clothing that is stylish, comfortable, luxurious, and breathable.
Types of men's t-shirt available at DaMENSCH
1. Polo t-shirt
Polo t-shirt is a classic piece of menswear that appeals to the more fashionable man. A step up from a plain t-shirt, a polo shirt provides a more refined, stylish and sophisticated look. If you prefer the comfort of a pair of jeans, but also enjoy the elegance of formal outfit, then a polo t-shirt could be the perfect choice for you!
2. Casual t-shirt
Casual shirts are perfect for the occasion when you want to look smart, but not too formal. Their soft material and relaxed look are perfect for holidays. Make sure you choose something made from breathable cotton; this material will keep you cool in the summer, but won't let you down when the temperature drops. You can also give simple pieces a bit of twist by wearing them untucked with a pair of jeans, shorts or chinos!
3. Statement t-shirt
Fashion is more than just putting on clothes; it's a powerful form of expression and communication. And, statement t-shirts are one of the most effective choices, for creating a message and making a statement. Do your thoughts speak louder than words? Are you tired of making small talk when you would rather make a statement? Choose one of our Statement Tees and let your beliefs do the talking!
4. Popcorn t-shirt
A popcorn t-shirt is a fun, stylish and carefree way to show some fall fashion flair. Those popcorn knits convey a charming whimsy and an easygoing attitude ready for popping. While choosing a popcorn t-shirt, always consider the size, texture and colour of the t-shirt to suit your body type.
Conclusion
When purchasing clothes, it is important to pay attention to your body type and size, as you obviously wouldn't want to purchase something that doesn't fit well or something that you don't like just because it was on sale. An ideal fit, along with some premium quality fabrics, should be among your deciding factors; you want to ensure that you get clothing from a reputable brand. As with most things in life, you get what you pay for.
Try DaMENCH – find out what it means to feel comfortable!
Our clothing range with t-shirts will make you look great without spending so much money. DaMENCH's clothing line is designed for every kind of man from business enthusiasts to sports lovers, casual men, and even those who prefer the nerdy look. Get what will make people look at you with envy and compliment your style choices or how you dress!
At DaMENSCH, with our innovative technology implemented in our range of clothing apparel, we strive to deliver a blend of optimal comfort and style; making us one of the most looked after men's clothing brands in the country!