Fashion That's Conscious. Fashion That Thinks.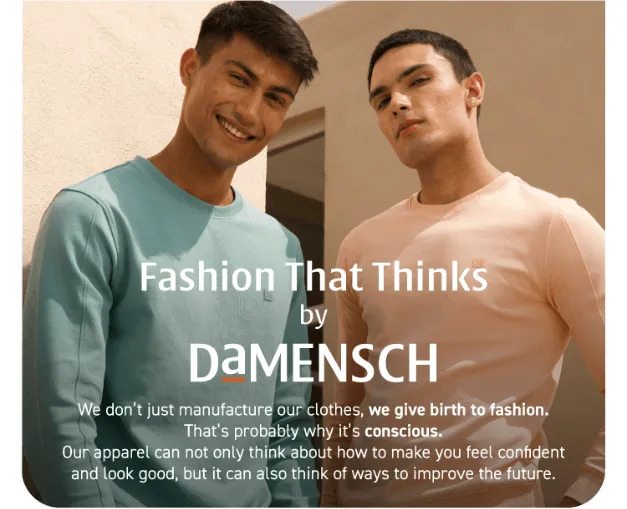 Imagine, having a wardrobe full of styles that reduces your carbon footprint, consumption, and waste, while in exchange you receive comfort & full transparency of the products you buy.
We don't just manufacture our clothes, we give birth to conscious fashion.
Our apparel can not only think about how to make you feel confident and look good, but it can also think of ways to improve the future.
The only trend our fashion line thinks about are:
BEING CONSCIOUS
DaMENSCH has been working on this process for 4 years for the betterment of the future.
Our Designs Use:
Recycled plastic bottles in our Polo T-shirts
Bamboo elastane in our bamboo Vests
We use High-IQ® Dyes, a colour programme that enables colour retention in our 500-Day Collection, Fluid T-shirts and more.
And save at least 150 times more water & energy with our production of clothes.
These are just some of the techniques we've been working on to keep you comfortable inside & out but we are working on introducing more techniques that can save more energy, water, resources, etc.
This doesn't make us a completely sustainable brand just yet, but we are working on it.
We are not saying this solves all your life problems, but this does help you become a better MAN.
So choose
Fashion that thinks for you and the earth
New Year, New Beginnings, New Resolutions!
Make space in your calendars because conscious fashion is taking over this new year!
Choose ethical fashion that looks sexy on you and the planet.
Must-have conscious fashion of 2023
THE POPCORN COLLECTION
Versatile & effortless styles in premium popcorn structure.
Featuring superior HIGH-IQ colours that use 50% less water and energy making it far more sustainable than others.
THE 500-DAY COLLECTION
A classic collection of essential wear that is durable, soft, and transitional.
Featuring superior HIGH-IQ colours that use 50% less water and energy making it far more sustainable than others.
A one-of-a-kind t-shirt that blends perfectly with any aesthetic.
Made using 4 plastic PET bottles, giving better quality and doing better for the planet.
BAMBOO VEST
2X softer than regular cotton for that perfect summer wear.
Made with BAMBOO RAYON – making it more anti-bacterial, anti-odour and thermoregulating than any regular vests out there.
These vests are just some of the sustainable products that we have worked on and are working towards a sustainable future.
So buy less, buy quality fashion that thinks!
WHY SUSTAINABILITY IS THE WAY?
IT'S THE CONSCIOUS WAY
To be conscious means to be grounded — to be aware of one's surroundings, and respond accordingly. The reality is that we live in a world where a shift to sustainability is the need of the hour. The transition can be hard, but we live for the challenge. We believe that human beings are blessed with the creativity, to find unlikely solutions to problems when we most need it — and that's the energy we're trying to channel in our effort to create conscious fashion. Not all of our products are sustainable yet, but we're making an earnest effort.
PLASTIC – IT'S NOT GOING AWAY
The truth is, we've created a lot of plastic — and plastic doesn't decompose. We can't brush it under the carpet. What we can do is recycle it. With the right technology, plastic can be shaped into an excellent textile fibre. At DaMENSCH, our Polo T-shirts are made of Coolmax Eco, a proprietary fabric that has thermoregulating properties. Each t-shirt we make recycles the equivalent of four plastic bottles. That's four fewer plastic bottles in the ocean!
WATER DOESN'T GROW ON TREES
Quite the opposite — it takes water to grow trees, cotton, jute, and all the other fibres that we traditionally use to make clothes. We also need water to dye our designer tees and trendy bottoms in all the snazzy colours and designs we've grown used to. At DaMENSCH, we use High IQ dyes, a proprietary dyeing technology that uses 50% less water and energy than other dyes. Our Nylon-Lycra shorts are dyed using a special spray dyeing technique which consumes 80% less water than regular dyes. We also use sustainable fibres — DaMENSCH's Neo-Skin vests are made using Bamboo, a true super crop that beats cotton all ends up when it comes to yield per hectare for the amount of water used. Where it takes 2700 litres of water to make one cotton t-shirt, it only takes 18 litres per t-shirt with bamboo!
TEXTILE WASTE – WE'RE SICK OF IT!
To be quite honest, we're sick of the world of fast fashion. Every year, 92 million tonnes of textile waste are created — most of which end up in landfills. The culprit? Low-quality fashion simply does not stand the test of time. Remember when you got that trend tee, and the neck fell apart in a month or two? Or when you bought a pair of underwear and the elastic just withered away? At DaMENSCH, we believe in slow fashion. We create time-tested products, treated with high-quality dyes and crafted from the sturdiest knit fabric. The idea is simple — wear them long-term, and create less waste.
With so many environmental hazards rising in number, conscious fashion is the right path for DaMENSCH' future. Our premium styles are designed to be versatile, effortless, and most importantly timeless. Although this is a small step towards sustainability, we have always been advocates of bringing comfort to all our men, and what better way to do so than lean into conscious fashion that is the most comfortable, non-toxic and good for you and the environment.
So tune in as we continue to progress in our efforts to be conscious and design time-tested premium quality products for the betterment of the future.
From now on, get comfortable in Fashion that thinks!