Celebrating The Most Comfortable Man - Men's Day 2022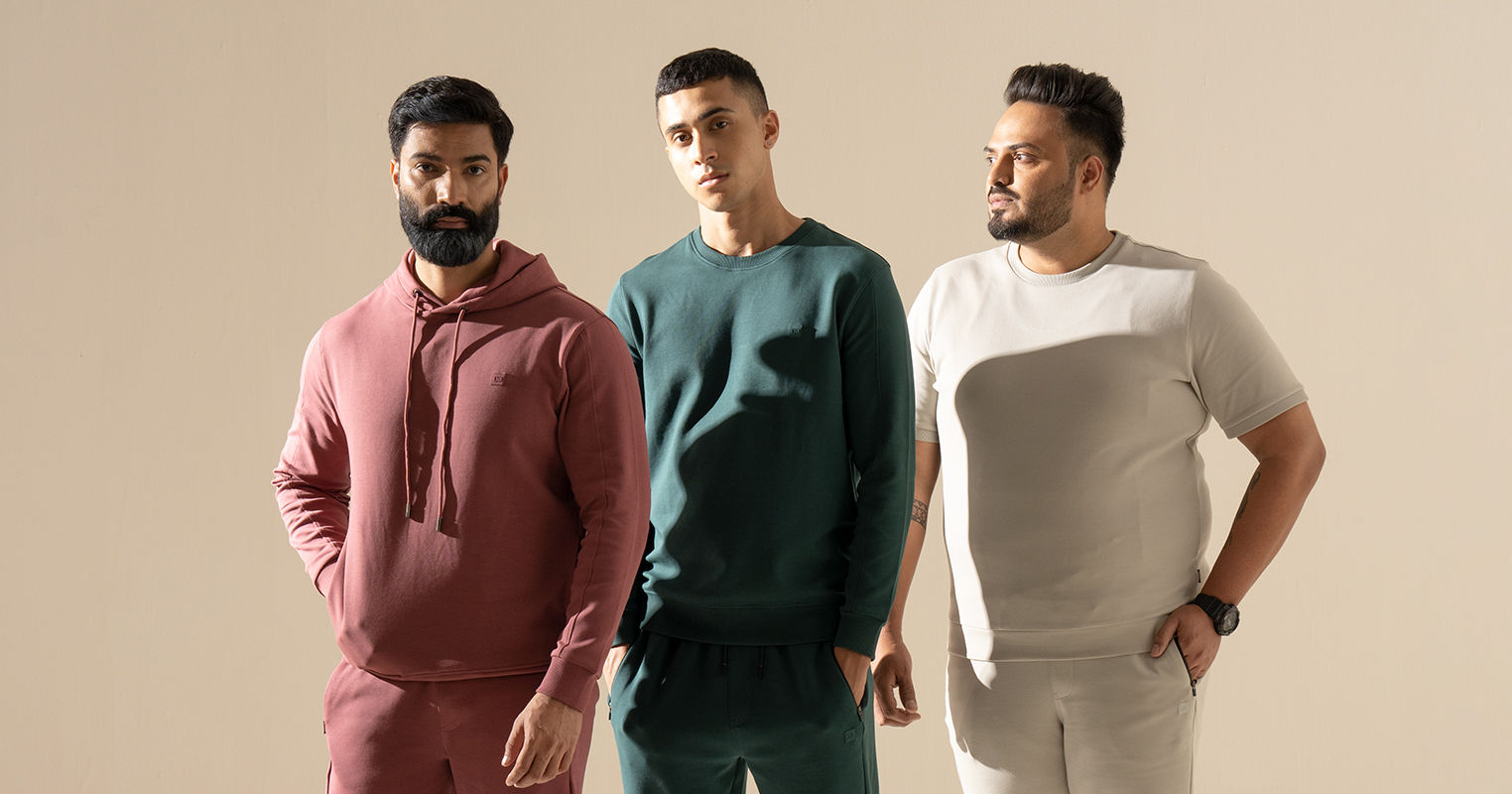 Happy International Men's Day!
This Men's Day DaMENSCH celebrates The Most Comfortable Man.
Real, authentic, conscious, confident, comfortable.
Here are their truly inspiring stories:
Thasveer Muhammed
At first glance, Thasvy looks like any ordinary influencer living his best life, but as you scroll further down his profile you realise he is more than just an influencer, he is an inspiration. A travel influencer who believes life has given him more than he asked for, despite taking away a limb. Following a bike accident 10 years ago, Thasvy lost his right leg and ended up having to live the rest of his life using crutches. Yet, he turned his life around into an inspiration for his 400000+ followers on social media. Hailing from a conservative background in Kerala, Thasvy has fought through a lot to stand where he is today. His stories of climbing treacherous peaks in the Himalayas will make people with no handicaps realise that when you're truly comfortable in your body, excuses turn to possibilities.
As he says, 'My doctor's certificate says I'm 85% disabled. But I don't even remember I have only one leg. I have found who I truly am by taking risks. Heading to mountains solo with no help or support from friends or family. This is now my comfort zone. And I'm most comfortable when I look back on a mountain I climbed and realise I am more than what anyone thinks I am. And that anything is possible when you grow your comfort zone and when you truly get comfortable in who you are.'
He's more than abled. For his fans, he's a superhero. His crutches have Batman and Superman on either side. They may be just stickers, but when he juggles and dribbles football or plays cricket, being a state-level player before his accident, he shows the world and people around him that we're all superheroes. We just need to get comfortable being one.
Kavan Kuttappa
Kavan wouldn't probably strike you as a chef or an entrepreneur at first glance. With his full-armed Japanese tattoo and casual comfortable fashion, he may even strike you as a rock band's lead guitarist or a street artist or possibly a sportsman. However, what Kavan loves doing is spending time in his kitchen and whipping up a bowl of hot ramen and serving. An engineer turned chef turned ramen cook turned entrepreneur, his life is an example of why the most comfortable man never gets out of his comfort zone. Instead, he thrives in it. He expands the zone. He finds success within it, by simply doing what he loves. Kavan would love it if someone told him, 'A man's place is in the kitchen'.
Today, he's the proud owner of his own Japanese Ramen Restaurant – EatNaru, in Bengaluru. A cosy, cute little diner, open to few customers one at a time, it's an experience one finds at home that he's trying to recreate.
As he says "Food should be an experience just like how it is at home. You grow up seeing your parents cooking and serving it up to you hot, it's all very personal. That touch is now gone with big eateries and outlets that have no connection between the chef and the customer. I believe my comfort zone is behind the kitchen counter, interacting with the people who're going to taste my food and keeping things authentic. This is when I'm most comfortable as a person. My comfort zone will always keep expanding, but I will always, no matter what I do or what I love, which is cooking.'
Kavan hopes to bring the culture of a warm bowl of ramen across the country. In a way where it's personal, real and comforting to anyone entering his comfort zone.
Shantanu Gosavi
Known for his unconventional ways, Shantanu is a model and an avid lover of his own body. As a man who's grown up tackling skin issues, his vitiligo had always made him conscious of exposing his skin to the world.
Yet here he is today, an underwear model, changing the way the world sees him. A man who's become confident, proud and comfortable in his skin. As he says, "I feel most comfortable when I am totally free and liberated. And that feeling comes when I can go in front of a camera wearing nothing but an underwear. A few years ago, I couldn't think of doing something like this. I never thought my body would be accepted as a model for what it is. Yet, when I got an opportunity, I said 'why not'. In the first shoot I ever did, I saw men being completely free and having fun on the set wearing only an underwear. No one made any comments on me and that experience made me feel more confident in my body. From there started my modelling career.
All I wish to tell the world is, being comfortable in your skin is not an overnight process. But start the process. Liberate yourself from what you think society may say about your shape, size, marks and what not. My skin is my comfort zone. Being as naked as I can be is my comfort zone. I'm never going to step out of it."
Today, Shantanu's skin has far less visible marks as vitiligo expands to make his skin look paler. He misses his marks. 'I thought my marks made me sexy!', he says.
But at the end of the day, he's comfortable no matter what anyone thinks about him.
Suresh Ramdas
Suresh is a man who you'd run into in a gym. He would fit the bill of what the world conventionally believes is a 'macho man'. However, there's nothing Suresh detests more in life
than being called 'macho'. Suresh is gay and partnered, a proud pet parent, an even prouder lover of all things effeminate and former Mr. Gay World – India. What makes him comfortable – is being honest, authentic, and himself. With no filter on. Being truly vulnerable.
As he says, "Men are not strong because of the muscles they have. Men are strong when they can express and share their vulnerabilities without inhibition. In school, I used to be active in sports. So, when I came out as gay, it was not something anyone around me could relate to. A sporty man who's gay? Nah! Because the idea we all have of a man is one who's got no effeminate side. No vulnerabilities. Someone who wouldn't wear bright pinks. All of this is changing but still not completely out of people's minds. To be truly strong, a man should be comfortable being vulnerable. I was most vulnerable when I came out to my family and friends. I was not sure I could handle negative comments and changed perceptions. Yet, one thing I learnt is that I became my strongest self, right after. Because what's the point showing strength outside, yet inside you're not real.'
Suresh is today championing his community's cause of being heard, in a world where it's all too noisy. His comfort zone is to be his most authentic self, as vulnerable as it may be. And he's never stepping out of it.
Vikrant Massey
In a world of fast-moving superstars, Vikrant Massey truly believes in the saying by Ralph Waldo Emerson – "Adopt the pace of nature. Her secret is patience". While the fraternity around him moves fast, he lives slow. The raw vulnerability of his characters can be extended as an allegory to the way he lives. Simply put, quality over quantity, always. Period. He's most comfortable doing roles that stand the test of time.
As he says, "I've always believed that we're here to make something that stands the test of time. All that matters is people remember me for that. The world cannot dictate what roles I should choose and play. For me, I'm in my element when I connect with the character. This cannot happen if I run the rat race with a single goal of money. My comfort zone is one where I experiment with new stories, and take risks with ideas many others wouldn't even want to touch. This is when I'm most comfortable."
In his comfort zone, Vikrant Massey moves fast, yet lives slow.
These are some of the most comfortable men of DaMENSCH
Known to retreat to their personal space, pick themselves up, and always rely on their comfort zone for a higher success rate. These are the men that are comfortable enough to own their missions, failures, and successes.
You see, the comfort zone is not a scary place like it has been deemed to be to feed you an idea of the illusion of hustle and success. it's a space for value and growth. It's the only area of expertise that aligns to meet your needs and create a refined lifestyle.
We know how it feels to feel neglected, dismissed, or even pressured to meet others' expectations. That's why DaMENSCH is building a community that celebrates comfortable men, starting today!
Introducing We Da MEN
#WeDaMEN is a community of men who refuse to play by the rules of the rat race, are comfortable in their masculinity, and lift each other up and support other men.
We are on a mission to make man-kind comfortable.
Here's our life philosophy. It's quite cool and chill actually. Give it a read. Will be worth your time, Man.
#WeDaMEN believe:
Get out of your comfort zone!
You've probably grown up learning the motto 'get out of your comfort zone' multiple times until it was ingrained in you. It's a mindset born with our ancestors and continued to travel down generations. For decades, this was the only possible way to achieve real success – to get out of the 'comfort zone' to find unattainable success, a beacon of hope that could only be found at the end of the narrow tunnel. And although times have changed now, we still seem to rely on the fast-paced, hypermasculine, hustle mindset.
The real question is when did getting comfortable become an uncomfortable trend?
Believe it or not, you may be the most authentic being but eventually, we've all succumbed to this narcissistic idea – draining and depriving ourselves of real comfort.
The inner works of the hustle mindset
You & I have advocated this hustle mindset (#grindset) because of the conditions of society.
At work, you've gone out of your way, overanalysing, and overworking, to meet expectations.
You've grown distant from your personal space to make ends meet at home.
While socialising, you've created an unrecognizable persona that matches the needs of others.
If you've said yes to even one, you are a victim of #grindset.
What is #grinset?
"The state of mind one puts oneself in, in order to outperform fears, insecurities, doubts, and anxieties, to achieve the seemingly impossible and step into your greatness."
At first glance, this seems like a perfectly normal description, until you realise it's an amalgamation of toxic and toxic. This process could not only deteriorate your mental health but could also make you obsess over perfectionism. And that's definitely not good for any human being because nothing is perfect.
Bring back the comfort zone
Let's revisit the dictionary definition – "A place or situation in which you feel safe or comfortable, especially when you choose to stay in this situation instead of trying to work harder or achieve more." In essence, a place where you don't take risks but are calm and collected. It's a space where you think collectively in a peaceful manner. It is a subjective, conceptual space and YOU define your comfort zone.
In the hands of people who want you to push yourself to burnout to line their pockets, the comfort zone is just a set of changing goalposts that have you believing in burning out to reach a certain level of success. Made little to no progress yet? It's because you're not leaving your comfort zone. Can't lose weight? Leave your comfort zone! Don't have any savings at the age of 30? Man, start by leaving your comfort zone!
In other ways, it's a convenient, repeatable platitude that ignores the nuances of the situation. What this grindset actually silences is that you might be slow at your project because you've been mentally ill or the fact that you might be unable to lose weight because you have an eating disorder caused by stress. But in the eyes of the hustle culture, you're just lazy.
Step 1: take ownership of your comfort zone!
You are the expert on yourself. Nobody is better placed to know your ins and outs, strengths and weaknesses like you. So take ownership and define what your comfort zone is. It's a place where you feel safe, secure and rejuvenated.
Step 2: Expand your comfort zone
The comfort zone is a valuable space. There is no shame in retreating into your comfort zone when the world's pressures get too much. It can be a place where you build your confidence, recharge your batteries, reflect and draw valuable insights from your failures. And then, when the time is right, you can expand your zone again.
Step 3: Make your comfort zone your 'growth zone'
By exercising your intellectual muscles, you can get stronger, and build the capacity to do more. The comfort zone is not a static place where you lounge around on your couch and eat ice cream (although there's nothing wrong with that). It could also be a place where you live and love to solve problems or follow what you love to do, start a business out of it, learn new languages, take the mic and crack a joke, conquer new peaks, learn the guitar, complete this year's Ironman, be a strong vulnerable man, or simply find a new way to organize your wardrobe. Our minds and habits are malleable; take full advantage and re-define your comfort zone. Stay in it, grow in it, thrive in it.
Like Toto Wolff, 8-time Championship Winning Team Principal, Petronas Mercedes F1 said,
"I like pressure. It is my comfort zone."