Best Way to Style DaMENSCH Chino Shorts for Men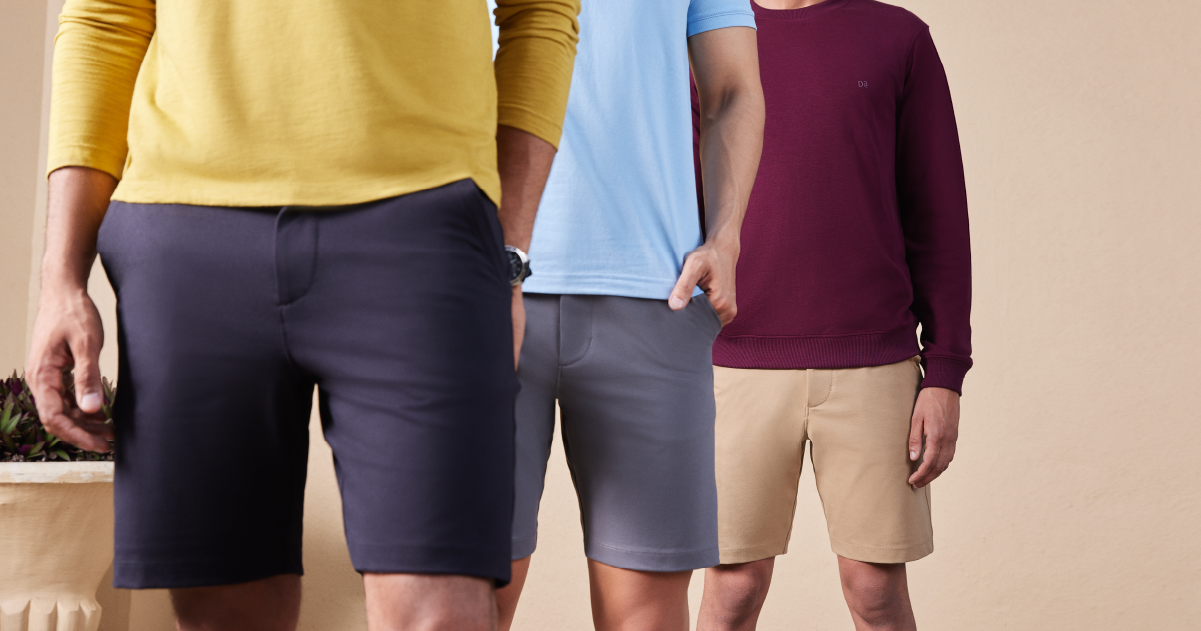 Chino shorts are a versatile and essential piece of clothing for every man's summer wardrobe. They strike the perfect balance between casual and smart, making them suitable for a variety of occasions. DaMENSCH chino shorts for men have gained popularity among fashion enthusiasts for their quality, comfort, and style. In this blog post, we will explore the best ways to style DaMENSCH Chino Shorts, ensuring you look effortlessly fashionable and put together throughout the summer season.
Classic Casual Look
For a laid-back and comfortable outfit, pair your DaMENSCH Chino Shorts with a simple crew neck t-shirt. Opt for neutral colours such as white, grey, or navy to create a timeless look. Complete the ensemble with a pair of clean white trainers or boat shoes to keep it casual yet refined. This style is perfect for relaxed outings, weekend brunches, or casual gatherings with friends.
Dress Chino Shorts for Men with a Button-Down Shirt
To elevate your chino shorts for a more refined occasion, consider pairing them with a crisp button-down shirt. Choose a lightweight fabric such as linen or cotton for a breathable feel during the summer months. Roll up the sleeves for a relaxed touch, and tuck in the shirt to create a clean and polished appearance. Finish off the look with loafers or suede brogues for a sophisticated outfit suitable for a garden party or a summer evening event.
Sports Shorts for Men
If you're looking for a sporty vibe, style your DaMENSCH sports shorts for men with a sporty t-shirt or a polo shirt. Opt for vibrant colours or subtle patterns to inject some energy into your ensemble. Complete the look with a pair of trainers or sports sandals for ultimate comfort and mobility. This outfit is ideal for outdoor activities, casual sports events, or weekend adventures.
Layering for Versatility
Chino shorts can also be easily incorporated into layered outfits. Add a lightweight jumper or a stylish cardigan over a well-fitted shirt for a preppy and refined look. This ensemble works well for cooler summer evenings or when you want a more put-together appearance. Consider adding a belt to enhance the overall aesthetic and ensure a tailored fit.
Accessorise to Complete the Look
To add the finishing touches to your outfit, consider incorporating accessories that complement your DaMENSCH Chino Shorts. A stylish leather belt can define your waistline and add a touch of sophistication. Sunglasses, a watch, or a straw hat can also enhance your overall appearance while protecting you from the sun's rays.
Technically Crafted Fabric with 4-Way Stretch: Unparalleled Comfort and Flexibility
One notable feature of DaMENSCH chino shorts is the technically crafted fabric with 4-way stretch. This innovative fabric technology sets these shorts apart by providing enhanced comfort, flexibility, and mobility. The 4-way stretch fabric allows for unrestricted movement in all directions, ensuring that you can stay comfortable and move with ease throughout the day.